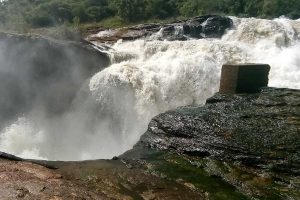 Murchison Falls National Park gazetted in 1952, is Uganda's oldest national park. Murchison Falls National Park is also the country's largest faunal reserve covering an area of 3840SqKms in North western Uganda. The park is flanked by Karuma Wildlife Reserve to the East and Bugungu Wildlife Reserve in the south, together with which they constitute the larger Murchison Falls Conservation Area. Karuma and Bugungu Wildlife Reserves are estimated at 720 and 740SqKms, respectively. Apart from drenching the park, the crossing Nile River virtually leaves it (the park) with two regions/sectors – Southern and Northern. The park headquarters are located at Paraa in the northern sector and where most park activities take place. In the south are activities like Chimpanzee tracking, bird watching and forest walks, particularly in Budongo Forest Reserve.          Request a Quote
Murchison Falls National Park is named after the Murchison falls, a unique feature in this park and believed to be the World's most powerful waterfalls. These falls are so spectacular! A sightseeing enthusiast can't imagine River Nile with all its might bursting through a 7-metre-wide gap and plummeting 50 meters over the sheer rock face! A loud roar and a dramatic scene of a permanent spillage draped on the side by a set of rainbow arches, is the climax of it all. The 1951 movie, 'AFRICAN QUEEN' starring Humphrey Bogart, opened up the park to the rest of the world to come and explore its abundant wildlife and the incredibly strong waterfalls. See Murchison Falls Tour Packages.
Wildlife (Animals) in Murchison Falls National Park
The superabundance of wildlife in this park is undoubtedly attributed to its rich diversity of habitats to mention the Victoria Nile and the surrounding papyrus swamps, magnificent forests and riverine woodlands, as well as the familiar open grasslands dotted with acacia trees and borassus palms. Murchison Falls National Park is home to 77 mammal species, over 450 bird species including the much sought for and wonderful Shoebill stork plus plenty of floral species. Animals include the Elephants, Rothschild Giraffes, Leopards, Hyenas, Buffaloes, a variety of antelopes (Bush bucks, Waterbucks, Jackson hartebeest, Uganda Kobs, Sitatungas, extra), Primates like the Blue monkeys, Baboons and Chimpanzees in Budongo forest, among others. Birds include the elusive Shoebill Stork that can be spotted at the Albert Delta, Papyrus Gonolek, Abyssinian Ground hornbill, Swamp Flycatcher, Goliath Heron, to mention just a few.
With 4 of the Big Five and a plethora of other small game present here, plus the Rhinos at the nearby Ziwa Rhino Sanctuary, Murchison Falls National Park is nothing else but a stadium for Big5 and wildlife safaris in Uganda. Among the big5 are the Lion, Buffalo, Elephant and the Leopard. The Rhinos at Ziwa Sanctuary are being protected from poachers who had caused their extinction in the 70s, as well as ensuring their multiplication before they can be released back to the park. Hippos, Crocodiles and other aquatic wildlife species find life in the park's waters. Wild dogs, Zebras and Cheetahs are however absent in the park. Lake Mburo National Park and Kidepo Valley National Park are the only two parks with Zebras in Uganda. Kidepo Valley Park adds on the cheetahs which can only be spotted here and in Pian Upe Wildlife Reserve.
Murchison Falls National Park activities
Game drives take place in the northern sector of the park, courtesy of the savannah and woodland habitats that support a larger concentration and wider variety of animals. The southern sector with mainly the woodland and forest patches is reserve for primate viewings and bird watching particularly at Kaniyo Pabidi section of Budongo Forest Reserve. Early mornings and evenings are unquestionably the best times to see and photograph animals. For higher chances on the nocturnal and the elusive cats, game drives are better started very early like at 6.30am, before they return to their hideouts. Great wildlife scenarios for lions, leopards, hyenas, jackals, can be captured at such a time when they are actively hunting. Other animals to see during the game drives are; Elephants, herds of Buffaloes, Rothschild giraffes, Hippos by the delta, Waterbucks, Bushbucks and Jackson's Hartebeest among others. Plus, plenty of beautiful birds hovering up won't let you concentrate on just the animals during the game drives, just so you know! More detailed information about game drives in Murchison falls National Park can be obtained here.
Nature walks can safely be done at Budongo Forest's Kaniyo Pabidi and not in other parts of the park due to higher risks of fierce aggressive animals. When you leave your vehicle and take a guided walk through the cool Budongo Forest Reserve, there is that intimacy and closeness to nature you feel. Another attraction of the walk is the prospect of viewing habituated Chimpanzees, other primates and birds. The sounds of birds constantly echo with in the forest as well as sights of those that flash from tree to tree along the trails. Even when you miss signing up for the 2 hours guided walk, there is always a chance for brief stops on either side of the forest to savour the freshness of the forest breeze, view the baboons, birds and other primates. For Chimpanzee leaning visitors however, we encourage you to consider a trip that includes Chimpanzee trekking like our 3 Days Murchison Falls and Budongo Chimpanzees or the 2 days Budongo Chimpanzees and top of Murchison falls tour.
Top of the falls excursion
A visit to the top of the falls must form an integral part of any tour to Murchison Falls National Park. It is a unique and breath taking natural spectacle; the most powerful rush of water anywhere in the world! Hiking/driving to the top of the falls guarantees not only a closer view of these breath taking water falls but also witnessing the mighty Nile funneling itself in such a small chasm, barely 7 meters wide. The top of the Murchison water falls can be accessed by a drive upon entering/exiting the park through Kichumbanyobo gate and by a guided hike following a trail from down close to the falls' base where the boat lands. While aiming for the top of the falls during this hike, it is some great time to admire the park scenery, the birds, the varied vegetation and more of nature's surprises.
Launch/boat cruise to the bottom of the falls
You might easily miss a boat ride elsewhere but sure not this exciting cruise to the foot of the world's most powerful waterfalls! Of the numerous ways to explore this vast expanse of a national park, the boat launch cruise is a special occasion in which the aquatic wild life is showcased. With constant surprises at every turn during this launch cruise to the bottom of the falls, the commonest sightings being for sizeable crocodiles busking along the river banks, large schools of hippos, plenty of birds feeding in open waters, some hunting at the river margins while others can be spotted feeding off insects that rise from the water. The bird life comprises of Kingfishers, Cormorants, Darters, Ibises, Egrets and a lot more. Elephants, buffaloes and other animals can be spotted quenching their thirst or even play and swim along the river banks.
The boat launch trip lasts for 3 hours and departs at 9.am and 2.pm daily from Paraa. It stops/lands at the rocky surface near the devil's cauldron to allow you full view and photographing of the falls. After these amazing moments, those taking the hike to the top of the falls can disembark while the rest return with the boat to Paraa. Aside the one to the falls' base, a boat ride downstream to the Albert Delta is particularly arranged for bird watchers aiming for the variety of birds and specifically the rare Shoebill Stork. Whereas most travellers prefer the cheaper general/group boat, private boats too are available. Let our reservations team know about your major preference for a boat ride in this park.
Sport fishing in Murchison Falls National Park is one of those exciting and rewarding adventures. The major attraction for anglers in the park waters is fishing for the Nile perch, locally known as 'emputa'. Other common fish species include Cat fish, tiger fish and tilapia. Casting from the banks and the rocky outcrops in the water used to bring the most success in the past but not with the increased volumes of water now. The rising water levels of Lake Victoria (from which River Nile draws 70% of its waters), pushed the river to burst its banks a year ago and some known angling points got submerged by the high volume of water. Well, the most exciting place to fish is in the fast-flowing waters above the falls and just below the falls near what is known as the devil's cauldron. Some fishing spots can be accessed by boat or simply walking there. However, there is nothing like individual fishing for one's safety as there are great risks of hippos and crocodiles at the river banks. The current record for the rod and line below the falls is 173kg. Our 3 days Murchison Falls National Park sport fishing and wildlife safari might interest you.
Rhino tracking is a popular activity on most tours to Murchison Falls National Park although Rhinos are non-existent in the park. Rhinos were present until the mid-70s when most conservation activities came to a complete halt rendering the park wildlife including the Rhinos victims to the unabated poaching activities and hence their extinction. Since 2005 when Rhinos were re-introduced in Uganda, we can proudly assert that it is possible to have a Rhino tracking experience on our trips to Murchison Falls National Park courtesy of Ziwa Rhino Sanctuary. Ziwa Rhino Sanctuary is conveniently located on the way to/from Murchison falls park on the Kampala-Gulu highway at a place called Nakitoma in Nakasongora district.
The exciting hot air balloon flight is just one other way to explore the beauties of Uganda's largest national park, and is so unique. Hot air balloon experiences can only be had from Murchison Falls National Park and offer incredible aerial views of the park with its beautiful features and the wildlife. They are purposely scheduled to start very early in the morning at 5.30am and in the evenings at 4.00pm for an hour. The maximum number of people for each safari is 8 and only individuals above 6 years. There is only one company licensed to operate the balloon safari in the park through which all tour companies book the experience for their clients. Experiencing a hot air balloon is possible with this 3 days hot air balloon tour to Murchison Falls Park.
Chimpanzee trekking in Budongo
Chimpanzee trekking takes place in Budongo Forest, a reserve with in Murchison falls National Park. They are estimated to be between 400-800 Chimps in the reserve with just 80 habituated ones. During the trek, other primates will inevitably cross your path; the Olive baboons, Black and white Colobus monkeys, Red-tailed monkeys and Grey-cheeked Mangbeys among others. Daily trekking expeditions are scheduled to start in the mornings at 7.30am and afternoons at 2.00pm. Visits are led by knowledgeable guides and 2 groups of 6 are allowed to observe the chimpanzees for one hour at a safe distance. Unlike Bwindi Forest Park with a rugged landscape, Chimpanzee trekking in Budongo forest is quite predictable and easier with the relatively flat terrain. With the below trips, you can enjoy a tour of Budongo Forest:
• 2 Days Budongo Forest Chimpanzee trekking and Top of Murchison Falls Tour
• 3 Days Murchison Falls Big5 and Budongo Chimpanzee trekking trip 
. 5 Days Murchison Falls Birding & Mabamba Shoebill Wetland Tour
Murchison Falls National Park is listed as one of the best bird watching sites in Uganda. The Bird life in Murchison Falls National Park is extremely rich with even the rarest birds and those that can be spotted in a few selected places in Uganda. The park has over 450 bird species to mention the Grey-crowned Crane, the rare Shoebill Stork, Secretary birds, Widow bird, King fishers, Bee eaters, Fly catchers and a lot more. Whereas there are specific and known birding areas like the Royal Mile in Budongo Forest Reserve and the Albert Delta that has the Shoebill Stork, bird watching in Murchison Falls National Park can be done along the Nile River, shady spots near flowering trees, in some thickets and woodlands. While there are great chances of viewing birds during game drives, boat cruises and nature walks, avid bird watchers are encouraged to sign up for special bird watching tours like our 5 Days Murchison Falls Birding and Mabamba Shoebill Tour for an extensive search for the park's avifauna.
Best time to visit Murchison Falls park
Although the best time is ideally the dry months of December to February and June to September, Murchison Falls National Park can be visited any time of the year. The wet months are March, April, May, October and November. The average humidity is 60%. Day time temperatures can rise up to 31 degrees while nights cool up to 18 degrees. With this consistently hot tropical climate, visitors to the park are encouraged to carry more of the light than warm clothes, and sun heat protection gear.
Park Entrance Fees
Park entrance fees and prices of activities at the park vary according to the visitor category. An international tourist is charged $45 per day (per $24 hours), $30 a foreign resident in Uganda and UG Shs20,000 a Ugandan and EAC citizen. Children below 5 years are exempt while those between 5-15 years are charged half the adult fee.
Accessing Murchison Falls National Park
Travellers can easily get to Murchison Falls National Park from Kampala capital city or Entebbe airport by road and air. The drive by road is on a well tarmacked Kampala-Gulu high way and approximately takes from 4 to 6 hours to reach the park. The quickest and commonly used route is via Masindi town through the Kichumbanyobo gate up to Paraa.
Murchison Falls National Park can also be accessed via its northern region through Wankwar, Chobe, Mubako and Tangi gates. This route is a great opportunity to view the beautiful Karuma falls which also marks the point where the river's rapidity and speed commences for the 80KMs run until it explodes into that tinny gorge to form the very powerful Murchison Falls.
By air, Murchison Falls National Park is served by Pakuba, Chobe and Bugungu airstrips. Flights to those respective airstrips from Entebbe take about an hour. Chobe is another airfield in this park although most scheduled flights from Entebbe land at Pakuba airstrip. You might want to check on our 3 Days Flying Safari to Murchison Falls National Park.
Murchison Falls National Park connects well with other attractions and national parks like Ziwa Rhino Sanctuary, Kidepo Valley National Park and Kibale National Park. It can therefore be accessed from those respective places through the nearby towns of Gulu, Hoima, Fort portal and Pakwach.
Accommodation/where to stay
There are many accommodation facilities with in and outside the park ranging from budget, mid-range and luxury.
Paraa Safari Lodge, Chobe Safari Lodge, Pakuba Safari Lodge, Tembo Safari Camp, Fort Murchison Lodge, Parkside Safari Lodge, Heritage Safari Lodge, Hornbill Lodge.
Murchison River Lodge, Bakers Lodge, Red Chill Camp, Nile Safari Lodge, Sambiya River Lodge, Budongo Eco Lodge.
Murchison Falls National Park Tour Packages