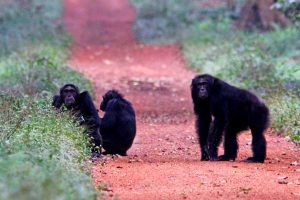 Request a Quote
Budongo Forest Reserve is found in Masindi, a district in the North Western parts of Uganda. It is located 4-5 hours by road from Kampala and Entebbe airport. Budongo Forest Reserve is part of the larger Murchison Falls National Park and measures up to 825SqKms atop the Albertine Rift, a part of the great East African Rift Valley. Budongo Central Forest Reserve has survived a life span of centuries unspoiled and still counting courtesy of the National Forestry Authority, Budongo Conservation Field Station, Makerere University, Jane Goodall Institute for Research and Uganda Wildlife Authority's strict conservation policies in place. It stands as the largest natural forest in Uganda and East Africa.
Budongo forest is drained by 4 water streams – Waisoke, Sonso, Kamirambwa and Siba that eventually flow into the nearby Lake Albert. The rich drainage system and proximity to the Equator are contributing factors to the impressively thriving bio-diversity in Budongo Forest. Besides the vast savannah areas in the larger Murchison falls National Park, Budongo forest in itself has some patches of savannah and wood land though it is largely a moist, medium-altitude and semi-deciduous forest. Budongo Forest Reserve is divided into 3 major sections namely; Kaniyo-Pabidi, Busingiro and Sonso. There are no tourist activities developed in Sonso leaving Kaniyo-Pabidi and Busingiro as the only areas of the forest visited by tourists. Kaniyo-Pabidi is located in the southern parts of the park and is most popular for Chimpanzee trekking tours. It is the quickest to access from the nearby Masindi town using the Kichumbanyombo gate. Busingiro on the other hand is home to the Royal mile, one of the top Uganda bird watching tracks.
Chimpanzees and other Wildlife
Budongo Central Forest Reserve is one place of extremely impressive bio-diversity including some unique wildlife species such as the endangered Chimpanzees. It is actually well known as the home for Chimpanzees though it harbors numerous wildlife species. 24 mammals have been recorded here of which 9 are primates, 465 floral species including trees and Shrubs, 359 bird species 2 of which are endemic to Budongo, 289 species of butterflies and 180 moth species. Of the 464 plant species, Budongo forest is famous for the Mahogany trees that can grow up to 85 meters and 21 meters in diameter. These age-old trees are a marvel that fascinate visitors. Other primates in Budongo Forest are the Black and white Colobus monkeys, the Red-tailed monkeys, Blue Monkeys, Olive Baboons and the rare nocturnal ones like the Pottos and Galagos. Savannah animals such as the leopards, lions, elephants, buffaloes and some antelopes have been spotted in Budongo forest although rarely. A game safari in the savannah areas of Murchison falls National park will guarantee the sights of these big animals.
Things to do in Budongo Forest
Although part of Murchison falls National Park, Budongo Forest is a destination by itself given the numerous amazing things that can be done there.
Budongo Forest Chimpanzee Trekking and habituation
Budongo forest constitutes one of the Chimpanzee trekking sites in Uganda. There are over 600 Chimpanzees in Budongo of which only 80 are habituated for viewing by visitors. The best time to visit is the dry season when there is plenty of food for the Chimpanzees and the drier ground to ease movement of the trekkers. Plenty of food limits their movement and therefore makes trekking them fairly predictable. Also this partly explains why Chimpanzee habituation in Budongo forest can only be done during the dry months of June to September unlike regular trekking which is a full year activity. Much as the success rate here in Budongo Forest ranges between 60-80%, it is nevertheless the best to those who would prefer trekking with less crowds. Kibale National Park is undoubtedly the best Chimpanzee trekking site in Uganda but it sometimes gets so busy especially in the peak season.
Just like in Kibale National Park, Kalinzu Forest and Kyambura Gorge, Chimpanzee trekking in Budongo is in 2 sessions; morning and afternoon. Budongo Chimpanzee Permits are issued by Budongo Eco-Lodge management mandated by the National Forestry Authority. Each permit is at $90 and there is a limitation of 12 permits per session per day. For a Chimpanzee trekking tour booked with Jungle Escape Africa, we secure the permits on behalf of our clients.
Bodongo forest ranks as one of the finest birding spots in East Africa. The Royal Mile in Busingiro is another bird watcher's paradise in Uganda. 2 endemic bird species for Budongo can not be spotted anywhere across East Africa. They are the Yellow-footed Flycatcher and the Illadopsis Puveli. Also there are a couple of birds in Budongo that can only be spotted in a few selected forests in Uganda and these include: Zoothers Camaronensis, Ceratogymna Fistulator, Neafrapus Cassini, Batis Ituriensis, Sylvietta Denti, Ixonotus Guttatus and Smithomis Rufolateralis. While Chimpanzee trekking is more of a Kaniyo-Pabidi activity, bird watching is done in the Royal Mile in Busingiro section of Budongo forest. Other bird species in Budongo are;
Nature walks in Budongo forest, one of the last natural forests, are so rewarding. As a team of enthusiastic knowledgeable wildlife guides walk you along the trails, you will not miss sights of some wildlife like the birds, different monkey species, some antelopes, butterflies, among others. The widespread and well-maintained 115Km track system in Budongo forest, doesn't only facilitate nature walks but also bird watching and Chimpanzee trekking expeditions.
Wildlife/Game Safaris in Murchison falls National Park
Viewing primates(Chimpanzees) and the big5 in one place is one of the most rewarding adventures. Combine your Tour to Budongo Forest with a game safari, a boat ride and the top of the falls tour in Murchison falls National Park. As Jungle Escape Africa, we can tailor your trip to cater for all this and more. Our 3 Days Murchison and Budongo Chimps tour might interest you.
How to reach Budongo Forest
It is between 4-5 hours of driving on a good road from Kampala to Budongo Forest via Masindi town through Kichumbanyombo gate of Murchison falls National Park. Budongo Eco-lodge acts as the headquarter and starting point for all activities in Budongo forest. By air, flights from Entebbe airport or Kajjansi airstrip to Bugungu or Pakuba airstrips are available.
Accommodation/where to stay
Budongo Eco-lodge situated right at the Budongo Forest offices is the best option for accommodation when visiting Budongo Forest although there are other lodges in other parts of Murchison falls National Park from where a visitor can base to come down to Budongo. Since most activities in Budongo Forest are scheduled, a visitor is highly advised to contact a reliable local tour operator for proper arrangements. Contact us for professional guidance and planning.