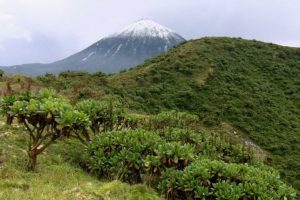 Hiking Mount Karisimbi: Climbing Rwanda's highest volcano is one of the most fantastic experiences one can have while on a visit to this land of a thousand hills. Mount Karisimbi is the highest of the eight major ranges of the Virunga Mountains shared between Rwanda and the Democratic Republic of Congo. A strato volcano rising to a height of 4,507m above sea level, Karisimbi summit is the highest point in Rwanda and the 6th (highest) in Africa. From the local Kinyarwanda word 'Amasimbi', is the name Karisimbi. Amasimbi translates to white shell in English. It was named after the snow that covers its summit during the dry season.
For those that take pleasure in Mountain climbing and the rewards that come with it, Karisimbi hiking tour is the deal. Just like most of the slopes of these Virunga volcanoes, Karisimbi has dense forests and other vegetation types that habour a wide range of wildlife including the endangered ones and those endemic to the Virunga ranges and the Albertine rift in particular. With this beautiful hike on such a wild trail, you stand chances of coming across Mountain Gorilla families, Golden Monkey troops, forest elephants, buffaloes, many birds and a lot more.
Between Mount Karisimbi and Bisoke is Karisoke Research Centre which was established by the re-known American Primatologist and researcher, Dian Fossey – the late. Her grave too, lies at that Centre. However, none of these Mountain trails takes you directly to this site but you will only be close to it. Visits to Dian Fossey grave and Museum are arranged separately by the park so you are required to book it as an activity of its own, if interested.
2 Days of Hiking Mount Karisimbi 
All activities in the park start off at Volcanoes National Park headquarters, with a formal registration and briefing at 7.00am. After briefing, you are to drive away from Kiningi to the trek starting point. With a team of park guides, a cook and porters, you are headed for the 9KM hike to your first hut at 3,700m above sea level. Just know that the full ascent to the summit takes 7 hours but you are to stop and camp at this point (3700m) for a night and acclimatization. It is a basic camp style.  Request a Quote
Karisimbi summit trail is through different vegetation zones which makes it very interesting. As the vegetation zones unfold, they flaunt you with their different inhabitants. The initial ascent is mainly through the bamboo forest zone whose shoots are one of the most palatable foods to the Gorillas and this is where you stand a chance of stumbling upon them. You are to continue through hagenia-hypericum forest and open slopes with the giant lobelia and senecio in that order. As you endure the coldness at the camp, your cook is busy preparing your dinners so that you can take up an early rest because then you will be required to rise up very early the next day. Inside the basic tents, you are to spread your sleeping bags and you are good to take a night's rest after dinner.
In this pricking coldness, you are required to leave very early to attempt the most challenging section that leads you to the summit. The trail is very muddy, so steep and yet at this very time, fog is too much and the winds are very strong. Yes, it is very challenging but doable. After an hour or two, you are now at the summit enjoying spectacular views of other volcanoes; Nyamuragira, Muhabura and Nyiragongo. Start on the 6 hours descent after enjoying the spectacular Karisimbi summit. You are to meet your driver at the base/trail starting point.
More useful information for hiking Mount Karisimbi:
Unlike the other treks that can be booked on the day, Hiking Mount Karisimbi has to be booked in advance. Give it 2 days at least if you can't book more days before.
Hire a porter to assist in carrying your luggage and he will be of great help in those challenging parts of the hike where he can even offer a pull or push. With such challenging hikes taking through muddy trails, you don't need anything to ruin the energy you may have reserved for the trek.
Your packing list should include good but light hiking boots, a sleeping bag and an assortment of warm clothes for the cold night/summit, woolen gloves, head gear, stockings, a fleece jacket and some rain gear. Wear long hiking pants and long sleeved tops to protect you from the stinging nettles.
There is more space for acclimatization this being a 2 day hiking adventure and as a matter of this, one may not need great hiking experience to take up the Karisimbi challenge. Nevertheless, the hike requires you to have some level of fitness and in good health state. There will always be tough or hard-to-navigate sections of the trail and this is where a call for prior preparedness comes in. It has to be both mental and physical.
At any point you find the altitude to start taking a toll on you, just talk to your head guide and pace yourselves accordingly. In most cases however, the hike leaves no one behind as it moves at the pace of the slowest person in the group.
Also tune up yourself and mind for an elevation conquest just incase you have some fear for heights in you. If you have an extreme acrophobia, you are advised not to attempt this steep Karisimbi. You can start with the less steep ones like Mount Bisoke and Mount Gahinga before Karisimbi if resources can allow.
The best time to take up this Karisimbi hike should be in the dry months of January, February and July to mid-September. If you can however endure the muddy trails through a thick jungle on such a steep slope, the wet months would be the best when it comes to capturing clear and nice photos of the volcano and its beautiful surroundings.