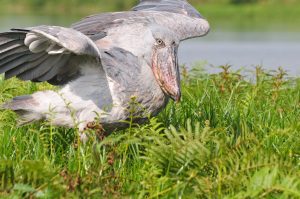 Request a Quote
5 Days Birding in Murchison and Mabamba Shoebill Tour is designed to enable you explore Murchison Falls National Park's unique habitats that harbor an impressive avian diversity together with a plethora of wild game including 4 of the big5. This 5-day tour commences with a visit to the Mabamba Bay wetland, the home for the Shoebill Stork and other birds. Murchison Falls National Park with over 450 bird species, constitutes one of the excellent birding destinations in Uganda. It is named after the dramatic Murchison Falls that are formed from the Nile River exploding through a tiny gorge and plunging into a frothing pool 43m below.
Day 1 — Mabamba Shoebill Wetland tour
Rise up very early and drive to Mabamba Shoebill wetland that is situated 50Kms west of Kampala capital city but much closer to Entebbe. The highlight being the Shoebill stork, Mabamba swamp is a haven for many other bird species to mention the White-winged Warbler, Yellow-barked Weaver, Papyrus Gonolek, Yellow-backed Weaver, Blue-headed Cuckoo, Brown-throated Weaver and other swamp specialties like the African Jacana, Swamp Flycatcher, African Purple Swamphen, Lesser Jacana, Common Moorhen, African Pygmy Goose, White-faced Whistling Duck, Goliath Heron, Blue-breasted Bee-eater, Black Crake and the Winding Cisticola, among others. Birding here takes place on a motorised canoe and productive sightings, particularly for the Shoebill Stork, are early mornings and evenings. Return to the hotel in the afternoon/evening.
Day 2 — Murchison Falls National Park and Ziwa Rhino Sanctuary
Departure from the hotel shall be at 6.30am to embark on the drive through Luwero triangle and Nakasongora with our first stop at Ziwa Rhino Sanctuary to track the endangered White Rhinos. Another attraction of Rhino tracking in this sanctuary is the prospect of spotting many birds, some of which the knowledgeable sanctuary ranger/guides are in position to help you identify. Proceeding to the park shall be after lunch at Kabalega Diners or Masindi town. Through Kichumbanyobo gate, check into Uganda's largest and oldest national park hosting the world's most powerful waterfalls. The drive from the gate to Budongo Eco Lodge is largely under shades of green/woodlands that are good spots for viewing birds. Check into your lodge for dinner and overnight.
Day 3 — Birding at the Royal Mile of Budongo Forest Reserve and Top of the falls
Extending to Budongo Forest Reserve should on no account be missed for any birding trip to Murchison Falls National Park! As you go out to spot the birds at the Budongo Forest Royal Mile, from your checklist, you might tick off the: Brown-eared Woodpecker, African dwarf and Chocolate-backed Kingfisher, White-spotted Flufftail, Chest-capped Flycatcher, Yellow and Grey Longbills, Scaly-breasted Illadopsis, Olive-bellied Crombec, Dusky Long-tailed Cuckoo, Crowned Eagle, Blue-breasted Kingfisher, Forest Flycatcher,  Little Green Sunbird, Yellow-browed Camaroptera, Cabanis Bunting, Golden-crowned Woodpecker, Chestnut-crowned Eremomera, Brown-backed Scrub Robin, Narina Trogon, Green Sunbird, Narina Trogon, Black-headed Paradise Flycatcher, Grey Longbill, Yellow Longbill, Yellow-mantled Weaver, Crested Malimbe, Red-headed Bluebill, Western Black-headed Oriole, Red-tailed Ant-Thrush, Forest Robin, the elusive Lemon-billed Crombec and the Rufous Flycatcher Thrush and the Negrofinches.
Return from the Royal Mile and drive to the Top of the Falls. Where as birding too, can take place here, the spellbinding waterfalls are a game changer. Murchison Falls are so majestic formed after when the Nile River forces itself through a tiny gorge that creates a dramatic scene of forward, backward and sideways movement of water before finally plunging 45metres down. From the top of Murchison Falls, cross the Nile River and check into your lodge at the North.
Day 4 — Morning game drive and afternoon boat cruise to the Murchison Falls base
The jungle melodies you shall wake up to here are so inviting to any wildlife enthusiast! After breakfast, it is just time for an exciting Game drive experience in Murchison Falls National Park. Carefully drive through the game trails early enough with the prospect of viewing many animals and catching sight of the nocturnals before or as they return to their hideouts. The animal checklist for Murchison Falls National Park has among others; Elephants, Rothschild Giraffes, Leopards, Lions, Hyenas, Buffaloes, a variety of antelopes (Bush bucks, Waterbucks, Jackson hartebeest, Uganda Kobs, Sitatungas, extra). It has over 450 bird species including the Shoebill Stork that can be spotted at the delta though highest chances are on a boat ride from Paraa to the Albert Delta. Return to the lodge after the game drive to refresh and have lunch. Afternoon take a boat from Para to the bottom of Murchison Falls. Dinner and overnight at the lodge.
Day 5 — Journey back to Kampala
Exit the park through the northern gate and take the Pakwach-Karuma road to Kampala. View the spectacular Karuma Falls on the way and stop over at Kabalega Diners for lunch. Proceed to Kampala and get dropped off at your hotel/Entebbe airport.
End of the 5 Days Uganda Birding safari Escape.