Luxury Accommodation in Murchison Falls National Park
Luxury accommodation in Murchison Falls National Park provides a haven seamlessly integrated with its natural surroundings. Besides the superb locations, these luxury lodges are meticulously crafted to deliver a truly unique encounter. Each element of the properties is thoughtfully designed to ensure a visitor's stay exceeds all expectations. When planning a Safari to Murchison Falls National Park, choice for the best luxury safari lodge should be made from; Chobe Safari Lodge, Nile Safari Lodge, Baker's Lodge and Paraa Safari Lodge.
Murchison Falls National Park stands as Uganda's largest and hosts a rich diversity of wildlife, from majestic elephants and powerful lions to graceful giraffes and robust buffaloes. Within the park's embrace lies the awe-inspiring Murchison Falls, the world's most powerful waterfall. Luxury accommodations within this pristine wilderness redefine comfort and elegance, transcending your experience to unparalleled heights.
Top Luxury Accommodation at Murchison Falls National Park
Nile Safari Lodge
Nile Safari Lodge, gracefully situated along the serene southern banks of the Nile River, presents an unparalleled immersion into luxury living within the heart of the park. This exquisite lodge proudly showcases 52 generously proportioned, exquisitely adorned cottages, each graced with its own personal veranda that affords captivating views of the river's meandering beauty. With an infinity pool, a gourmet restaurant, and a sundowner deck, this lodge is the epitome of indulgence.
Paraa Safari Lodge

Paraa Safari Lodge is the crown jewel of Murchison Falls National Park's luxury accommodation. With its idyllic location on the northern banks of the Nile River, this lodge provides guests with awe-inspiring panoramas of the river's winding charm, the lush foliage, and the park's profusion of wildlife. Boasting 54 finely appointed rooms, suites, and cottages, all equipped with private balconies and en suite bathrooms, it ensures a luxurious and comfortable stay for every guest. Designed with a fusion of modern amenities and traditional African decor. Enjoy fine dining at the lodge's restaurant, sip on sundowners at the bar, or unwind in the inviting pool overlooking the river.
Baker's Lodge
Nestled along the southern banks of the Nile River, Baker's Lodge creates a distinctive fusion of luxury and unspoiled wilderness. Bearing the name of the renowned English explorer, Samuel Baker, the lodge promises top-tier dining, accommodations, and amenities. A collection of ten elegantly adorned cottages, each graced with en-suite bathrooms and private decks offering sweeping river panoramas, defines the lodge's luxury. A welcoming lounge, a well-stocked bar, and a dining area that opens to the river's tranquil vistas combine to craft an idyllic and sumptuous sanctuary.
Chobe Safari Lodge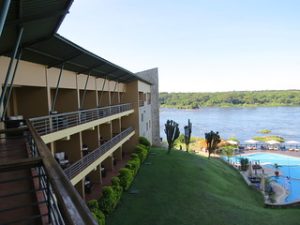 Nestled on the northern bank of the Nile River, Chobe Safari Lodge boasts breathtaking views of the majestic Murchison Falls. Featuring 60 well-appointed rooms and suites, each equipped with private balconies and en suite bathrooms, this lodge offers the epitome of comfort and relaxation. Situated at the park's edge, Chobe Safari Lodge is your luxurious escape into the heart of nature, with accommodation options that range from riverfront rooms to safari tents. The lodge's amenities include a sparkling swimming pool for a refreshing dip, a spa for rejuvenation, and a restaurant that serves delectable international and local cuisine, creating a perfect harmony of opulence and adventure. Chobe and Para are under the Marasa group of hotels.
Budongo Eco Lodge
For the eco-conscious traveler seeking a luxurious yet sustainable experience, Budongo Eco Lodge is a prime choice. Located on the edge of the Budongo Forest Reserve, this lodge offers comfortable cabins with modern amenities. The eco-lodge is designed with minimal impact on the environment, and it actively supports conservation efforts and community engagement. A stay here allows you to combine luxury with the joy of being close to the chimpanzee habituation experience and other unique attractions.
Amenities Offered by Luxury Lodge in Murchison Falls National Park
Spacious and well-appointed rooms
Private decks and outdoor showers
On-site restaurants and bars
Swimming pools and lounging areas.
Game drives and boat safaris. Murchison Falls National Park is known for its diverse wildlife, and luxury lodges offer game drives and boat safaris to allow guests to experience the park's wildlife up close.
Nature/forest walks particularly at Chobe Safari Lodge.
Wi-Fi and parking
Prices and Rates for the Luxury Lodges
The cost of luxury accommodation in Murchison Falls National Park varies depending on both the specific property and the season. To ensure you secure your desired dates and accommodations, it's a wise move to make your reservations well in advance. Many luxury lodges and camps provide packages that encompass lodging, dining, and a selection of activities. It's a good practice to meticulously examine the particulars of each package and reach out to the property directly for the latest information regarding pricing and availability.
Selecting the Best Luxury Accommodation
Amidst a plethora of remarkable luxury accommodations, deciding on the ideal one can indeed prove to be an overwhelming task. To streamline your decision-making process, it's essential to weigh crucial factors such as location, available amenities, the spectrum of activities, and pricing. Reading reviews and testimonials from previous guests is another valuable strategy to gain insights into their firsthand experiences. Ultimately, the right luxury accommodation is the one that impeccably aligns with your personal preferences, facilitating the creation of cherished memories.
Related Information