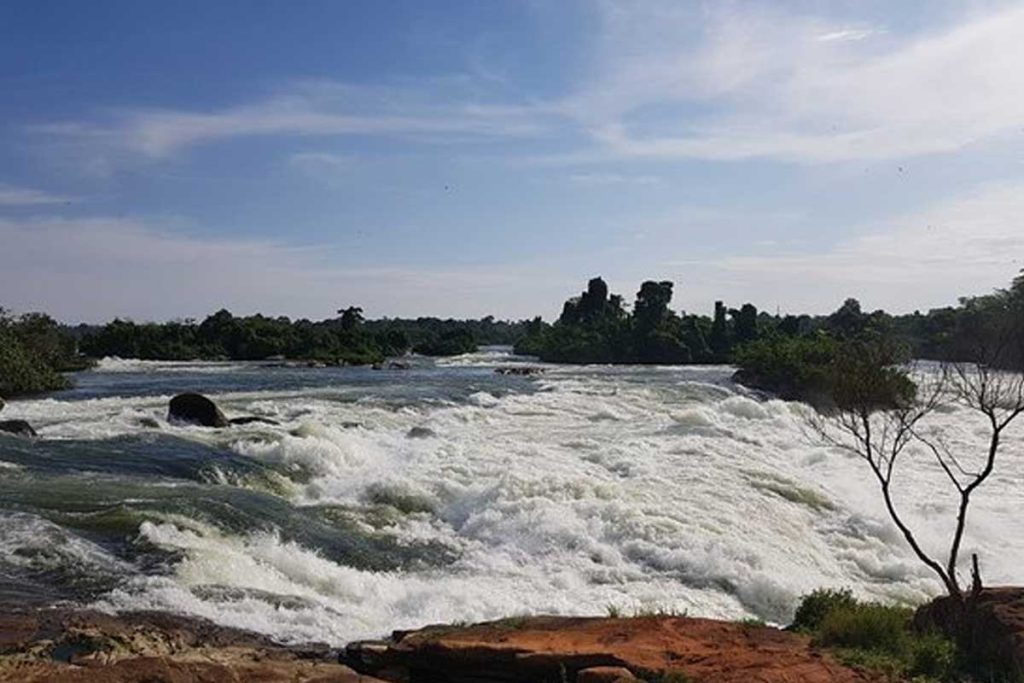 Request a Quote
Itanda falls are the second most powerful water falls in Uganda after the Murchison falls. They are located 27Km from Jinja town and are a few meters away from the Source of River Nile. Itanda are one of the first and major water falls formed by the Nile as it leaves Lake Victoria for its 3-months journey to the Mediterranean Sea in Egypt. Itanda falls site is one of the fascinating and yet less travelled places in Uganda. It is one of Uganda's best kept secrets and an ideal escape for anyone looking for quiet and less crowded places. Before Itanda falls and on the same river, were the Bujagali falls that got submerged to give way to a hydroelectric power dam project. To the Basoga, a dominant tribe in the area, Itanda falls are considered to be a sacred place for their gods and you shall occasionally find people who may have come to pray for healing against different ailments and seeking solutions to hardships. It is just another place for an authentic cultural experience in Uganda!
On a tour to Jinja, Itanda falls should on no account be missed. While at these falls, it is like you are viewing the Nile with all its waters and might. The views and sounds of the gushing waters of these falls are so breathtaking, majestic and spellbinding, to say the least! The sheer strength and power of the moving waters leave one in great awe especially when you imagine the serenity and calmness with which the Nile waters appear at its source. One can hardly believe that at some point along the way it can emerge into such thunderous and powerful falls. when you take some time marveling at these falls, you deeply feel them (the falls) and the might of the Nile river. The clear blue skies and the picturesque scenery adjacent to these falls are not only breathtaking but give an excellent optical therapy. Book our 1 day Jinja city and Itanda falls for such and more experiences.
The sights of the rafters when one happens to get there in morning hours especially, are a strong add on to the experiences of these amazing falls. For those who find pleasure in testing their adrenaline, kayaking and white water rafting at Itanda falls and on numerous others(falls) located on the Nile with in Jinja, are a heavenly site for such. Itanda is the only spot with all the 6 grades of rapids in Jinja/Uganda and it is where the highest level of difficulty during rafting or kayaking is felt. The numerous rapids that make up Itanda falls are in grades of 1 up to 6. Of course the different rafting companies know very well the spots of the most dangerous rapids and can hardly encourage visitors to raft through Itanda falls. You shall see rafters and kayakers getting off their boats and walk along the river banks up to the weaker areas of the falls where they get back on to the boats and continue with their fun. It is in the same regard that any one visiting for viewing is cautioned not to step in water or the stones near the falls. The falls are as beautiful and powerful as they are dangerous.
There are small islands amidst these falls but which can hardly be accessed because of the strength of the rapids. Among these is the contested island between the Baganda and the Basoga, both tribes found in Uganda. The Baganda call it Kalagala island, and Itanda island by the Basoga. On this island are the beautiful Kalagala caves which are accessible by a boat from only the Buganda side.
Wildlife such as birds and especially the giant cormorants are a common sight at this spot. Other aquatic bird species are also in plenty and the reptiles which are occasionally spotted busking on the stones near the river banks. Hippos and crocodiles are unheard of for a quite a long time now.
The Nile River also forms into other falls, among which are the Busowoko falls, Kalagala falls within Jinja, Karuma falls, Uhuru falls and Murchison falls in the northern parts of the country. Murchison falls, located in Murchison Falls National Park and after which the park is named, are rumored to be the world's most powerful waterfalls. With our 3 days Murchison falls National Park Safari, you are able to see the Murchison falls and the abundant wildlife in the park. Also not far from Jinja are the Sezibwa falls in Mukono, Sipi falls in Kapchorwa and Griffin falls in Mabira Forest which can be added on to your Itanda falls/Jinja tour experience.
Itanda falls site is a place of untouched beauty and rarely visited by tourists because not so many tour companies in Uganda know about it or have endeavored to visit it. Discovering/identifying such places and including them in our tour packages are what keep/put Jungle Escape Africa above the rest. A visit to Itanda falls can be combined with many other exciting adventures that Jinja has to offer among which are; White water rafting, Quad biking, tubing on the Nile River, Sun set cruises, Source of the Nile tour, Kalagala falls tour, horseback riding, sport fishing, Bungee jumping and community visits.
Some of our tours to Jinja
1 day Jinja city tour; Itanda falls, Mabira forest and Source of River Nile
1 day Jinja city tour; Sezibwa falls, Source of the Nile and Mabira forest
2 days Jinja tour and white water rafting trip
1 day white water rafting in Jinja
2 days Sipi falls tour with Jinja.
1 day tubing on R.Nile and Itanda falls tour in Jinja.