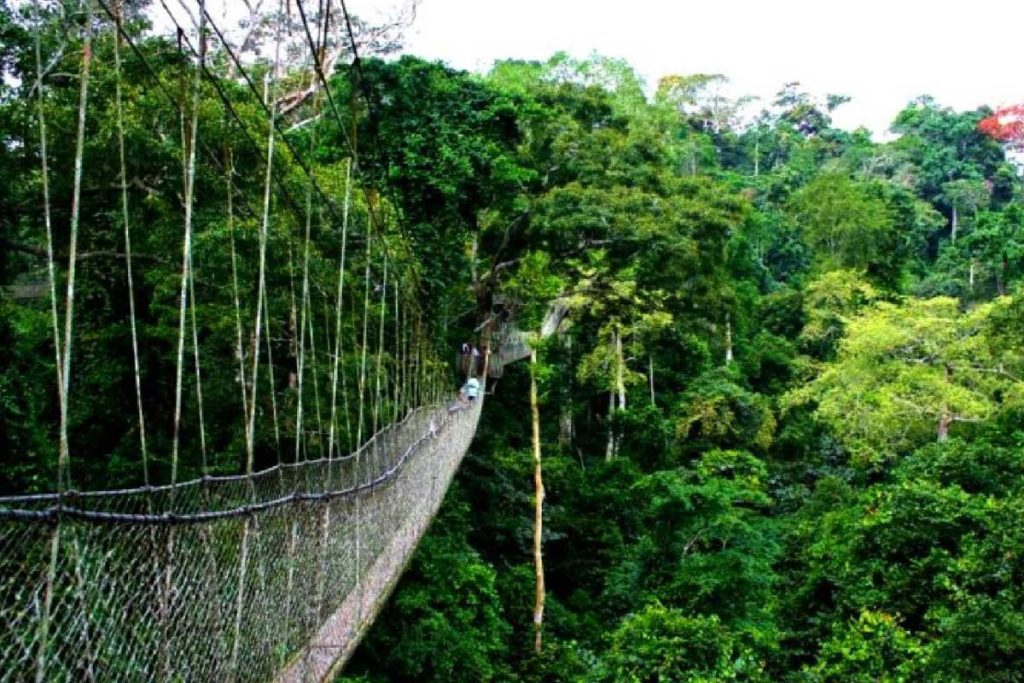 Request a Quote
2 Days Nyungwe Forest tour for Chimpanzee tracking and Canopy Walk safari through Nyungwe Forest National Park situated in the south west of Rwanda that protects a wide diversity of wildlife and most popular for so many primate species, including among others the Chimpanzees – man's closest relatives.
The park offers the Chimpanzee Tracking experince which enables visitors to observe a group of habituated Chimpanzees in this rich rain-forest forest. Nyungwe is also the only park in East Africa that has a canopy walk which enables visitors to explore the top level of the forest and view lots of wildlife. Meal plan: Full board
Day 1 – Kigali – Nyungwe Forest National Park, Canopy Walk
Have early breakfast and leave for Nyungwe Forest National Park at 7.00am. Arrive by midday, check in at your lodge for relaxation and lunch. By around 2.30pm you transfer to the Uwinka Visitors Center for registration and briefing from the rangers. Thereafter take onto the forest trail that leads to the canopy walkway.
The activity takes a total of 2 hours. From the canopy walkway you have breathtaking views across the lush forest and also observe lots of wildlife at eyelevel, such Colobus Monkeys, Blue Monkeys, L'Hoest Monkeys, so many birds, and different tree species. On return from the forest you transfer back to the lodge for dinner and overnight.
Day 2 – Morning Chimpanzee Tracking, Travel back to Kigali
Have early and report to the Uwinka Visitors Center by 7.30am for registration and briefing by the rangers. By 8:00 am you head into the forest to search for a group of habituated Chimpanzees. On finding them, you observe and follow them through the forest for an hour, after which you return from the forest. Refresh at the lodge briefly and thereafter depart for Kigali City.