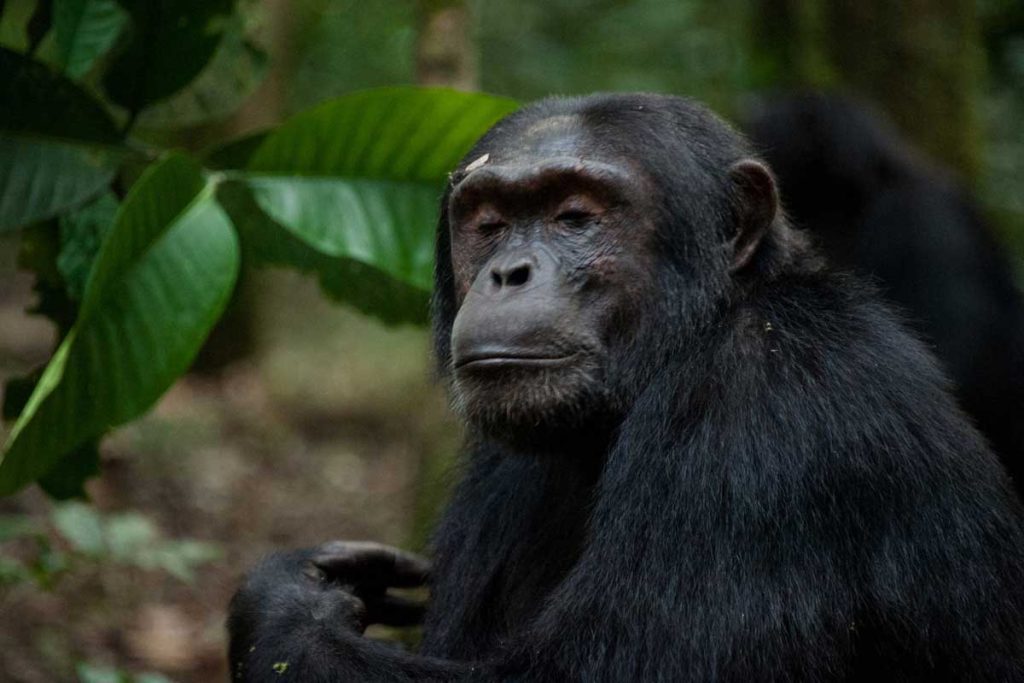 Request a Quote
Kibale National Park sits on 795SqKms averagely rising between 1,100 and 1,590m ASL. Kibale forests were gazetted in 1932 as a logged reserve and got established as a national park later in 1993 to start receiving tourists for Chimpanzee trekking. The park is largely an evergreen forest known mostly for the primates but a number of antelopes and other big mammals like buffaloes and elephants are famous. Right before 1993 until today, Kibale is a hub for scientific research. Dr.Richard Wrangham established in 1987, ''The Kibale Chimpanzee Project'' a long time field study on the behaviour, ecology and physiology of wild Chimpanzees while focusing on preserving their kind from extinction. Alongside Chimpanzee conservation and protection, research into the use of the different trees in Kibale forest and how effective they are in curing different diseases has often been done.
Kibale National Park truly lives by its epithet; ''The Primate Capital of the World''. It has the highest concentration of primates recorded anywhere in Africa. Although Chimpanzees are the highlight of this Primates Capital, the park boasts of 12 other primate species which include: Black and white Colobus monkeys, Blue monkeys, Olive Baboons, Grey-cheeked Mangabeys, Red-tailed monkeys, Red Colobus monkeys, Pottos, Bush Babies, L'hoest's monkeys, among others. Alongside the Chimpanzees, there exits the highest concentration of Red Colobus monkeys in East Africa. By the high population of Primates in Kibale and half of the world's population of Mountain Gorillas in Bwindi Impenetrable National Park, Uganda is the short hand for Primate Trekking Tours in Africa.
Birding enthusiasts find Kibale National Park an 'Eden of birds'. It is incredibly rich with avi-fauna! By the over 370 bird species recorded in Kibale, it constitutes one of the premier bird watching sites in Uganda. Out of the 370 species, 6 are Albertine Rift endemics and 2 out of the 6 are endemic to Kibale.
It's not just the Primates and birds that are there to see in Kibale, there are other animals/mammals like the Elephants, Buffaloes, 5 antelope species, Lions, leopards, among others although they are more or less elusive given the forest environment. It should be noted that Kibale National Park forms a continuous forest with Queen Elizabeth National Park and hence the back and forward movement of wildlife between these 2 parks through what is called the wildlife corridor that stretches as far as Ishasha.
Related to the above, the internet for some time was buzzed with arguments on whether the elephants found in Kibale are forest or savannah ones which was later approved that they are savannah elephants. Those for forest elephants would accompany their assertions with some unsubstantiated fact that forest elephants from Congo would through Ishasha use the 180Kms animal corridor to reach Kibale Forest. However, these species of elephants have distinctive features as listed here.
Regarding the floral composition of Kibale National Park, the long-time research findings indicate 331 tree species recorded so far. Some of these trees are as old as 200 years and stand as tall as 60 meters forming a dense canopy. These include the large buttressed mahoganies, tall fruiting figs and other hard wood trees including the Naked Adam Tree, among others.
What to do at Kibale National Park
Activities that can be done in this park are Chimpanzee trekking, nature walks, cultural encounters with the locals, canoeing and boat rides on the lakes, birding as well as tracking other mammals in the forest like elephants. Beyond bird watching and nature walks, the areas around Bigodi swamp and Lake Nkuruba have perfect hiking points and excellent viewing spots for the crater lakes and various monkey species.
Chimpanzee trekking in Kibale National Park
Kibale National Park is an excellent spot for Chimpanzee trekking in Uganda. With a record Chimpanzee population of 1,450 individuals, it guarantees a successful Chimpanzee trek upon a single visit. Daily Chimpanzee trekking excursions are conducted and guided by the knowledgeable and experienced UWA staff from the park offices at Kanyanchu. There are basically two sessions for Chimpanzee trekking; morning and afternoon session. A community of habituated Chimpanzees is visited by a maximum of 8 people per day per session. These can be spotted during Chimpanzee trekking or bird watching tours at the park. Chimpanzee trekking is done throughout the year although the dry periods are most recommended for such an activity. You might want to check our 3 days Kibale National Park Chimpanzee trekking tour.
Chimpanzee Habituation in Kibale National Park
Habituation is a unique wildlife experience and it entails all the processes of having the primates get used to human presence in their proximity. The regular tracking is only possible after the habituation process because then the animals will be less bothered by the presence of visitors in their habitat. With Chimpanzee habituation, a day starts at 5.am, breakfast at 6.30am and game on for 8 hours of walking and listening to the guide interpret a lot about the forest, its value and the Chimpanzees. Chimpanzees are more agile, aggressive and very engaging and with such, Chimpanzee habituation is more demanding than the regular trekking as it involves moving after wild Chimpanzees for many hours of the day.
Bird Watching in Kibale National Park
The 372 bird species record make Kibale National Park a birding hotspot. Six of these are natives of the Albertine Rift region namely; the Dusky Crimsonwing, Blue-headed sunbird, Red-faced woodland warbler, Black-capped apalis, Collared apalis and the Purple-breasted sunbird. Other Kibale forest specials are the sought-after African pitta, Green-breasted pitta, Abyssinia Ground thrush and the Crowned Eagle. On a lazy forest walk, you can also spot the Blue-breasted kingfisher, Yellow-spotted Nicator, Brown-chested alethe, the Black bee-eater, among others. These birds can be spotted by bird watchers during the guided walks in the forest.
Bigodi Swamp Walk/Tour near Kibale National Park
Bigodi Wetland Sanctuary is a community project that offers the best bird watching and wildlife viewing outside Kibale Forest National Park. It has over 138 bird species and famous too for wildlife such as the Chimpanzees, Black and white Colobus, Red Colobus, Red tailed monkeys, Mongooses as well as Bushbucks. There are knowledgeable and experienced local guides that take visitors on a 4-hour trail in this wetland. The proceeds from the tours of this swamp are used for community development and this has in one way or another facilitated the harmonious existence of the park and the local communities.
Crater lakes Tour around Kibale National Park
Away from the forest scenery are several crater lakes of the famous Kasenda Crater Belt which features a massive 45 crater lakes concentrated in the same locality. You will appreciate the unique landscape of this Kasenda crater area by visiting some of these crater lakes. Guided and self-guided tours can be arranged to take you on a tour of some of these crater lakes.
Cultural tours around Kibale National Park
Getting a closer encounter with the communities adjacent to Kibale National Park adds to your overall tour experience. The area is dominated by the native Batooro and the immigrant Bakiga. In the company of a local guide, you will get a glimpse of their daily life as well as an experience of engaging in their traditional dance and music.
The weather and the best time to visit Kibale National Park
The climatic conditions have not been seen to drastically change from year to year. The nights and early mornings tend to be much cooler around 150C and days warm up ranging from 210C-270C. The best time to visit is in the drier months of December- February, June- August because the tracks are less slippery and the vegetation undergrowth thins out making it easier to identify animals from a far off. The wet months of the year are the most ideal for bird watching and also seen to have less congestion in the park. Although there are months that receive more rain than others, the rain in this Park is quite unpredictable and therefore it is encouraged for one to have rain gear; a raincoat and waterproof shoes as well as a back pack to protect the camera equipment.
Accessing Kibale National Park
From Kampala capital city and Entebbe airport, Kibale National Park can be accessed by road via Mubende or Kasese. Mubende-Fort portal route is shorter than Mbarara-Kasese but both are equally rewarding in terms of scenic viewings. By air, scheduled and charter flights arrive at Nyakisharara airstrip in Mbarara which is 98Kms away and Kasese airstrip that is 75Kms away.
Where to stay/Accommodation at Kibale National Park
There are numerous places/lodges from where you can base to explore Kibale National Park. They range from budget, mid-range and luxury. Some of them are; Primates Lodge, Kibale Forest Camp, Chimpanzee Forest Guesthouse, Turraco Tree Tops Lodge, Rwetera Safari Camp, Kibale Guest Cottages, Ndali Lodge, Crater Safari Lodge, Kyaninga Lodge, Kibale Guest Cottages, among others.
Our short trips to Kibale National Park;