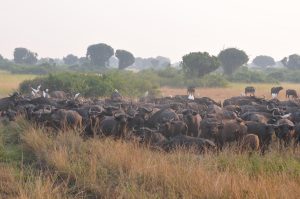 Request a Quote
The 2 Days Queen Elizabeth National Park Safari is planned for you to tour Uganda's most visited park. On the 2 Days Queen Elizabeth Tour, you are to enjoy a scenic drive from Kampala/Entebbe through Mbarara city, a boat cruise on Kazinga Channel and the game drives in the park's savanna plains and swamps.
Queen Elizabeth National Park is one place for amazing wildlife experiences through game drives, boat cruises and nature/forest walks. It is Uganda's second largest national park named after the Queen of England, Elizabeth II, in commemoration of her visit to Uganda in 1954. Its diverse ecosystem supports a variety of wildlife, both flora and fauna which can be spotted alongside an extravagant scenery comprising of the crater areas and lakes, a natural water channel – Kazinga, the forests, the rift valley escarpment and the Rwenzori Mountains in the backdrop, among others.
Highlights for the 2 days Queen Elizabeth Tour;
Scenic views along the way; farmlands and green hills, herds of the indigenous big-horned Ankole cattle, tea plantations, crater lakes and the escarpment.
Equator crossing monument visit
Game drives
Kazinga Channel boat cruise
Community encounters
Day 1 – Drive from Kampala/Entebbe to Queen Elizabeth National Park and do a boat cruise
After an early morning breakfast, your driver/guide from Jungle Escape Africa will be right in time at your hotel/residence for a briefing and shortly start the drive to Queen Elizabeth National Park. Set off time should/shall be 6.00am(prompt) to enable us catch the late afternoon boat.
You will have a brief stop at the Uganda Equator monument for some photo moments and some coffee for the road. We can have an early lunch in Mbarara or have it arranged with our lodge. After lunch, we shall drive to Mweya to catch a boat and enjoy a cruise on Kazinga Channel. You will have closer views of many animals like the elephants, hippos, buffaloes, crocodiles, monitor lizards, monkeys and uncountable number of birds.
After the boat cruise, you are to drive back to your lodge to relax and have dinner before the night's rest. Depending on where your lodge is located, we can even make a brief drive through the game trails to spot some animals in the late evening as we head to the lodge.
Day 2 – Game drive and return to Kampala
Raise up early enough for breakfast. For great chances of animal sightings, we have to leave the lodge very early like at 6.30am and reach the game tracks before animals disappear to further grazing/hunting areas. After a 2 hours game drive, we shall check out of the park to embark on our journey back to Kampala via Mbarara city. A drop off at your hotel in Kampala/Entebbe will mark the end of this 2 Days Queen Elizabeth national park safari.