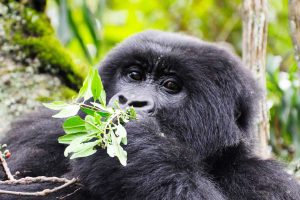 Gorilla trekking in Uganda is possible in two parks – Bwindi Impenetrable National Park and Mgahinga Gorilla National Park. Mountain Gorillas can only survive in the wild, so trekking into these forests is your only chance to have a peek at them on your Uganda Gorilla Safari Tour. In these two parks, tracking takes place at 5  locations – Buhoma, Ruhija, Rushaga, Nkuringo in Bwindi Impenetrable National Park and Ntebeko in Mgahinga Gorilla National Park. Permit numbers are limited because only 8 people  are allowed to visit a Gorilla family per day for one hour.     Request a Quote
Gorilla trekking in Uganda takes place to only the habituated Mountain Gorilla families and Bwindi Impenetrable National Park is the most preferred destination because of the many habituated Gorilla families. It has over 20 habituated groups while the rest live a solitary life or not yet habituated. Wild Gorillas are unapproachable but the Gorilla habituation process slowly and gradually exposes them to human presence. Among the fruits of Gorilla habituation is the peacefulness and fulfillment you ought to get when a group of Gorillas view you as a neutral being before them. You can even follow them as they feed, play and socialise for a good one hour. Regardless of their habituation status however, Gorillas are wild animals that shouldn't be dared unaccompanied. On the other hand, it doesn't matter how many times you may have tracked the Gorillas, the experience is always unique for each encounter with them.
Obtaining a Gorilla Permit for Uganda
Once you knock down a definite plan to visit Uganda's impressive Mountain Gorillas, embark on securing a Gorilla permit immediately. Permits are limited in number yet the demand is so high. Permits can be paid for up to 2 years in advance though it is recommended to book at least 2 or 5 months to your visit. Ideally, permits should be booked several months before your visit to avoid missing out. Each Gorilla tracking permit goes for US$700.
In Uganda, permits are issued by the Wildlife Authority at the Kampala offices, and only to licensed tour companies. As a foreign visitor therefore, you shouldn't go to the wildlife offices to get the permit . Jungle Escape Africa is duly licensed by Uganda Tourism Board and so shall gladly secure the permit on your behalf. Share your desired travel dates and your passport bio data page for us to get your permit out. Not only the permit but we are always grateful for an opportunity to arrange for you a full package for a Gorilla trekking Safari in Uganda, plus free information and expert advice.
How is the Gorilla trekking day like?
On the Gorilla trekking day, you should be at the park offices/headquarters at 7.30am for a formal registration as a visitor for that day and briefing before reaching out to the Gorillas in the forest. Carry your travel documents with your permit to present for registration. You will be considered a no-show and your permit nullified if you fail to make it on time for briefing and registration. During briefing, Gorilla trekking rules and regulations are shared to the visitors. Gorilla trekking is strictly a morning activity with no other sessions.
It is during the registration that you are assigned a Gorilla family to track. Despite the forest having many families, the permit allows you to track one family on that particular day. However, you can be lucky to bump into another family as you trail to reach your allocated family. You are not supposed to follow that family because it could be already having visitors allocated to it for that day. The maximum number of visitors for each Gorilla family is 8 per day and tracking is restricted to any individual of below 15 years.
Allocation of families takes into consideration the people with special cases like the elderly and those with a poor health state or disability. These are allocated easier treks or families that are not far deep in the forest so that they don't have to walk a lot before finding the Gorillas. Information about one's health or physical issues has to be shared at the time of securing the permits.
Time Taken To Find the Gorillas
The time taken to find the Gorillas can never be predetermined, it varies depending on a number of factors; their movements with in the forest and how easy it takes the trackers to locate where they may have camped the previous night. Your allocated Gorilla family may be moving towards or away from you as you are walking. Whereas it can take 31/4s of the day in some cases, it may take less than an hour to others. You are allowed only one hour to follow the Gorillas after finding them regardless of the time it has taken you to locate them.
Best Time to Visit for Gorilla trekking in Uganda
You are highly encouraged to visit during the drier months though Gorilla trekking is an all-year-round activity. These months are December to February and June to September. Even in the dry months, don't expect to find the forest very dry. This is a dense forest with a canopy that restricts the penetration of sun heat that would have dried up the ground, perhaps. It has an array of water streams, ponds and rivers which keep the forest moist/cool all the time. Just know, it tends to be too muddy in the wet months which makes it difficult to navigate through. However, we can't guarantee the above months to be dry. The global climatic changes have also affected this part of the world, the weather is unpredictable. It can rain or get dry any time of the year. Also Bwindi being a tropical forest, rains are a usual occurrence regardless of the season.
Tracking More Than Once (Double Gorilla trekking)
You can track as many times as your resources (financial or time) can allow for as long as the permits are available. Gorillas are visited once a day so you have to secure one permit per day. Each day requires its permit. You are free to track different families/groups or stick to one for your different visits. This has to be decided before or at the time of securing the permits. Please note that you are not allowed to track more than once a day despite having more than one permit. All in all, the experience is unique for each encounter with these animals regardless of how many times you may have visited or tracked them. How about you checked on our 4 days Uganda Double Gorilla Trekking trip!
Is it possible to see Gorillas even on a single visit?
Yes, it is possible to see Gorillas on a single visit despite being wild animals. Among the park staff, are trackers who have to check on the Gorillas whether there are visitors or not. They are the first to reach the forest and the last to leave. Each single day, they walk very early in the morning upto where they left the Gorillas the previous evening and they start tracking them majorly following crushed vegetation, droppings and their footprints. After finding them, they direct the head guide coming with the visitors on the easiest route to take to find them.
Well, the park has trackers to locate the Gorillas but being able to keep with them for that full hour after finding them is because they have undergone habituation that prepares them to view humans as neutral beings in their environment. Trekking is done to only the habituated ones. Habituated Gorillas are not afraid of human presence like the wild ones that will always flee or aggressively charge when they see humans advancing towards them.
Is there driving in the forest?
There is no driving in the forest, you can only reach the Gorillas on foot. Pick a walking stick to support you as you walk in this dense forest. Also you will use this stick to estimate the depth of the water areas/streams that you will come across during the trek. Most of them are open with no bridges and abit wide for any one to jump over, leaving you with no option but to cross by stepping into them. Some of them have logs and stones on which to step. These are the ones on the larger well used paths before you branch off to smaller or no paths at all. Walking sticks are provided for free at the park offices.
Hiring and using Porters for Gorilla trekking
Hire porters to assist you during the trek. It is not a must if you are a regular or experienced hiker. These porters help to carry your packed lunch, drinking water and any small pack you may be having during the trek. This in the end relieves you of the burden of having to carry some stuff as you move up and down the thick forest. Also, a porter gives support at some points/spots that you may not be able to navigate on your own. Porters are hired at $15 per day. Also, there is a stretcher commonly referred to as the ''African helicopter''. It is more costly at $300 but it makes the forest accessible to disabled people or those who may otherwise not be able to make the hike.
Also visitors are encouraged to hire porters as a way of giving back to the communities adjacent to the park. Porters are trained people from the communities and your act of hiring them will have contributed to the peaceful existence of the park and the neighboring communities. These are some of the people who would view the forest as a source of their livelihood if they do not benefit from the tourism activities. They eventually become a threat to the lives of the Gorillas when they encroach upon their habitat for survival.
Is there Individual Tracking?
There is nothing like individual tracking. Any visitors to a particular Gorilla family are accompanied by armed park rangers and a head guide who help you to locate a particular family. You will be safe with the rangers incase you bump into wild Gorillas and other wild animals like the elephants and buffaloes. Usually they shoot in the air to scare these animals away. During your search for the Gorillas, your guide will be sharing with you a lot of information about them and the park at large. Feel free to interact with him/her.
Gorillas do not follow designated paths or trails as they wander in the forest, these are wild animals that only mind their usual routine of gathering tree leaves, shoots, roots, fruits and socialising. At some points, it is these rangers that create paths for the trackers by cutting the vegetation with the sickles and machetes. The forest is so thick with dense vegetation which makes it difficult to penetrate even on foot. It surely lives by its epithet, the 'IMPENETRABLE FOREST'
Gorilla Trekking Rules and Regulations
Strictly follow the safety guidelines during your search for the Gorillas and when you finally find them. These are passed on to the visitors during the morning briefing:
After finding the Gorillas, you are allowed one hour with them and you have to keep a distance of 7 metres away from them. However, don't move incase they come closer to where you are. Otherwise moving away might be a signal to them that you may have come to attack them.
If you have to sneeze or cough while with the Gorillas, please cover your face/mouth to avoid spreading cough and flu to them. Remember they share 98% DNA as humans so diseases from humans can easily be spread to them. In any case, it will be very kind of you to reschedule/postpone your visit if you find yourself with any communicable disease before your visit.
Wear a face mask when you are approaching the Gorillas. This came up after the COVID-19 outbreak. You may not be able to wear it for the whole trek because you need enough Oxygen during this difficult walk into the forest.
Any visitor confirmed to be carrying the Corona Virus will not be registered for Gorilla trekking that day.
You are allowed to take photos of the Gorillas but with camera flashes off. Flash photography is not allowed.
or your snacks, lunch or any drinks, your guide will advise on a place where to eat or take them from. It has to be before reaching the Gorillas or when you are done with them, always inform him/her to arrange for that.
For your snacks, lunch or any drinks, your guide will advise on a place where to eat or take them from. It has to be before reaching the Gorillas or when you are done with them, always inform him/her to arrange for that.
If you have to respond to nature's calls, inform your guide to dig you a hole.
Carry whatever you came with out of the forest. Littering the park is strictly prohibited.
What to Pack For Gorilla Trekking
Gorilla trekking is a special activity which calls for strictness on what to pack. With you, you should have trekking shoes/boots, long sleeved shirts/tops, rain coat, waterproof pants(long), hat, insect repellent, above the ankle socks, gloves, among others. Last but not least, make sure you are in good physical shape to be able to conquer this hilly terrain of Bwindi. Sometimes the trek is challenging but it is quite doable to any moderately fit person. With the 'African Helicopter' and the porters, your dream of reaching the Gorillas despite your physical disability or poor health, will be realised.
Recommended Gorilla trekking Tours
3 Days Mgahinga Gorillas and Lake Mutanda
5 Days Gorillas, Chimpanzees and Tree lions Tour
More related information