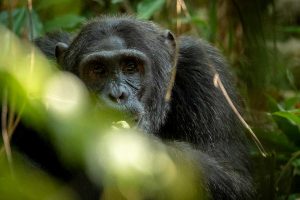 Request a Quote
2 Days Chimpanzee trekking tour takes you Kibale Forest that covers 766 square kilometres of moist evergreen rain-forest. It is home to a variety of wildlife especially primates. There is a big population of Chimpanzees including some groups that have been habituated for the tracking experience
Day 1 – Kampala – Kibale National Park
Pick-up from Kampala/Entebbe is at 7.00am and drive westwards to Kibale Forest National Park. Lunch is in Fort Portal town, thereafter drive for an hour and get to the park. Check in at your accommodation for the rest of day, dinner and overnight. Travel time: 5hrs
Day 2 – Chimpanzee Trekking, Travel back to Kampala
Have early breakfast, and transfer to the park offices by 7.30am for briefing by the rangers. At 8.00am walk into the forest and start the search for the habituated Chimps. The forest is incredibly rich with wildlife especially primates such as Black-and-white Colobus, Red-tailed Monkeys, Blue Monkeys, Baboons, and Grey-cheeked Mangabeys.
Plus, over 300 species of birds have been recorded in the forest! You are allowed no more than an hour to follow the chimps through the forest. Return to find your driver guide, drive to Fort Portal for lunch and thereafter proceed to Kampala/Entebbe.
End of your 2 Days Chimpanzee Trekking Tour in Kibale Forest.