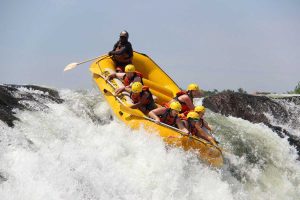 Request a Quote
The 2 days jinja city tour, mabira forest and white water rafting shall take us to Jinja, East Africa's adventure Capital.  This 2 day trip is the perfect one for a thrill seeker with a little touch of adrenaline junkie and a great love for nature. Our journey begins in the magical Sezibwa falls and winds up in the game of free fall – white water rafting.
Day 1 – Sezibwa falls, Mabira Forest & source of River Nile
From Kampala, we shall begin with a visit to the Ssezibwa Falls after some 40 minutes of driving. The Sezibwa falls has magical sights and great cultural attachment to local community and the country at large. At Mabira forest, we will stroll through the impressive diversity of trees as we look to identify the different forest birds, plant species and some animal foot prints if we are unlucky to chance on them that day in this enchanting forest.
We shall continue to Jinja for lunch and it is where our day will end in a great sense of achievement at the Source of River Nile, the longest in Africa. It is at this point that the Nile starts its 3 months journey to the Mediterranean Sea.
Day 2 – Full day white water rafting and back to Kampala
There is just nothing quite exciting like a double dose of adrenaline rush in one day. We prepare for today's share of adventure by a delicious heavy breakfast and after briefing begin the half day paddling of the Nile waves. At some points we shall be hitting the calmness out of the Nile waters while at others it will be a revenge to us in form of the strong waves/rapids on this great river. All this is thrilling, petrifying and exciting at the same time.
After lunch, we enter yet another thrilling session of adrenaline rush as we continue our battles with the waves on the Nile. Our day will close off with a celebration of beers plus other drinks and a barbeque to mark off our survival of the Nile. With great stories to tell back home, we return to Kampala. End of your 2 days jinja city tour.