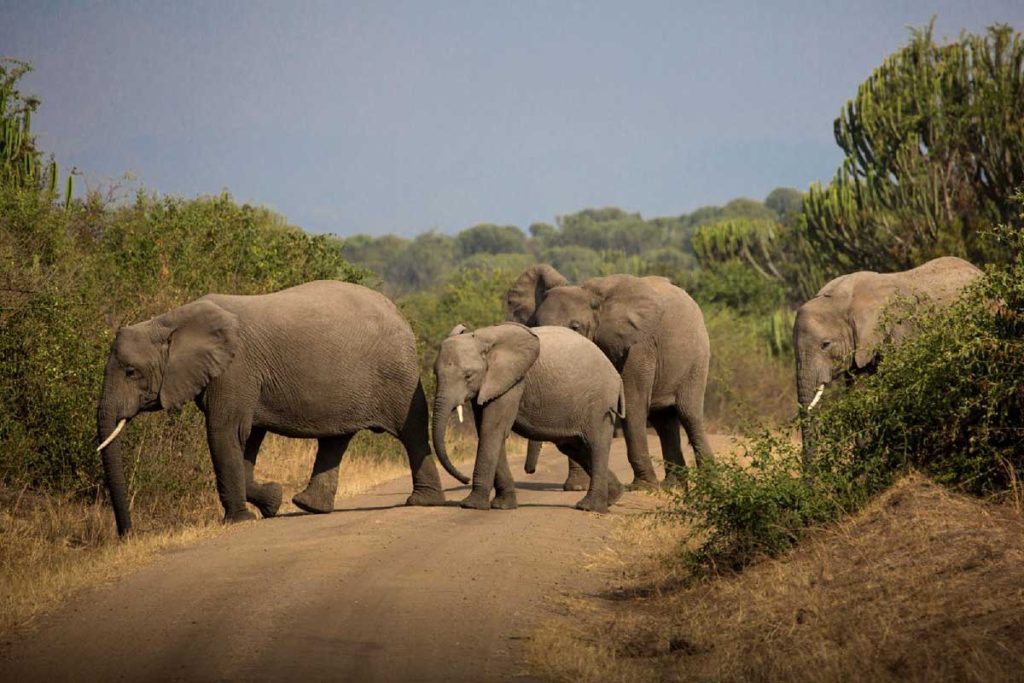 Request a Quote
At its initial establishment as a national park in 1952, it was named Kazinga National Park. It was renamed Queen Elizabeth National Park two years later in commemoration of the Queen of England's visit to Uganda in 1954. It is Uganda's second largest national park after Murchison Falls National Park. Queen Elizabeth National Park occupies 1,978SqKm of land and water in the Western region of Uganda spanning the districts of Kasese, Kamwenge, Rubirizi and Rukungiri. Generally, it lies at 950m above sea level with its crater areas rising at a slightly higher altitude.
Wildlife in Queen Elizabeth National Park, Uganda.
Queen Elizabeth National Park is gifted by nature and is undoubtedly Uganda's most visited and popular park. It has 4 types of eco systems; wetlands, grasslands, water and forests which support its rich bio-diversity. It is one place that offsets the magic with its breath taking scenery formed by the crater lakes, water channel – Kazinga, the forests, extensive savanna, the Rwenzori Mountains in the backdrop, among others. With regard to fauna, Queen Elizabeth National Park hosts 95 mammal species including 4 of the big5 – lions, leopards, buffaloes and elephants, over 600 bird species and 10 primate species including the Chimpanzees.
Animal list for Queen Elizabeth National Park.
Elephants
Lions
Buffaloes
Mongoose
Jackals
Hyenas
Serval cats
Uganda Kobs
Reed bucks
bush bucks
Water bucks
Statungas
Harte beasts
Hippos
Bush Pigs
Wart hogs
Ground Squirrels
Colobus and Patus Monkeys
Chimpanzees
Baboons
Vervet Monkeys
Bats
Crocodiles, snakes, monitor lizards and many other reptiles
Birds like the Raptons, Night jars, Sunbirds, Skimmers, King fishers, Martins, Swifts and a lot more.
More things to see and do in Queen Elizabeth Park.
Other than the major obvious activity – game drive, Queen Elizabeth National Park presents its visitors with a variety of tour options and spots to experience while on a Uganda safari holiday. These include boat cruises on Kazinga Channel, Crater lakes drive/tour, Chimpanzee tracking in Kyambura Gorge, guided nature walks in the park and Maramagambo forest caves for bats and snakes, lion tracking experience and cultural encounters. The Equator crossing monument at Kikorongo near Kasenyi and the tree climbing lions at Ishasha in the south, all these make Queen Elizabeth Park a desired destination.
The weather at Queen Elizabeth National Park and the best time to visit.
The weather here is greatly influenced by the location of this park. Temperatures are generally on the warm side by virtue of its location in the rift valley area of the Great African Rift Valley. Queen Elizabeth National Park is crossed by the Equator at 00 coordinates. On average, day temperatures rise upto 290C/840F (maximum) and the lowest they can drop is 170C/630F. At night, temperatures can drop upto 150C/610F. Generally, the place is always hot during the day and cold at night.
Game tracks and forest trails are navigable during the dry months and very slippery in the wet months. Although all park activities are available through out the year, some are done with some level of difficulty as a result of the rains which in turn could ruin the would-be good experience. However, they all remain experiences for one to cherish regardless of the time.
On a wider perspective, the best time to visit Queen Elizabeth Park should be in the dry months of June to September and December to February. Other than the game tracks and forest trails being passable, animals tend to get closer to water sources which makes it easy to see them in large numbers. Also the drive through the different access roads (particularly the untarmacked one through Ishahsa) to the park will be easier/smoother during the dry months than the rainy ones.
When it comes to the park activities, game drives are better done early morning and late evening. At such times, animals are more active grazing and hunting. Mornings apply too to Chimpanzee tracking but not the late evenings. For the boat cruise (Kazinga Channel to be specific) early mornings and evenings are the best to the bird watchers and the afternoons are for the game viewers.
Accessing Queen Elizabeth National Park.
From Kampala or Entebbe airport, Queen Elizabeth National Park is located approximately 420Km in the Western part of Uganda. The drive on a good tarmac road is about 6 hours via Mbarara or Fort portal cities.
The park can also be accessed by air. It is served by 3 airstrips; Mweya, Kasese and Ishasha. There are both charter and scheduled flights from Enetbbe airport and Kajjansi to these respective airstrips. During some times of the year (peak/busy season), scheduled flights from Murchison falls Park to Queen Elizabeth Park/Kasese are available. More information about the respective flight schedules and charter flights can be availed. Contact Jungle Escape Africa's reservations team for assistance.
Queen Elizabeth National Park is located between the Chimpanzees and the Gorillas parks of Kibale Forest and Bwindi Impenetrable Forest, respectively. From the Gorillas Park (Bwindi Impenetrable Forest), it can be accessed via Ishasha which is about 2-4 hours depending on the sector of Bwindi one is departing and it is 2-3 hours from Kibale Forest Park or Fortportal town.
Where to stay at Queen Elizabeth National Park.
There are quite a number of accommodation options to choose from for your stay as you explore this second largest park in Uganda. They range from budget to luxury camps and hotels/lodges. They are spread both within and outside the park boundaries.
Luxury Lodges/Camps.
Elephant Plains Lodge
Kyambura Gorge Lodge
Mweya Safari Lodge
Ishasha Wilderness Camp
Katara Lodge
Mazike Safari Lodge.
Mid-range Lodges.
Kikorongo Safari Lodge
Ihamba Lakeside Safari Lodge
Enganzi Game Lodge
Parkview Safari Lodge
Elephant hub Lodge
Enjojo Lodge
Ishasha Jungle Lodge
Budget Lodges.
Bush Lodge
Pumba Safari Cottages
Mweya Students Hostel and Campsite
Simba Safari Camp
Topi Lodge, Ishasha
Kazinga Channelview Resort.
Tours/trips to Queen Elizabeth National Park.
2 Days Queen Elizabeth National Park Safari from Kampala/Entebbe
3 Days Wildlife Safari to Queen Elizabeth National Park
3 Days Queen Elizabeth Wildlife and Tree Climbing Lions Tour
3 Days Queen Elizabeth game viewing and Chimpanzee tracking trip
3 Days Bwindi Gorillas Trip via Queen Elizabeth National Park.
3 Days Kibale Chimpanzees and Queen Elizabeth National Park Safari.
1 Day Queen Elizabeth National Park Safari
4 Days Bwindi Gorillas and Queen Elizabeth Tree Lions Trip.