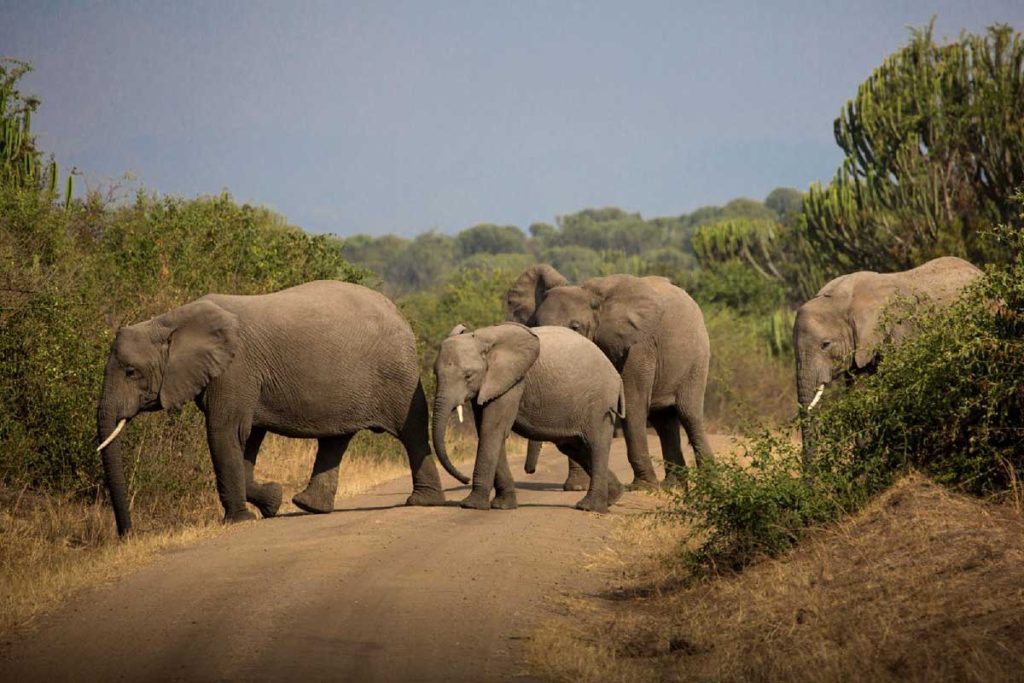 Request a Quote
At its (Queen Elizabeth National Park) initial establishment as a national park in 1952, it was named Kazinga National Park. It was renamed Queen Elizabeth National Park two years later in commemoration of the Queen of England's visit to Uganda in 1954. It is Uganda's second largest national park after Murchison Falls National Park. The park occupies 1,978SqKm of land and water in the Western region of Uganda spanning the districts of Kasese, Kamwenge, Rubirizi and Rukungiri. Averagely, it lies at 950m above sea level with its crater areas rising at a slightly higher altitude. The park is undoubtedly Uganda's most popular park and certainly one of its most scenic. It is one place that offsets the magic with its breath taking scenery formed by the crater lakes, Kazinga water channel, the forests, extensive savanna plains, the Rwenzori Mountains in the backdrop and the endless Ishasha plains whose fig trees host prides of Tree climbing lions. It is truly unrivalled and has so much to offer to visitors!
Wildlife in Queen Elizabeth National Park, Uganda
Queen Elizabeth National Park is gifted by nature. It has a diverse eco-system which include the sprawling savannah, shady, humid forests, sparkling lakes and fertile wetlands. The park's extraordinary ecological diversity is reflected in its long lists of animals and bird species. With regard to fauna, Queen Elizabeth Park hosts 95 mammal species including 4 of the big5 – Lions, Leopards, Buffaloes and Elephants, over 600 bird species and 10 primate species including the Chimpanzees. Another unique wildlife in Queen Elizabeth National Park are the tree climbing lions in its southern sector of Ishasha.
Animals in Queen Elizabeth National Park
Elephants
Lions including the climbing ones at Ishasha
Buffaloes
Mongoose
Jackals
Hyenas
Serval cats
Uganda Kobs
Reed bucks
bush bucks
Water bucks
Statungas
Harte beasts
Hippos
Bush Pigs
Wart hogs
Ground Squirrels
Colobus and Patus Monkeys
Chimpanzees
Baboons
Vervet Monkeys
Bats
Crocodiles, snakes, monitor lizards and many other reptiles
Birds like the Raptors, Night jars, Sunbirds, Skimmers, King fishers, Martins, Swifts and a lot more.
Attractions/things to see and do in Queen Elizabeth Park
Queen Elizabeth National Park presents visitors on a Tour to the park with numerous options and spots to encounter. These include game drives in its savannah plains, boat cruises on Kazinga Channel, Crater lakes drive/tour, Chimpanzee trekking in Kyambura Gorge, guided nature walks in the park, lion trekking experience, cycling and cultural encounters. The Equator crossing monument at Kikorongo near Kasenyi and the tree climbing lions at Ishasha in the south and others like Kalinju forest, Maramagambo forest make Queen Elizabeth Park a desired destination by both local and international tourists.
Game drives in Queen Elizabeth National Park
Game drives or game viewing safaris are the most popular activities for visitors to the park. Through a network of tracks around the Mweya Peninsular and across the main high way in Kasenyi are prime grazing and hunting areas for the animals. The best time to see most of the above listed animals is early mornings and late evenings. Lions can best be spotted just after day break and just before sunrise. During the heat of the day, they are resting near/in the thickets. Night game drives can also be arranged. More game drives can be done in Ishasha (in the south) to spot the legendary tree climbing lions and more animals.
Boat cruise on Kazinga Channel for game viewing and birding 
A boat cruise on Kazinga Channel in Queen Elizabeth National Park should on no account be missed! While on a boat launch trip, you are positioned well and safely for incredible closer encounters of wildlife, and in its abundance. This channel is an oasis of life in its wildest form! A water way that connects Lakes George and Edward, Kazinga Channel constitutes one of the many water sources and habitats for wildlife in the park. During the boat cruise on the Kazinga Channel, it's like attending a 'wildlife meeting', though quite different from the wildebeest migration scenes in Masai Mara and Serengeti parks. The channel attracts a very high concentration of a variety of birds, animals like the hippos, crocodiles, elephants, buffaloes, many antelopes and some primates, all in one area – the channel banks. Elusive lions and leopards can also be spotted much as it might take some bit of luck. Perhaps you have seen herds of herbivores and carnivores elsewhere, the experience of viewing those large fierce animals in the comfort of a boat is unequalled and has placed Queen Elizabeth National Park atop the list of the most visited national parks in Uganda.
Birding in Queen Elizabeth National Park is understandably an ornithologist's dream come true! The long bird species list for Queen Elizabeth National Park has earned it a reputation as a birding hotspot in the country. The thriving bird life is attributed to the wide variety of habitats that range from savannah and wetlands to gallery and lowland forests. The park has over 610 bird species, the highest list of any protected area in Africa. Early game drives in the open savannah and the afternoon launch cruise on the Kazinga Channel, are ideal for spotting the savannah and water birds, respectively. The park also has rare birds like the most sought-after Shoebill stork that can be spotted in Ishasha (its southern sector), a number of migrant species and some Albertine Rift endemics. Some birds are the African skimmer, African Spoon bill, Green-backed heron, African Open-billed stork, Mongolian Plover and many others.
Chimpanzee Trekking and nature walks in Kyambura Gorge
Kyambura Gorge, also referred to as 'the Valley of Apes', is a Chimpanzee tracking and nature walks site with in Queen Elizabeth National Park. Chimpanzees in Kyambura Gorge tend to be elusive because of the limited number and their high mobility but at least the walk down the ravine is so rewarding. You will not miss a couple of other primates like the Black and white Colobus monkeys, Olive Baboons, Blue and Vervet monkeys that find life in Kyambura Gorge. Elephant dung, traces of buffaloes, Bushbucks and hyena footprints encountered during the walk, intimate to you that those jungle dwellers are present in Kyambura Gorge. Even when you miss going down the gorge, the views of its underground forest from a raised platform are just out of this world, to say the least!
Lion trekking experience and research 
The Lion trekking experience in Queen Elizabeth National Park guarantees sighting of the elusive cats, mainly the lions. During lion trekking, you will follow a research team as they track the animals fitted with radio callers. A tracking device in the vehicle leads the visitors directly to the lions where they spend some time observing them with a team of researchers. This unique lion tracking and research activity is a conservation mission by the Uganda Carnivore Program to educate visitors on the park's predators and their interaction with the people as well as the villages around the park. The research gives an insight into the predators' movements, breeding habits and their health. Sign up for Lion tracking and you will be contributing to an important conservation program that protects lions and other predators from extinction.
Crater Lakes drive and tour 
The crater lakes drive is one of the games of Queen Elizabeth National Park. It is a stunning drive through the craters dotted in the park. Through the Crater gate, take a scenic 27Km route to enjoy the breath-taking views of the park's crater and other scenery. Although animals like elephants have occasionally been sighted in these craters, it's not one of those places of the park to visit for game viewing. Among the highlights of this 27Km route through the craters is viewing the massive Kyemengo crater, the largest located at the baboon cliffs. Another that offsets the magic is Kitagata, a dark inky blue lake in which the reflection of the sky can be seen on a sunny day.
Cycling is a recent addition to the tour activities in Queen Elizabeth National Park. The beauty of cycling is mainly in an up-close viewing of the park features as well as its amazing scenery. Cycling trips in the park follow well-marked out routes/zones that are free of dangerous animals like the lions. You should however be reminded that the African bush is unpredictable so shouldn't be dared unaccompanied. All cycling tours in the park take place with an armed park ranger/guide. Cycling trips involve climbing hills so you should have a bike that works with off-road terrain and with good gear.
Other attractions with in/near Queen Elizabeth Park
Tree Climbing Lions in Ishasha, south of Queen Elizabeth National Park
The magical tree climbing lions seen at great heights in Queen Elizabeth National Park are a marvel that fascinate many visitors to this park and Uganda at large. These tree climbing lions are exclusive to Ishasha, a sector in the south of Queen Elizabeth National Park. It is not every day to find big cats especially the lions climbing at such great heights so those of Ishasha constitute a rare and an amazing spectacle which when combined with other unique tour adventures such as Gorilla trekking and Chimpanzee trekking explain why a Uganda Safari Holiday ends up to be unique, memorable and a wonderful one. For a short visit to Queen Elizabeth National Park to see those tree lions, other animals, birds and even do a boat cruise on Kazinga Channel, you can book this 3 days trip.
The Queen's Pavilion at Queen Elizabeth National Park
The Queen's Pavilion is one of the tourism information centers in Queen Elizabeth National Park located 800 meters from the Kikorongo Equator monument. Majorly known to offer a quick gate way to the crater lakes drive, it is also a great stopover point for general tourist information. It's where you can find an elaborative map laying out all the features of the park like the crater lakes, rift valley, the Rwenzori Mountains (at the backdrop), the Kazinga Channel and others. The Queen's Pavilion is operated by the CTPH – Conservation Through Public Health, a non-profit organization that oversees the protection of wildlife in the protected areas through testing animals for diseases which can spread between them, the communities and their livestock. This is already paying off as the local community volunteers are playing a vital role in treating livestock and reporting of sick wildlife in their villages to the Uganda Wildlife Authority. Other than obtaining information about the park, the Queen's Pavilion can be visited for quick internet access, getting park entry clearance, hot and cold drinks, lunch, snacks, souvenir shopping and the great views of Queen Elizabeth National Park.
Mweya Peninsular in Queen Elizabeth National Park
To many Ugandans, Mweya sounds more as the name for this national park than Queen Elizabeth and this is a reflection of the great importance of the Mweya Peninsular to the park and its visitors. For many years and prior to some changes within the park, Mweya used to be the center of activities for Queen Elizabeth National Park just like Paraa in Murchison falls National Park. It is located on the northern bank of the scenic Kazinga Channel where Lake Edward touches the Channel. It is from this peninsular where the Kazinga Channel boats depart. The peninsular attracts animals and birdlife and from its elevated position, various points on the peninsular give excellent views of the Rwenzori Mountains to the north and spectacular sunsets over the lake. You shall find the luxurious Mweya Safari Lodge, a canteen, hostel, camping site and a visitor's center at the Mweya Peninsular.
Kalinzu Forest is visited for nature walks, Chimpanzee trekking and birding.
Maramagambo Forest too has birds, primates and is another good spot for nature walks as well as the bats and python caves tour.
The weather and the best time to visit
The weather here is greatly influenced by the location of this park. Temperatures are generally on the warm side by virtue of its location in Africa's Western Rift Valley. Queen Elizabeth National Park is crossed by the Equator at 00 coordinates. On average, day temperatures rise up to 29 0 C/84 0 F (maximum) and the lowest they can drop is 17 0 C/63 0 F. At night, temperatures can drop up to 15 0 C/61 0 F. Generally, the place is always hot during the day and cold at night.
Game tracks and forest trails are navigable during the dry months and very slippery in the wet months. Although all park activities are available through out the year, some are done with some level of difficulty as a result of the rains which in turn could ruin the would-be good experience. However, they all remain experiences for one to cherish regardless of the time.
On a wider perspective, the best time to visit Queen Elizabeth Park should be in the dry months of June to September and December to February. Other than the game tracks and forest trails being passable, animals tend to get closer to water sources which makes it easy to see them in large numbers. Also the drive through the different access roads (particularly the untarmacked one through Ishahsa) to the park will be easier/smoother during the dry months than the rainy ones.
When it comes to the park activities, game drives are better done early morning and late evening. At such times, animals are more active grazing and hunting. Mornings apply too to Chimpanzee tracking but not the late evenings. For the boat cruise (Kazinga Channel to be specific) early mornings and evenings are the best to the bird watchers and the afternoons are for the game viewers.
Accessing Queen Elizabeth National Park
From Kampala or Entebbe airport, Queen Elizabeth National Park is located approximately 420Km in the Western part of Uganda. The drive on a good tarmac road is about 6 hours via Mbarara or Fort portal cities.
The park can also be accessed by air. It is served by 3 airstrips; Mweya, Kasese and Ishasha. There are both charter and scheduled flights from Enetbbe airport and Kajjansi to these respective airstrips. During some times of the year (peak/busy season), scheduled flights from Murchison falls Park to Queen Elizabeth Park/Kasese are available. More information about the respective flight schedules and charter flights can be availed. Contact Jungle Escape Africa's reservations team for assistance.
Queen Elizabeth National Park is located between the Chimpanzees and the Gorillas parks of Kibale Forest and Bwindi Impenetrable Forest, respectively. From the Gorillas Park (Bwindi Impenetrable National Park), it can be accessed via Ishasha which is about 2-4 hours depending on the sector of Bwindi one is departing and it is 2-3 hours from Kibale National Park or Fort portal town.
Queen Elizabeth National Park lodges
There are quite a number of accommodation options to choose from for your stay as you explore this second largest park in Uganda. They range from budget to luxury camps and hotels/lodges. They are spread both within and outside the park boundaries.
Luxury Lodges/Camps
Elephant Plains Lodge
Kyambura Gorge Lodge
Mweya Safari Lodge
Ishasha Wilderness Camp
Katara Lodge
Mazike Safari Lodge.
Mid-range Lodges.
Kikorongo Safari Lodge
Ihamba Lakeside Safari Lodge
Enganzi Game Lodge
Parkview Safari Lodge
Elephant hub Lodge
Marafiki Safari Lodge
Buffalo Safari Lodge
Enjojo Lodge
Ishasha Jungle Lodge
Budget Lodges.
Bush Lodge
Albertine Safari Lodge
Pumba Safari Cottages
Mweya Students Hostel and Campsite
Simba Safari Camp
Topi Lodge, Ishasha
Kazinga Channelview Resort.
Tours/trips to Queen Elizabeth National Park
3 Days Kibale Chimpanzees and Queen Elizabeth Safari
1 Day Queen Elizabeth National Park Safari
4 Days Bwindi Gorillas and Queen Elizabeth Tree Lions Trip.