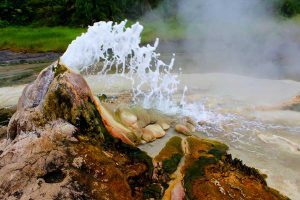 Request a Quote
3 Days Kibale Chimpanzees, Bigodi wetland and Semliki hot springs tour shall include Chimpanzee trekking, Bigodi Swamp walk and a visit to the Semliki hot springs. Kibale forests were established as a national park in 1993 to enhance the protection and conservation of one of the only remaining tropical rain forests supporting such an incredible bio-diversity including the endangered wildlife species.
Kibale National Park is located 290Kms from Kampala main city and Entebbe International airport in the western district of Kabarole near Fort portal tourism city. Alongside the Chimpanzee trek, visitors for the 3 Days Kibale Chimpanzees, Bigodi Swamp and Semliki Hotsprings Tour are able to have more experiences like bird watching, spotting other primates like the Grey-cheeked Magabeys, L'hoest's monkeys, Colobus monkeys, Vervet monkeys, baboons, antelopes, Giant forest hogs, among others. The elusive savannah animals like the elephants, buffaloes, lions and hyenas can also be spotted. Extending to Semliki National Park is for the phenomenon Sempaya hot springs and the spectacular scenery, among others.
Itinerary for 3 Days Kibale Chimpanzees, Bigodi Swamp, Semliki Hot springs
Day 1 – Kampala – Fortportal, Semliki Hotsprings, Kibale National Park
With your driver from Jungle Escape Africa, the tour starts off from Kampala early morning reaching Fort portal late afternoon from where you continue with the journey to see the Sempaya hotsprings at Semliki National Park. The Rwenzori Mountain ranges are just eye candy and make the 1hour drive from Fort portal, beautiful and breath taking. On arrival, trek down to both the hot springs which are believed to be sacred sites to the local Bamaga tribe. They say that a woman disappeared by the female spot and a man by the male spot. The hot water around these spots can boil eggs and get well cooked, an experiment you will try by yourselves. After the trek and photo sessions, embark on the drive back to Fort portal and continue to Kibale National Park, your final destination for the day. Check in at your lodge for dinner and overnight.
Accommodation: Chimpanzee Forest Guest house, Primates Lodge, Kyaninga Lodge.
Day 2 – Morning Chimpanzee Trekking, evening Bigodi Swamp Walk
Nothing excites more than waking up to the day for a special occasion! This time it is the Chimpanzee trekking expedition in one of the last bits of Africa's pristine forests. After breakfast at the lodge, drive to Kanyanchu, park headquarters, for a general briefing. Set out to the forest at 7.30am for your Chimpanzee searching mission. The informative park guides and rangers make the adventure so interesting and as you are enjoying the walk, it may not take you long to hear your hosts (the Chimpanzees) shouting and grumbling in the forest as they go about with their feeding. At this point/time, your guide reminds you of the rules and regulations to be adhered to when approaching them and when you finally meet them. When an hour of observing them elapse, you are required to quietly walk out of the forest and return to your lodge.
After lunch, drive to Bigodi wetland sanctuary for a nature walk. With the local site guides, what seems an ordinary swamp walk, becomes so phenomenon. As beautiful birds make frequent appearances while on the walk in this wetland, Primates mainly monkeys will be leaping on the trees while other animals like the Bush bucks, warthogs and others are (obliviously)declaring themselves present before you. Return to the lodge after this walk for an evening relaxation.
Accommodation: Chimpanzee Forest Guest house, Primates Lodge, Kyaninga Lodge.
Day 3 – Departure/Return to Kampala from Kibale National Park
This morning marks the end of your stay at Kibale for your 3 Days Kibale Chimpanzees, Bigodi Swamp, Semliki Hot springs. You will depart with fresh memories of the time spent with man's closest relatives – the Chimpanzees, the Sempaya hot springs and the Bigodi Wetland Sanctuary. Embark on the drive back to Kampala, lunch break in Mubende or Mityana town and be dropped off at your preferred location on arrival.
End of the 3 Days Kibale Chimpanzees, Bigodi Swamp and Semliki Hot springs Tour.