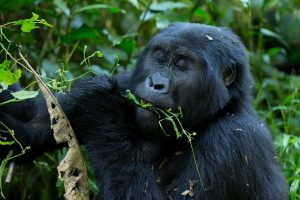 Request a Quote
Our 1 Day Bwindi Gorilla Trekking Tour trip is planned to take you to the Gorillas' home of Bwindi Impenetrable Forest Park, track the Mountain Gorillas and return to your hotel the same day.
Time and other resources (financial, especially) can never be on any travellers side yet he/she has a lot on his/her bucket list. Perhaps Gorilla trekking comes first among your to-do adventures but you lack enough resources to have it off the list! Now that you have had a chance to make it to Uganda for a similar or on other purposes, Jungle Escape Africa is more than delighted to guide you on how you can engage in Gorilla trekking in one day at an affordable cost, an experience you will cherish for as long as you live.
What to know about the 1 Day Bwindi Gorilla trekking tour
This trip is only feasible with a pick up and drop off in the areas/towns that are close to Bwindi Impenetrable Forest Park. These places can either be in Kabale, Kisoro or any other place from where we can easily access the park in the shortest time. You can reach these places using private or public transport from any part of Uganda or even from Kigali in Rwanda.
Your Gorilla permit has to be reserved and paid for inadvance. Gorilla permits sell out due to the high demand. Even when they are still available on the day you may wish to visit, cash payments are not accepted at the park offices. All payments for Gorilla permits have to go through the Uganda Wildlife Authority head offices in Kampala. Contact our reservations team for availability information.
When booking the place of stay, kindly inform our reservations team so that they can book a permit for the Gorilla group that is closer. In a situation where permits for a closer group are not available, you may be advised to change the place of stay or shift the visiting date if you can't be flexible with your accommodation choice.
Gorilla trekking starts in the morning with no other sessions. Plan to leave early enough and reach the park in time for the official registration and briefing.
Program for the 1 day Bwindi Gorilla Trekking Tour
Our driver will reach your hotel earlier before 5.00AM for a briefing about the day's program. Depending on where your tracking area will be, you may set off at 5.00AM or earlier than that. Upon arrival at the park, proceed to the briefing point for detailed guidelines for today's Gorilla trekking event. You will be grouped into groups of not more than 8 people for each Gorilla family. You can even be less than that number but not more.
After being allocated a Gorilla family to track, pick a walking stick and follow your head ranger who will guide you during your search for the Gorillas. You can hire a porter at US$15 to help you carry your packed lunch and drinking water. Hiring a porter however, is an option.
The time you are to take to find the Gorillas can't be predetermined, it may take less than an hour or even a full day. As you are moving looking for them, they are also moving looking for food so you have to go after them until you reach where they are feeding from. When you finally find them, you keep trekking them at a 7 metres space as you observe their movements, feeding habits and socialising traits.
After an hour of following them and taking photos, you will have to leave the forest, pick your Gorilla trekking certificate and meet your driver for a drive back to your hotel. That will be the end of this 1 day Gorilla trip.