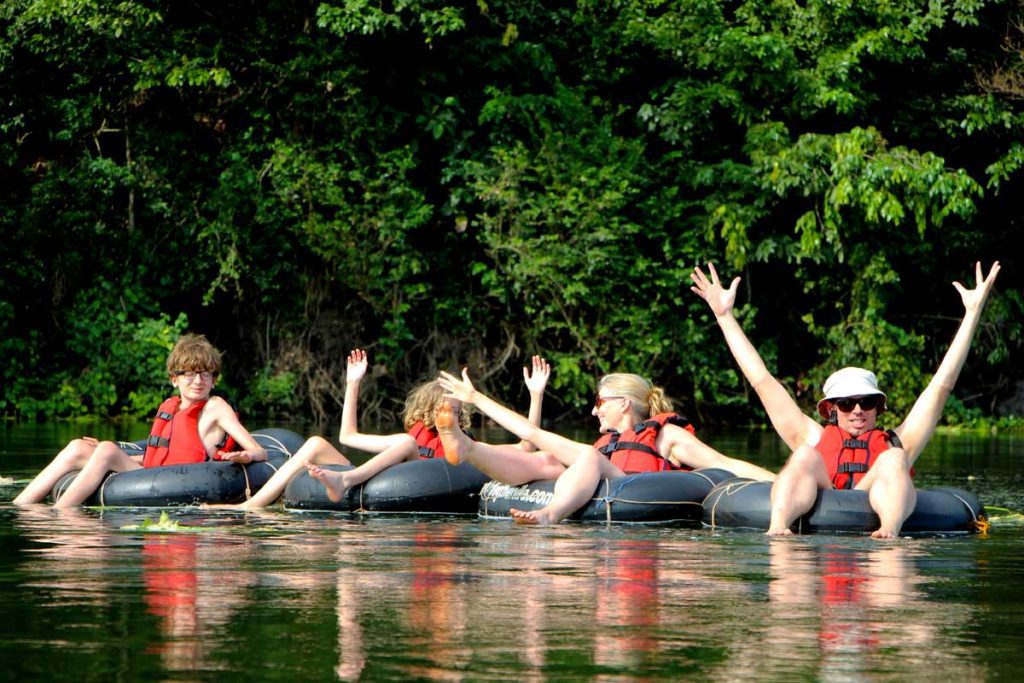 Request a Quote
Tubing the Nile River in Jinja is a recent addition to the many exciting water adventure sports on River Nile and which has become so popular nonetheless. It involves sitting on an inflatable tube with safety gear which includes among others a grade-5 life jacket and a helmet. Tubing is a fun-filled adventure, so exciting and very calming at the same time. As you go tubing, you are in for more; enjoying the serenity of the mighty Nile River while listening to the burbles of its waters as they swirl through rocks that at some points steal the show with those breath taking flashes of white waters and ripples. You might want to check on our 1 day tubing on the Nile River trip.
Where to do tubing in Uganda and the levels of tubing
Tubing is mainly done on River Nile in Jinja, a city in the Eastern parts of Uganda, located a few kilometers from Kampala capital city and Entebbe airport. It can be done any time of the day or year. It is graded into flat-water and white-water tubing. Flat water tubing is done on calm and less violent waters while white water tubing is more or less similar to white water rafting. White water tubing is done across rough rapids and fast flowing water cutting through waves and violent turbulence of the river. The reveler therefore has a choice between flat water and white water tubing. We shall be glad to know your preference for perfect arrangements.
Is tubing scary?
Tubing is a less scary water sport and which doesn't require any swimming skill. Even those petrified of swimming will have their fears conquered by the tubing experience. Well-bridled with the tubing safety measures, you are headed for the expedition which starts off down at the banks of the river in the company of (an)experienced guide(s). Guides are always there to help you navigate the river and while ensuring your safety.
Other tubing sites and destinations in Uganda
There are currently 2 tubing spots in Uganda – River Nile in Jinja and Lake Bunyonyi in Kabale. Undoubtedly, the Nile river in Jinja is the perfect destination for tubing favouring both flat-water and white-water tubing. Besides, Jinja is just a few hours from Kampala/Entebbe airport. Lake Bunyonyi, another site where tubing has been introduced in Uganda is found in the western parts of the country near Bwindi Impenetrable National Park. Here at Lake Bunyonyi, it is obviously flat-water tubing. Check our 3 days Lake Bunyonyi tour and 1 day Jinja Busowoko falls and tubing on the Nile.
What to pack for tubing on the Nile River in Jinja
Tubing is a water sport that is experienced while floating on water in the comfort of an inflatable tube so there are 100% chances of getting wet. It's advisable to the tuber to carry along clothes for water sports like the swim suits or clothes you wouldn't mind getting wet. Ideally carrying another pair of clothes to wear for the return journey works better.
A camera or your phone should come in handy to capture those good photos for memories about this exciting tubing expedition. Cameras or phones are kept safe by your tubing guide in his waterproof bags. Even without a personal camera, you will still have your moments captured by the tubing company and all phots or videos shall be shared to you at no extra cost.
A sunscreen will be for protection of your skin against the burning sun rays especially when visited in the dry season or the hot hours of the day.
Fresh fruits and drinking water to accompany your tubing experience are provided for by the tubing company. Other drinks like sodas, beers, wines and snacks or any other eateries when needed come at an extra cost or special arrangement. Let us know how you would like your tubing experience to be.
Other things to do in Jinja alongside tubing
Jinja is the adventure capital of East Africa with quite a lot to offer to visitors. There is more to the world's longest river (the Nile) than just its source and the different falls it forms as it trolls through rocky areas on its way to the Mediterranean Sea in Egypt. While in Jinja, you can accompany your tubing experience with a visit to the source of River Nile, the spectacular Busowoko falls, the stunning Itanda falls, the local markets and Jinja historical city to admire the architectural designs of the buildings that are as old as the times of the first Arab traders to East Africa. Other fun filled activities are Horseback riding, quad biking, white water rafting, Kayaking, boat cruises, cycling along/near the banks of the Nile river, bungee jumping and alot more.
Our recommended tours to Jinja;