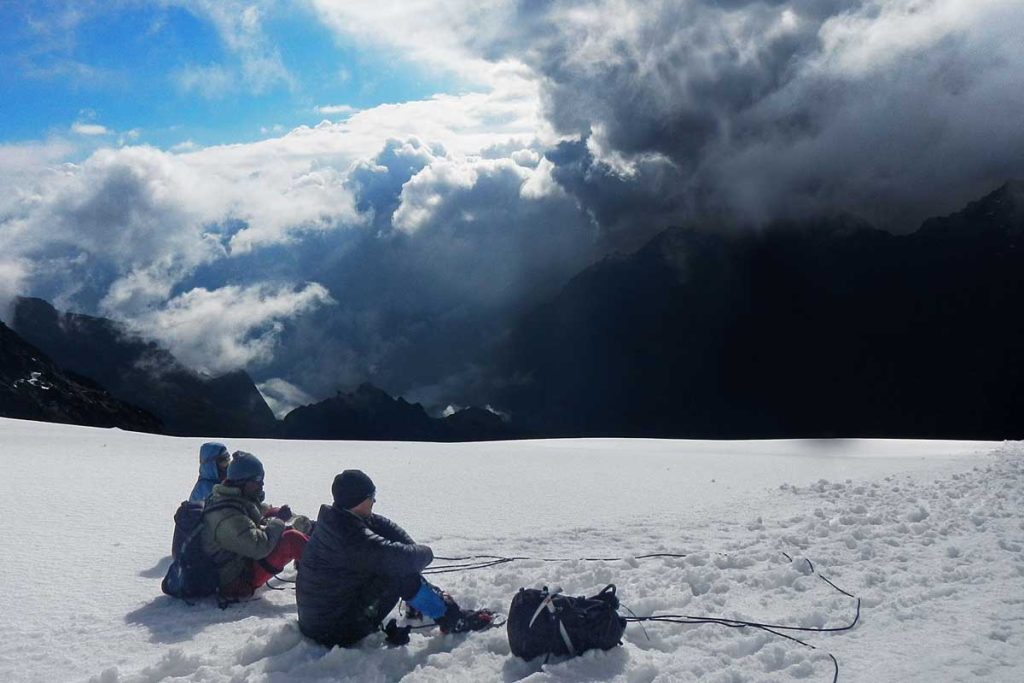 Request a Quote
Rwenzori Mountains National Park shelters the Rwenzori Mountains also known as the Mountains of the Moon. Rwenzori Mountains National Park was gazetted as one of Uganda's national parks in 1991, got listed as a UNESCO World Heritage site in 1994 and a Ramsar site in 2008. The total park area measures up to 998SqKms with a length of 100Kms and a width of 50Kms. The park straddles the districts of Kasese, Bundibugyo, Ntoroko, Bunyangabu and Kabarole and shares boundaries with Congo's Virunga National Park. Rwenzori's snow-capped peaks are a wonder given its location just north of the Equator. The spiky splendor of its glaciers and the snow-capped peaks make it exceptionally scenic and beautiful. Its outstanding natural beauty is further attributed to the magnificent waterfalls, fast flowing rivers and its unique floral species which include among others the lobelias, groundsels and giant heathers.
On the Rwenzori massif are 6 mountains some of which are snow-capped and mist-shrouded supporting all reasons for its epithet of the 'Mountains of the moon'. They include:
• Mount Stanley 5109m
• Mount Baker 4843m
• Mount Emin 4797m
• Mount Gessi 4715m
• Mount Luigi Da Savoia 4627m
Mount Stanley's Margherita peak at 5,109m ASL, places Rwenzori as the 3rd highest mountain in Africa after Kilimanjaro and Mountain Kenya.
Rwenzori Mountains were formed due to faulting unlike most East African mountains including Elgon, Kilimanjaro and Kenya that are as a result of volcanic action. The Rwenzori Mountains are a block of rock uplifted from the floor of the Western Rift Valley. They stand tall beyond 4000m ASL along the Uganda-Congo border in Western Uganda. Margherita 5109 and Alexandra 5083m are the highest peaks of the Rwenzori Mountains combined.
Wildlife in Rwenzori Mountains National Park
Rwenzori Mountains are endowed with the most dramatic biodiversity consisting some of the most unique plant life and fauna. Notably, it has a rich and unusual floral composition including many species endemic to the Albertine Rift System. Its stratified vegetation which is over 195 species of trees and shrubs, is largely determined by altitude. The higher altitude zones are dominated by heath and Afro-alpine moorland while the lower zones below 3500m are covered by moorland, bamboo and moist montane forests. Significant species at the high altitude zones are the giant lobelias, heathers, groundsels and other endemics.
In terms of fauna, Rwenzori Mountains boasts of 70 mammal species and 217 bird species sheltered by its montane forests at the lower altitude zones. The animals include African forest elephant, Southern tree hyrax, Eastern Chimpanzee, Black & white Colobus monkey, L'hoest's monkey, the Rwenzori three-horned Chameleon and the much endangered Red duiker. Out of its 217 record are 19 Albertine Rift endemic species notable among which is the Rwenzori Blue turaco. Other bird species are; Rwenzori Nightjar, Dwarf honeyguide, Red-throated alethe, Dusky Crimson wings, among others.
Major tour activities in Rwenzori Mountains National Park
Although fairly challenging, Rwenzori Mountains offer the best hiking and Mountaineering experience in Africa. The trek to Margherita, its highest peak, would take anywhere between 9-10 days but which can be less or more depending on one's fitness. Shorter hikes to explore its foothills or even the lower peaks can be arranged and come highly recommended for those on short/brief tours of the Rwenzori Mountains. A day visit can involve a nature walk to explore the forests at its lowest levels.
Rwenzori Mountains National Park is a place of amazing bird life especially in the montane forest zone with a few enduring the tough environment at the much higher altitude. 19 of the 217 bird species are endemic to Rwenzori Mountains National Park. Among the birds to look out for in this park are the Rwenzori Turaco, Cinnamon-chested bee-eater, sunbirds, barbets and Robins.
Community and cultural encounters
There are excellent opportunities for cultural encounters and experiences with some of the tribes at the foot of the Rwenzori Mountains. Bakonzo and Bamba are the dominant tribes and visiting the Ruboni village let visitors learn about their lifestyle, history as well as some cultural entertainment through their music and drama performances.
• Visiting other parks
Combining a visit to Rwenzori Mountains National park with adjacent national parks is one of the most rewarding tours to Africa. At its proximity are; Queen Elizabeth, Kibale forest and Semliki national parks on the Uganda side while Virunga National Park is in Congo. Bwindi Gorilla park is also not very far from the Rwenzori Mountains as well as Murchison falls National Park. All our tours to Rwenzori Mountains National Park can be tailored to include the above mentioned and other tour places in Uganda. You might want to check on our 12 days Rwenzori hiking and Gorilla trekking trip in Uganda.
Accessing Rwenzori Mountains National Park
Rwenzori Mountains National Park can be accessed by both road and air. Public and private transport means are available from Kampala and Entebbe airport by road. The drive takes between 5 and 6 hours from Kampala to Kasese. Kasese is the immediate town at 15Kms from the park. Public buses from Kampala to Kasese can be used and there are private cars for hire from Kasese to the park. The most convenient way however is use of private vehicle from Kampala to the park. For any tours booked with us – Jungle Escape Africa, we cater for your transport and others like accommodation, arranging your trekking expedition and equipment.
By air, scheduled flights from Entebbe airport to Kasese airstrip are available though they have conditions for maximum passenger of 4 and have to be booked in advance to be sure of the availability. Charter flights to Kasese airstrip can too be arranged to depart Kajjansi airstrip or Entebbe airport.
Best time to visit Rwenzori Mountains
With hiking as the major activity, Rwenzori Mountains are best visited when dry. The dry period from June to August and December to January present drier and less slippery trails.
Accommodation /  Where to stay
While there are many accommodations to choose from, for overnight hikes in the park, stay is obviously in simple/basic mountain huts or trekking huts established at different points along the trails. Facilities around/near the park are; Margherita hotel, Rwenzori International hotel, Equator snow lodge, Ruboni Community Camp, Mihunga Safari Lodge, Tropical Savannah Guest house, Rwenzori Turaco view Campsite, Rwenzori Back parkers, Sandton hotel Kasese. On the side of Queen Elizabeth Park are; Ihamba Lakeside Safari Lodge, Katara Lodge, among others.
Recommended Tours
– 1 Day Rwenzori hike/nature walk
– 3 Days Rwenzori tour
– 4 Days Rwenzori and Kibale Chimpanzee trekking
– 5 days Rwenzori and Queen Elizabeth tour
– 7 Days Rwenzori Summit expedition
– 9 Days Rwenzori hike to Margherita
– 12 days Rwenzori and Gorilla trekking.