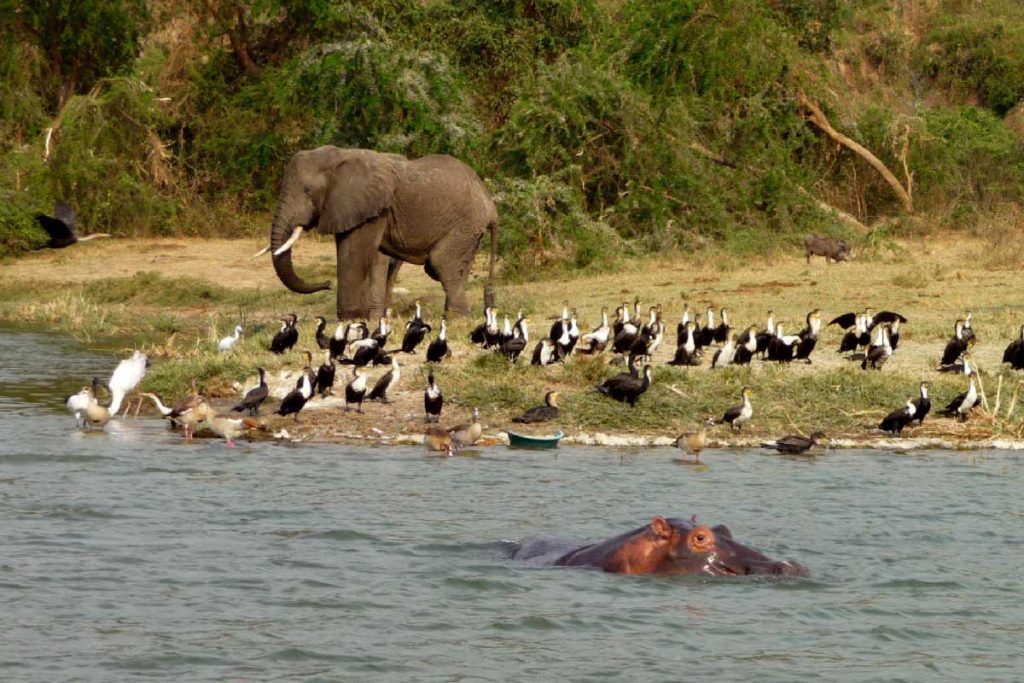 Request a Quote
Kazinga Channel is a natural water way in Queen Elizabeth National Park that links Lake George to Lake Edward. Both lakes are within and are part of the park. It is a 32KM long water channel and is such a dominant feature one of which Queen Elizabeth Park identifies itself with. For that same reason, the park is popularly referred to as the Home of the Kazinga Channel and Tree climbing lions.
While on safari, nothing can be compared to an experience of viewing the known fierce animals at a very close range. This can be achieved during a boat cruise on the Kazinga Channel in Queen Elizabeth National Park. Along this water way, you will witness an incredible concentration of wildlife in one area plus an opportunity to see water animals like hippos, crocodiles fully out of water. Another interesting fact related to wildlife in this park and this channel is that, one can see 3 quarters of the park's hippopotamus population along this channel. The park's hippo record is about 1,600 individuals. Other than the calmness, the scenic Kazinga Channel boat cruise avails many photo opportunities.
Kazinga Channel is a great place where game viewing and bird watching can be done simultaneously. It appears as though one is viewing most of the park's wildlife in one place. The 2 hours boat safari will be an encounter for the giant crocodiles, hippos, elephants, buffaloes, many antelopes, variety of birds, monitor lizards and on some rare occasions, lions and leopards can be spotted quenching their thirst with this channel's water. Kazinga Channel boat trips are conducted by very knowledgeable and experienced wildlife guides from the Uganda wildlife authority. They know the park's wildlife and the channel like at the back of their hands.
Boats for the Kazinga Channel trip depart four times a day and most of them start from Mweya landing stage right below Mweya Safari Lodge, one of the best accommodation facilities inside the park. Each boat trip takes 2 hours and can be private or a scheduled one. Initially, it used to be Uganda wildlife authority and Mweya Safari Lodge with licenses to operate boat trips along the Kazinga Channel and all trips would start from Mweya landing stage going towards Lake Edward. Currently, other operators/companies have been licensed for the same and the newest entrant is MV Kazinga operated by the Uganda Lodges company. It has a new state of the art water vessel whose trips start from Lake Edward cruising towards Mweya landing stage. Other operators with quite smaller boats have also been licenced to cater for the increasing number of revellers and tourists.
The best time of the day to take up the Kazinga boat trip largely depends on one's interests. Bird watchers are encouraged to take up the morning trips while the afternoons are the best for the game viewers. In the afternoon, many animals throng the channel to quench their thirst and bath after the morning grazing and hunting. It is very breath taking to see herds of large elephants sloping down to the channel to bathe/cool off the afternoon heat, play, feed on the green grass along the channel banks as they drink water.
Kazinga Channel Bird watching Boat cruise in Queen Elizabeth Park. Queen Elizabeth National Park hosts one of Uganda's best birding spots, the Kazinga Channel. Kazinga Channel is one of Queen Elizabeth Park's variety of habitats for its over 600 bird species. Any avid birder is encouraged to visit this water channel for its wonderful in and out of water bird sightings. Along the Kazinga channel alone, one can spot over 60 bird species. Below is the Kazinga Channel bird list:
African Mourning Dove
Squire-tailed Nightjar
Slender-tailed Nightjar
Swamp Nightjar
Raptons
Pygmy Kingfisher
Diederik Cuckoo
Little Bee-eater
Grey-headed Kingfisher
Nubian Woodpecker
Blue-napped Mouse bird
Scarlet-chested Sunbird
Red-chested Sunbird
Pin-tailed Whydah
Slender-billed Weaver
Black-headed Gonolek
Yellow-backed Weaver
Lesser-masked Weaver
Swallows
Martins
Swifts
Swamp Flycatcher
Red-capped Lark
Grey-capped Warbler