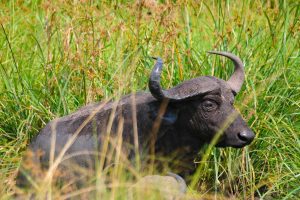 Request a Quote
The 1 Day Akagera National Park Wildlife Tour in Rwanda takes you to Akagera National Park located in the Eastern part of Rwanda along the Tanzanian border. This 1 Day Akagera Trip is the deal to any visitor with limited time to schedule in an overnight stay at the park. The drive to Akagera National Park from Kigali, Rwanda's capital and airport city, is approximately 2 hours. The proximity to Rwanda's major city, Kigali, makes the park easily accessible to those looking for a rewarding short tour on their short visit in the country.
Akagera National Park is the only place in the country with the Big Five (Elephant, Lion, Rhino, Buffalo and the Leopard), the most sought after on any African Safari. Well it is not all just the BigFive that are there in for Akagera National Park to offer to the visitors, its 1,120SqKm of land and water areas harbor plenty of other wildlife like the birds, big and small animals such as the Hippos, Giraffes, Crocodiles, Warthogs, Baboons, Vervet monkeys, uncountable antelopes which include the Zebras, Waterbucks, Topis, Elands, Reedbucks and many more. On this 1 Day Akagera National Park Wildlife Tour in Rwanda, you are to drive from Kigali to the park, do a game drive, have lunch, take a boat cruise on Lake Ihema and another short game drive as you drive out of the park in the evening for your return journey to Kigali.
Highlights for the 1 Day Akagera National Park Wildlife Tour in Rwanda
Game drive for wildlife viewing
Boat cruise on Lake Ihema
Bird watching
Scenic viewing
Cultural encounters
Day 1 – 1 Day Akagera National Park Wildlife Tour in Rwanda
From your hotel/airport or any other place in Kigali, you shall be picked by Jungle Escape Africa's safari driver/guide at 6.00am, prompt. Start the exciting drive on a paved road that winds through the lower areas of the cultivated hills in the country side. Check into Akagera National Park and start a game drive. As your guide helps you to spot animals in the park, be on the lookout for the endless jungle's surprises to be captured on your camera.
After the morning game drive, we shall have lunch before sloping down to Lake Ihema for a boat ride to spot more animals at the shores and within the lake. Animals spotted during a boat ride are hippos, Crocodiles, water birds, elephants and others as they drink water and play at the shores. Another game drive after the boat ride shall be done as we check out of the park to drive back to Kigali city. A drop off at your preferred place in Kigali will mark the end of this 1 Day Akagera National Park Wildlife Tour in Rwanda.