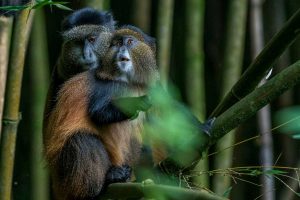 Mgahinga Gorilla National Park is located in the south western part of Uganda in the district of Kisoro bordering Rwanda and the Democratic Republic of Congo(Congo). Mgahinga Gorilla National Park is Uganda's smallest national park sitting on an area of 33.7Sqkm and lying at varying altitudes of between 2227m and 4127m. Mgahinga was gazated as a national park in 1991 to protect the endangered Mountain Gorillas and the Golden monkeys. Mgahinga Gorillas Park is part of the large Virunga Conservation Area (VCA) together with Congo's Virunga National Park and Rwanda's Volcanoes National Park.
The name Mgahinga comes from a Kinyarwanda word "Gahinga" translated as a pile of volcanic lava stone heaps in which cultivation is done.  Mgahinga Gorilla National Park actually stands as Uganda's portion of the VCA. The park consists partly the forested slopes of the 3 extinct Virunga volcanoes: Mount Muhavura, Mount Gahinga and Mount Sabinyo with altitudes of 4,127m, 3,473m and 3,654m, respectively.
What to see and do in Mgahinga Gorilla National Park
Golden Monkeys and Golden Monkey Tracking
It is the only place/national park in Uganda sheltering the endangered Golden monkeys. Mgahinga is most famous for the Golden monkeys although Gorilla trekking is for the most part the main activity. Golden Monkey tracking is a definite highlight but a different experience from mountain Gorilla trekking that one shouldn't miss.
The only remaining 4000 Golden monkeys in the world can be found nowhere else apart from Uganda's Mgahinga Park, Congo's Virunga Park and Rwanda's Volcanoes National Park. They are endemic to the bamboo forests of the Virunga ranges. These extremely lively monkeys are fascinating and fun to watch. They keep bouncing from tree to tree, getting out and suddenly disappearing in the bamboo thicket as if to tease the visitors. They are very playful and are sometimes seen jumping over the visitors. They are now more used to humans due to habituation.
Mountain Gorillas and Gorilla Trekking
The park has only one Gorilla family – Nyakagezi with 9 members. Before Nyakagezi finally settled in, it used to be trans-boundary, crossing over to Rwanda and Congo. Tracking it therefore wouldn't be guaranteed then. The park can only register a maximum of 8 visitors for Gorilla trekking per day. Occasionally, the park receives migratory Gorilla families from Rwanda's Volcanoes National Park and it's when they can register more visitors for Gorilla trekking. Just like Bwindi Impenetrable Park, a Gorilla permit for Mgahinga is at US$700 and has to be booked in advance.
The beauty of Mgahinga Gorilla National Park is attributed to these 3 extinct volcanoes of the Virunga Mountains. They are; Mount Sabinyo, Mount Muhavura and Mount Gahinga Volcano. The volcanoes position the park highly for the best and excellent location for Volcano hiking in Uganda. They are a striking image that will usher you into Mgahinga Park even before making it through the gate physically. To say the least, they are very spectacular and surely give an excellent optical therapy as one views them! These 3 volcanoes stand high in the sky at different altitudes but each of them can be trekked in a day and nothing is more adventurous and thrilling like reaching their summits. See 1 Day Mt Gahinga Hiking Tour.
That is not just yet, the forested slopes of Mount Sabinyo, Gahinga and Muhavura are habitats to the Mountain Gorillas, Golden Monkeys, many birds, animals and other wildlife species recorded in this park. Combining Gorillas and Golden Monkey treks with a hike to one or all the 3 volcanoes in Mgahinga Gorilla National Park is one of the most rewarding trips.
Birds / bird watching in Mgahinga Park
Mgahinga Gorilla National Park is a place of unique avi-fauna. The park has a 79 bird species record, some of which are endemic to the Albertine Rift Afromontane region. Notable bird species in the park are; the Rwenzori Turaco, White-necked Raven, Crowned Hornbill, Grey capped Warbler, Black Kite, Ibis, Paradise Fly Catcher, among others. Bird watching in Mgahinga Park is an all-year-round activity though the best times would be April to May and mid-September to November.
Viewing Platform Nature walk
There a simple but very rewarding 1 hour walk into the park conducted from Ntebeko park offices to what they call the viewing point. It is a few meters from Mgahinga Gorilla National Park gate. It has a wooden platform on which to stand and view the whole of the park and its adjacent lands. It commands very great views of the 3 volcanoes, Lake Mutanda, Kisoro town, among others. During the walk, you can have some wildlife encounters like for the duikers, buffaloes, elephants as they walk to and from the nearby water stream. Their hoof prints with in this trail are a common sight.
Cultural Encounters – Batwa Pygmies Community
The Batwa just like the Gorillas and Golden Monkeys are also endangered because their culture, identity and language are increasingly under threat. Mgahinga forests are one of those they used to call home before they were evicted to gazette them as a national park in 1991. Traditionally, the Batwa are hunters, plant and fruit gatherers. They have interesting stories of how they used to survive and share habitat with the Gorillas and other wild animals for many centuries. During the Batwa experiential trail, the (Batwa) guides take visitors through how they used to survive in the forest, their hunting and fire making skills, honey extraction, health/disease management, the traditional dances and a lot more. It ends with a visit to the Garama cave which used to be the ancestral palace for their king.
The weather in Mgahinga Gorilla National Park
The weather in this park is greatly influenced by its varying altitude. Generally, the temperatures are low and it is arguably the coldest place in Uganda. Temperatures can drop up to 7 0C at night while the day can warm up to 20 0C. The best time to visit is during the dry months of June to mid-September and December to February when the trails are less slippery. However, you can still plan to visit any time of the year because we can no longer give a guarantee for those particular months to be dry or wet due to global changes in weather.
Getting there
Tours to Mgahinga Park can be planned to start from either Kampala/Entebbe(Uganda) or Kigali(Rwanda). It takes between 9 and 10 hours on the road from Kampala or Entebbe. It is an interesting and exciting journey punctuated by stops for scenic views and cultural encounters. From Kigali, Rwanda, it takes only 4 or 5 hours on the road to get to Kisoro or Mgahinga Park via Chanika border point.
Also be informed about the availability of scheduled flights between Entebbe and Kisoro. Charter flights can as well be arranged from Entebbe to Kisoro. Flight duration is one hour each leg.
Where to stay
Depending on one's budget, there are many lodge and hotel options close to the park and with in Kisoro. Some are listed here:
Amajambere Iwacu Community Camp
Mount Gahinga Lodge
Kisoro Travellers Rest Hotel
Ikoro Hotel
Mucha River Lodge
Chameleon hill Lodge
Lake Mulehe Safari Lodge
Mutanda Lake Resort