Rwanda to Uganda Gorilla Tours are designed to enable travelers to track Mountain Gorillas in Uganda when departing and returning to any part of Rwanda.  A Gorilla trekking Safari is only possible in 3 African countries (Uganda, Rwanda & Congo) that have areas with conducive conditions for  the survival of the Mountain Gorillas. In Uganda, Mountain Gorilla habitats are in Bwindi Impenetrable Forest and Mgahinga Gorillas Park. In Rwanda, Gorillas find life in Volcanoes National Park, and Congo in Virunga National Park. Much as there are four national parks one can visit for Gorilla trekking, there are some factors that restrict a traveler's choice for a particular destination; the cost of the Gorilla permit, stability of the tracking area, accessibility of the place and the uniqueness of the tracking area. Apparently, the lower cost of the Gorilla permit and the stability of the tracking area have made Rwanda to Uganda Gorilla Tours popular.                  Request a Quote
Why Gorilla Trekking Uganda From Rwanda
Rwanda to Uganda Gorilla Tours became popular after the rise in the permit fee for Rwanda from about US $700 to $1,500. This is more than double the cost of the Gorilla permit for Uganda. In Uganda, a permit fee is US$700 and $450 in Congo. Uganda and Congo therefore are sighted as the best choices by travelers yearning to realize their Gorilla trekking dream at a lower cost. Despite Congo having the lowest fee for the Gorilla permit of all these 3 countries, the political unrest together with natural disaster outbreaks turn many visitors away hence remaining with Uganda as their only option.
Geographical location; Rwanda and Uganda are neighbors
Rwanda to Uganda Gorilla Tours are possible with the closeness of Rwanda and Uganda. They are neighbors with good political and economic relations. They are both members of the East African Community which was established to ensure free movement of goods and services among member countries with others being Kenya, Congo and Burundi. This further guarantees flexibility in the choice of the Gorilla trekking destination between Uganda and Rwanda. All that aside, Uganda's two Gorilla trekking parks are much closer to Rwanda than any of her neighbors.
Where as cheaper flight fares are not a guarantee, but should you find fares to Rwanda's Kigali International airport lower than to Uganda's Entebbe International airport, please go ahead and confirm your flight. With the Rwanda to Uganda Gorilla tours, it is possible to arrive/fly into Kigali airport of Rwanda and track Mountain Gorillas in Uganda. Inform Jungle Escape Africa about this plan and we make your trip arrangements accordingly.
Less travel time from Kigali than Entebbe
When departing Rwanda, the drive time to the Gorilla parks is less compared to that from Entebbe International airport or Kampala capital city. Depending on the sector of the park one is visiting, it usually takes between 4-5 hours from Kigali and 8-9 hours from Entebbe or Kampala. From Kigali City of Rwanda via Chanika or Gatuna border points, it is a shorter drive of 4-5 hours to get to Bwindi Forest Park or Mgahinga Gorillas Park compared to the 8 or 9 hours from Entebbe/Kampala. At the latest, plan to leave Kigali any time before 3.PM and it all depends on the sector of Bwindi you are visiting. Some sectors are closer to Kigali than others.
Visiting 2 countries on one short trip
When you finally take a decision to fly into Kigali but track Gorillas in Bwindi or Mgahinga parks, you will be lucky to have visited two countries at the same shortest time.
Rwanda to Uganda Gorilla Tours Permit
Getting a Gorilla permit is easier through your safari operator, because even they are not sold to individuals. It is only a licensed tour operator, such as us – Jungle Escape Africa that can secure the permit on your behalf. Check here for further guidance on the Gorilla permit cost and booking.
The best time to leave Rwanda for Uganda
When planning to leave Kigali for any Gorilla trekking destination in Uganda, consider to set off any time from morning up to 3.PM (latest), especially when your tracking points are in the further sectors of Buhoma or Ruhija. Since they involve longer drives through the forest, it might be risky to drive when it gets darker (at night). Sometimes at night, elephants come out of the forest to rest in the middle of the roads hence blocking all movements until morning when they disperse back to the forest, although this rarely happens. Another incidence could be for a big tree which can fall and block the road and it could be far from the park staff to reach and clear it at that late hour. Though rare, also bear in mind the possibility of some delay at the border.
Rwanda – Uganda border crossing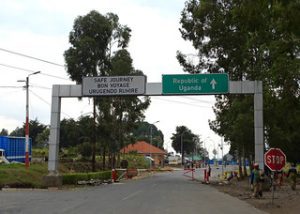 There is free movement of goods and services between Uganda and Rwanda courtesy of the East African Community to which these 2 countries are members. With this, tourists move freely across the borders. Even the trade issues that may arise between these two countries can't deter/restrict tourists' movements.
When visiting Uganda for Gorilla trekking, we usually use 2 border points of Cyanika and Katuna. The choice of the border through which to cross largely depends on the place where one is destined to do the Gorilla trek. We use Chanika border if the Gorilla trekking place is Mount Mgahinga Gorillas Park or any of the southern sectors of Bwindi(Nkuringo and Rushaga). Chanika is further from Kigali but very close to the above mentioned places. It is usually 3 hours of driving from Kigali to Chanika and one hour from the border to either Mgahinga Park or to the southern sectors of Bwindi Park(Nkuringo and Rushaga).
When the tracking destination is in the northern sectors of Bwindi Forest Park (Buhoma and Ruhija), we use the Gatuna (Katuna) border point. Gatuna is the closest from Kigali and the most preferred for many travellers. It is a 2 hours drive from Kigali to Katuna. However note that we can still use either borders to reach the respective Gorilla trekking destinations (mentioned above) and it is a requirement to get there a day before the tracking date.
Visa processing at the Rwanda/Uganda border
There is no more Visa processing on arrival  at the border or airports for both Uganda and  Rwanda. The open border policy was suspended at the onset of Covid-19. Please apply for your visa in advance through any of the countries' visa  application portals. Each of these countries' visas (tourist) are at US$50.  You are however advised and encouraged to get the East African Tourist visa at US$100 now that your plan is to fly into Kigali and track Gorillas in Uganda. The same East African Tourist visa can be used to visit Kenya except Tanzania.
Are there flights from Kigali airport to Bwindi/Mgahinga?
Please be informed that there are no direct scheduled flights between Kigali airport and Bwindi or Mgahinga parks.  The only option is chartering and which is very costly and yet we are looking for a cheaper way of having our Gorilla trekking Safari. Without chartering, the other flight option, and which is also expensive, is from Kigali to Entebbe and Entebbe to Bwindi or Mgahinga. Such a round trip takes more time than the four hours by road.
Rwanda to Uganda Gorilla Tours Packages
5 Days Uganda Gorillas and Tree climbing lions from Rwanda
6 Days Rwanda Uganda Gorillas and Chimpanzees.
You might also need this information here: