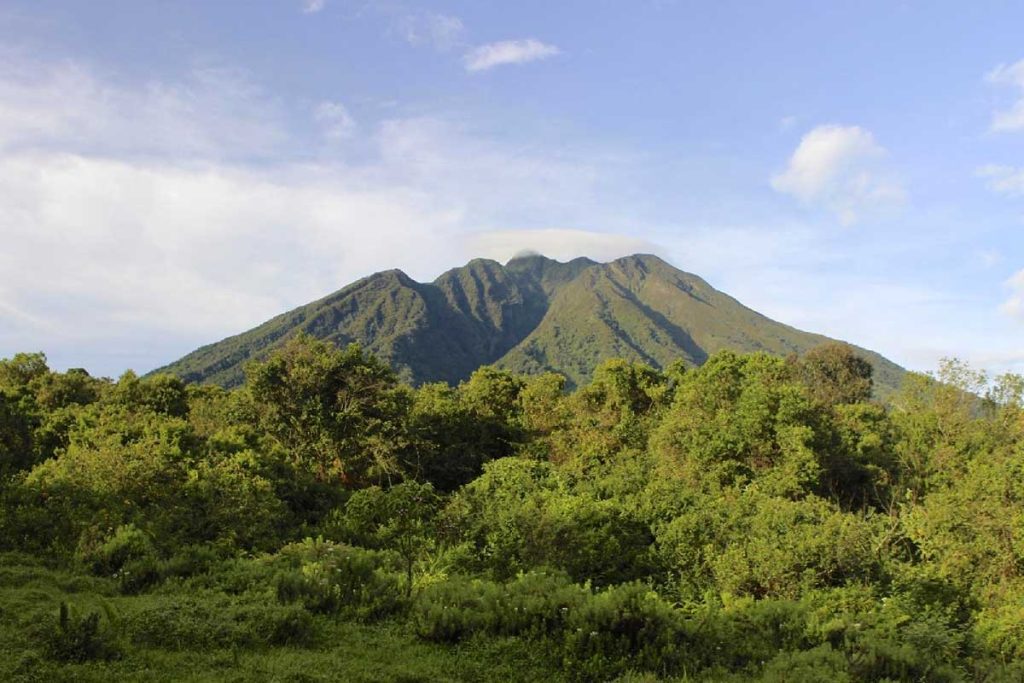 Request a Quote
On this 3 Days Mount Sabyinyo Volcano Hiking Trip, you are destined for a marvellous and very interesting hike to one of the Virunga volcanoes with in Mgahinga Gorillas Park. Mgahinga Gorillas Park is not only home to the endangered Golden Monkeys and Mountain Gorillas but also hosts 3 dormant volcanoes of the Virunga Mountains; Mount Gahinga, Mount Muhavura, Mount Sabinyo. Exciting is an understatement for this 3 day trip to the extreme southern tip of Uganda! Away from the magnificent and breath taking views, hiking this Oldman's-teeth-shaped-volcano is such a unique mountain climbing experience where you will find yourself in 3 countries at the same time when you get to its summit. The hike to its 3 peaks is 14km and takes between 8-9 hours, round trip.
Highlights for the 3 day Mount Sabinyo Hiking Trip:
Mountain climbing/hiking
Scenic viewing
Visiting 3 countries in the shortest time
Wildlife viewing
Equator experiment
Mbarara city drive and stop over
Lake Mburo zebras along the highway
Kabale hills
Fresh food and fruit markets visits
Kisoro town tour
Cultural encounters
Day 1 – Transfer from Entebbe to Kisoro ; Mgahinga Gorillas Park transfer from Kampala.
Start off the day abit early as the drive upto Kisoro is quite long. Pick up from your hotel/residence should be atleast 7.00am (prompt). We are to make our first stop at the Uganda Equator monument for an experiment and photo moments. You can check on a few craft shops before embarking on the drive to Mbarara for your lunch stop. Just before Mbarara, be on the lookout for some zebras at the edges of Lake Mburo Park and the long horned cattle herds. After a delicious lunch at the Igongo country hotel, your drive is strictly focused on reaching Kisoro through the scenic hilly town of Kabale. Check into your lodge for dinner and an early overnight rest as you ready yourselves for the next day's exciting Sabinyo hike.
Day 2 – Mount Sabinyo Hike.
Rise up abit early, have breakfast and drive to Ntebeko park offices for briefing before the hike you are yet to embark on. Pick a walking stick and follow the armed park rangers assigned to you. You are to start off from previously terraced farmlands with some swamps which are obviously muddy. These are succeeded with virgin bamboo forests at which point the trek starts to get really steep but with those wooden ladders throughout the trail to the summit and back aids navigation. The trek from the base to peak 1 is the longest but quite easier compared to the shorter ones for peaks 2 and 3. They are short but very challenging as you will follow a very sharp ridge at some point with the last section to the summit being entirely on stairways, most of which are vertical.
Overall, what awaits you at the summit is worth all the effort put in. It is just beauty at every turn you make. The views are spectacular and you are now in 3 countries at this particular time. Sabinyo summit acts at the adjoining point for Uganda, Congo and Rwanda borders. Leave the summit for the descent to the base through the same trail as the ascent. Get into your waiting car at the base and drive back to your lodge for dinner and overnight.
Day 3 – Departure
Wake up to the views of the volcanoes covered in fog for the most part, if not all. Leave Kisoro at 7.00am after breakfast and drive back to Kampala/Entebbe – same route as day 1. Drop off will be at your hotel/residence or at the airport at Entebbe.