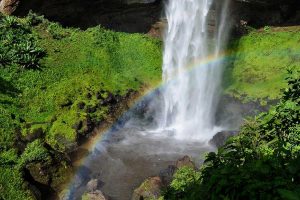 Request a Quote
Book the 1 Day Sipi Falls Tour Uganda with Jungle Escape Africa. Sipi falls are located in Kapchorwa district in the Eastern part of Uganda. The drive from Kampala is between 5 and 6 hours. Sipi falls are a series of three water falls inspired by nature's unending gifting just on the outskirts of Mountain Elgon National Park. The main Sipi falls flow down to about 45 meters and its 10 meters in width. When you get close to this beautiful fall it gives you the perfect cool-off from the somewhat extensive hike up. It's truly a wonder that I like to compare with a 3D shower.
At Casa Lodge you get to carry out an interesting experiment that gives you the illusion in pictures that one is drinking right from the falls or that the water is flowing right straight into their hands. Besides this incredible experiment, you will get the most delightful view of the water falls and enjoy taking beautiful pictures.
Day 1 – DETAILED ITINERARY FOR 1 DAY SIPI FALLS TOUR
After breakfast, we will be picked up by our safari guide to begin the journey to Eastern Uganda through Jinja adventure city. Upon arrival, we will be briefed into the formation and significance of these falls. We will then begin the hike to the main falls going through coffee plantations and homes of the local people. We continue to the falls where we will be greeted by a refreshing welcome of the splashing ripples to cool us from the intense hike. We get to have a picnic lunch while gazing at the luxurious scenery below us.
We descend to get yet into another thrilling hike to the other water fall. We will close this thrilling adventure with a hike to the third water fall. We embark on the return journey to Kampala where we will be dropped off at the hotel or residence late in the evening.