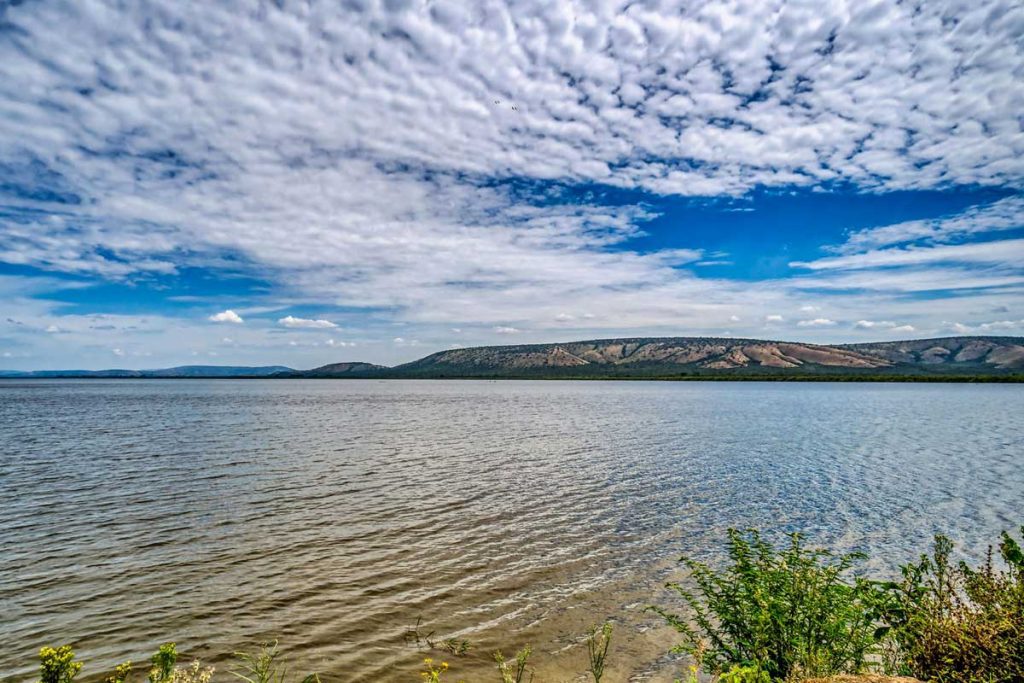 Request a Quote
Lake Mburo National Park at 370SqKms, is Uganda's smallest savannah park. It is a stunner offering breath taking and much needed sight-seeing experience alongside an enormous and variety of game including the rare ones or those that can only be spotted in a few selected parks in Uganda. Lake Mburo National Park is located in Western Uganda in the district of Kiruhura. The park is between 2 famous cities of Masaka and Mbarara but much closer to Mbarara by just 30Kms apart. From Kampala capital city, Lake Mburo is the closest game park in Uganda which makes it desirable for even short stay visitors or those on conferences who may wish to explore and have a glimpse of Uganda's abundant wildlife.
Rising between 1219 to 1828m ASL, Lake Mburo National Park largely lies on ancient Precambrian metamorphic rocks that date back to 500 million years. At its centre is Lake Mburo, the largest of the 5 lakes found here and together with 14 others located outside the park, form part of an extensive wetland system drenched by River Rwizi. The park's wildlife density is largely attributed to these swamp-fringed lakes. Also, its Savannah embellished with beautiful rocky outcrops and forest patches, make up a good tour with some very nice bird watching opportunities including those not easily seen in Uganda. Even in the absence of two of the much-sought big5 family members, the elephant and lion, Lake Mburo National Park nevertheless offers incredible game viewing opportunities with its fauna that cannot be spotted in many other Ugandan parks.
Tours / Safaris to Lake Mburo National Park
Although usually taken as a stopover/breaking point on long journeys to South western Uganda Safari circuits, Lake Mburo is a destination by itself. There is surprisingly a lot to explore in this little park ranging from game drives, boat cruises, game walks, horseback riding, bird watching to community tour experiences and others. A mere stop over therefore will not let you fully explore the beauties of this scenic park. Give it a full day, two days or longer stays. There are a number of things that set it apart besides being the closest national park to Uganda's capital and airport cities by just 4 hours of driving on a good and scenic road. The wildlife density is surprisingly high considering its size. It is the only park in Uganda with the Impalas, Elands and the only in south western Uganda with Zebras, among other unique wildlife. The bird life is in plenty including the rare ones. Make a choice from some of our trips to Lake Mburo Park below but also tailoring any trip to match one's interests and preferences is possible.
• 1 Day Lake Mburo National Park Tour
• 2 Days Lake Mburo Park Wildlife Safari
• 3 Days Lake Mburo and Queen Elizabeth Safari
• 4 Days Lake Mburo and Bwindi Gorillas
Wildlife in Lake Mburo National Park
This small national park surprisingly supports an impressive variety of flora and fauna. Among others, it's the only place harbouring Uganda's surviving Impala and Eland populations as well as the best spot for large herds of the Zebra. Other than Lake Mburo Park, Zebras in Uganda can be spotted in the remote Kidepo Valley National Park and Piane Upe Game Reserve. Until 2015 when Giraffes were translocated from Murchison falls National Park, Lake Mburo had no Giraffes. This translocation simultaneously improved the faunal density of the park as well as meeting UWA's conservation interest of preserving the endangered Rothschild's Giraffe.
Furthermore, Lake Mburo has the highest concentration of Leopards ever recorded and is home to the rare Klipspringer antelope that only lives on rocky outcrops. Lake Mburo National Park constitutes one of the only places in Africa to spot the shy Bush baby up-close. Similar to most Uganda national parks, Lake Mburo is home to Buffaloes, Hippos, Crocodiles, Topis, Bush bucks, Water bucks, Oribis, Hyenas, Warthogs, Reed bucks, Jennet Cats, Mongooses and some primates like Vervet monkeys and Baboons. Hyenas exist in the park but not as many as in other major savannah parks of Uganda. After years of absence, the lion was last spotted in 2015 which was thought to have migrated from reserves in the neighboring Tanzania.
Not just yet, this astonishing piece of a game reserve will flaunt an ornithologist its prolific bird life which includes the rare ones like the African Finfoot, White-backed Heron and the Shoebill Stork. Other bird species are the African Green Pigeon, African Fish Eagle, Papyrus Gonolek, Grey Crowned Crane, Southern Ground Horn bill, Barbets, Warblers, to mention just a few. Overall, Lake Mburo National Park has about 68 mammal species, around 350 recorded bird species and numerous floral species.
History of Lake Mburo National Park
To the locals, Mburo Lake and the overlooking Kigarama hills keep their distant Ankole history alive. From a local Ankole myth and legend; Mburo had an elder brother called Kigarama and the two lived together in a valley. Kigarama had a dream of how it was going to rain heavily and that the water was going to destroy their home. Sighting that, kigarama left for the hills as Mburo refused because he had just planted his crops. A few days later Kigarama's dream came true and it rained and the valley was flooded killing both Mburo and the crops. From then on, the lake came to be known as Mburo and the hills overlooking it are the Kigarama hills.
As a national park, Lake Mburo has passed through a series of transformations. From a tsetse fly infested area to a controlled hunting area, game reserve and finally a national park. Its turbulent past is more or less similar to that of Rwanda's Akagera National Park which saw the near depletion of its wildlife due to encroachment and poaching by the local communities and returning settlers. The park didn't regain its original size either. Its troubled past and the subsequent human-wildlife conflicts, are partly responsible for the absence of the elephant and lion. The current Lake Mburo National Park was first established as a controlled hunting area in 1933 until 1963 when it was turned into a game reserve.
The 1983 political wrangles were however a disguised blessing to the park and its wildlife though it didn't last long before the locals could reclaim the land. The 1983 reigning government led by Milton Obote elevated Lake Mburo Game Reserve to a Game Park status to chase away the Banyankole pastoralists accusing them of supporting the then government rebels led by the current president – Museveni Kaguta Yoweri. The fall of Obote's regime saw pastoralists chasing away the park staff and reoccupying almost half of the park land which the new government has since failed to reclaim for fear of hurting the locals. After some intense sensitization, it is now partly a biosphere reserve where the local communities have greatly adjusted to co-existence with wildlife which has greatly assisted to reduce human-wildlife conflicts.
Why visit Uganda's smallest national Park, Lake Mburo
Lake Mburo National Park, an astonishing spot with incredible bio-diversity and the fascinating scenery plus other natural endowments, effortlessly puts up a good show to its visitors. Though open to visitors throughout the year, extracting its nice thrill and exciting explorations requires visiting in the right season. Some of the activities are:
• Bird watching in Lake Mburo National Park
Bird watching in Lake Mburo National Park is perfect all year round although best when done in the dry season of January to March. It is difficult during the rainy season of April to May and from August to October due to slippery trails and impassable roads in the park. Remember a 5th of the park land is wetland with heavy loam and clay soils which make navigation hard even with small amounts of rain. However, with our 4×4 safari vehicles, maneuvering through the park becomes easy irrespective of the season. Birding in Lake Mburo Park is mainly done along the wetlands and the lakes, the best places to spot the rarely seen Africa Fin foot and the White-backed Heron among other birds. Other bird species include…………
• Game drives in Lake Mburo National Park
The park's landscape is so perfect for game drives and wildlife viewing despite some patches of woodland and the heavy vegetation that conceal the wildlife from view. 4×4 Safari vehicles are recommended for game drives plus binoculars for views of wildlife at a distance. In the accessible woodlands and savannah areas are dense populations of Zebra, Warthog, Buffalo, the rare Sitatunga antelope, Impala and various other grazers including the Eland, the largest of African antelope.
Morning game drives and nature walks are such times of the day for higher chances on hyenas returning to their dens after a night's hunt and hippos walking back to water after grazing. Leopards are mostly seen on night game drives and (occasionally) the Hyenas too, Bush pigs, Jennet cats, Civets, Porcupines, White-tailed Mongoose and Bush babies.
• Boat ride on Lake Mburo
Lake Mburo located at the center of the park and after which the park is named, hosts a rich array of life in its waters and on its shores. This aquatic wildlife will reveal itself to you when you ride on a boat. A myriad of wildlife that abounds its waters, the shores and the wetlands comprises of familiar animals like the Hippopotamuses, Crocodiles, birds which include the less common ones particularly the African Finfoot. Other birds that appear in large numbers are the African Fish Eagles, Kingfishers and Cormorants, extra. Boat rides are scheduled to start in the mornings and afternoons. Lake Mburo boat ride also offers fantastic and magnificent views of the overlooking Kigarama hills.
• Walking Safaris in Lake Mburo Park
This is an exhilarating walk which is more or less like stepping after the animals as you see them graze – the zebras, giraffes, buffaloes and various antelopes. There are no large predators and other big fierce animals like the elephants which makes it an ideal spot for walking safaris. Look out for birds and butterflies as you savor at the scent of wild flowers. There is a possibility of continuing with the walk up to the saltlick viewing platform for a closer look at the animals as they come to lick the salty soils down.
• Horseback riding safaris at Lake Mburo National Park
Game viewing from the comfort of a horse's back in Uganda is possible and exclusive to Lake Mburo National Park. More still, the horse riding activity is currently arranged and booked through Mihingo Lodge and where priority is obviously given to its guests. Early bookings are therefore recommended for those interested in a horseback riding safari on your Tour to Lake Mburo National Park. Horse riding safaris last between 30minutes to 3 hours and are tailored to your preferences. It may not require any prior horse riding experience apart from mental preparedness.
• Cycling in Lake Mburo Park
The experience is quite a thrill and adds on to how you experience nature and wildlife. Cycling tours can be with in the park or outside through the communities and are best when guided. Views of the grazing wildlife, the beautiful scenery, the Ankole long horned cattle in the communities and a glimpse into the lives of the local people are add-ons to your overall cycling tour experience. Let us know if we can include cycling on your Tour to Lake Mburo National Park.
• Quad biking in Lake Mburo Park
Just like cycling, quad biking safaris can be done within and/or outside the park. The beauty in both is having a wilderness experience beyond the confines of a vehicle. The established quad tracks take some/part of the already existing game trails so great animal encounters and the astonishing park scenery are a marvel that fascinate bikers.
• Cultural tours/experiences at Lake Mburo National Park
Lake Mburo National Park and its surrounding communities is one such areas with numerous cultural activities for visitors to engage in. There are different community groups with a variety of cultural experiences but largely connected to the Banyankole, one of the dominant tribes in Western Uganda. From village walks, you can engage in the Ankole traditional dance known as Ekitagururo, the making of Eshabwe which is our local mayonnaise, the ghee making process, local hand crafts, admire kraals and herds of Ankole long horned cattle, preparing our traditional millet bread and a lot more. In Mbarara city, is the famous Igongo cultural Museum which showcases the cultural heritage of most tribes in south western Uganda to mention the Bakiga, Banyankole (Bahima, Bahiru), Bafumbira, Batooro, Bakonjo, Banyarwanda, among others. A tourist enjoying a cultural experience is indirectly contributing to the peaceful existence of the park and the local communities. The improved livelihoods, enhanced conservation efforts and social infrastructural development help to reduce human-wildlife conflicts in the protected areas.
Other tours and attractions in Lake Mburo National Park
Other activities available to visitors at Lake Mburo National Park are sport fishing, camping, visiting Rubanga forest, Igongo Cultural Museum in Mbarara city and it can be used as a base from where to extend to other national parks in South Western Uganda to mention Queen Elizabeth, Bwindi Impenetrable, Kibale Forest, Mgahinga Gorilla Park as well as the famous Lake Bunyonyi. Also be sure to visit the Uganda Equator monument on any of your trips to Lake Mburo National Park.
Accommodation at Lake Mburo National Park
Many accommodation facilities within and outside the park have been established to cater for the park's visitors. Choice of the facility largely depends on one's budget, location preference and other interests. The lodges are categorized into budget, mid-range and luxury. They are; Mihingo Lodge, Rwakobo Rock Hotel, Hippo Hill Lodge, Mpogo Safari Lodge, Eagles Nest Camp, Arcadia Cottages, Mburo Safari Lodge, Igongo Country Hotel, Emburara Game Lodge, among others. For any tour booked with Jungle Escape Africa, we shall assist you to choose and book the best facility for your stay. Share your preferences here.
Accessing Lake Mburo National Park
From Kampala city/Entebbe airport, Lake Mburo National Park is easily accessed by the Kampala-Masaka-Mbarara highway. the drive from Kampala or Entebbe airport is approximately 4-5 hours.