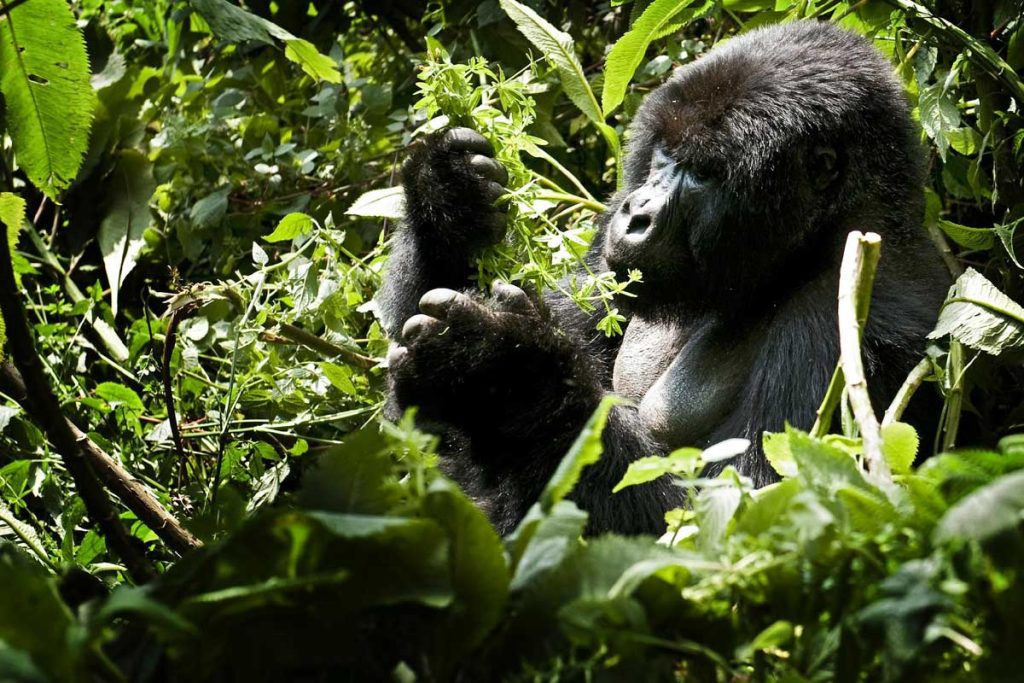 Request a Quote
Bwindi Impenetrable National Park, the home to the endangered Mountain Gorillas, was declared a UNESCO World Heritage Site in 1994 due to its incredible biodiversity and support for a large number of the only surviving Mountain Gorillas plus other endangered species. Bwindi Impenetrable National Park was gazetted as a national park in 1991 and its first Gorilla group was availed for tracking in 1993. Mubare was the only habituated Gorilla family at the time. Currently, Bwindi Impenetrable Forest Park harbors more than half of the world's population of Mountain Gorillas making it the most desirable place for Gorilla trekking in Uganda.
Also called "The place of darkness" due to its dense canopies, Bwindi Impenetrable National Park is a collection of biologically diverse rain forests lying on 321SqKm of land in South Western Uganda close to the borders of Rwanda and Democratic Republic of Congo. On average, the park lies at an altitude of between 1,160 – 2607M ASL. Bwindi Forests are believed to have stayed for more than 25000 years so a walk in such an ancient place gives one a wonderful feeling and an absolute inner peace of being so close to nature while admiring plenty of its flora and fauna.
This park truly lives by its name, The Impenetrable Forest! When in this forest, one is completely swallowed by thick forest under growth and a dense canopy of trees up. The park can only be accessed by foot which is also not easy at times. It has no paths, no signs, neither does it have any directions or clearings. You will see rangers cutting vegetation to create paths/way for the tourists. That is why they always move with machetes. Such a dense jungle with steep and slippery ridges can hardly let you navigate through at ease(even on foot), hence the impenetrable forest.
Mountain Gorillas in Bwindi Impenetrable National Park
Bwindi Impenetrable National Park is popular for harboring the endangered Mountain Gorillas. The park has approximately over 500 out of the world's total population (1000+) of these Gentle Mysterious Primates. Worldwide, the over 1,000 Mountain Gorillas can only be found in Bwindi Impenetrable Forest and Mgahinga Gorilla National Park in Uganda, Volcanoes National Park of Rwanda and Virunga National Park in the Democratic Republic of Congo. Bwindi has a total of about 40 Gorilla families with only 20 habituated ones. Each of the 20 families can only be tracked by a maximum of 8 visitors per day starting in the morning. Gorilla Trekking is strictly a morning activity with no other sessions. Such and others are some of the trekking regulations in place to ensure that the Gorillas stay healthy and wild.
Other Wildlife in Bwindi Forest Park
Bwindi Impenetrable Forest Park is rich in terms of bio-diversity. The forest is not only home to Mountain Gorillas but also supports 350 bird species 23 of which are endemic to the Albertine Rift on which edge the park is located. This has made Bwindi a desirable birding destination for not only Uganda but the whole of Africa. The park has 120 species of mammals, 220 species of butterflies, many frogs, Chameleons and a lot more including the endangered ones. Mammals in the forest include elephants, duikers, squirrels, pangolins, other primates like baboons, Chimpanzees and many monkey species. In terms of Flora, the park has more than 1,000 plant species which define it and greatly support the forest inhabitants. There is a dense network of water streams formed by the rain that flow into rivers; Munyanga, Ntengyere, Ivi, among others all of which are found in this dense forest.
Sectors/regions in Bwindi Forest National Park
For conservation purposes, the park has 4 sectors/regions: Buhoma, Rushaga, Ruhija and Nkuringo. These serve as the trail heads for the habituated Gorilla groups of the respective area. With in these sectors, trek starting points are established for easy reach to the specific Gorilla families. Again these divisions help to avoid tracking in one sector which in the end would lead to the degradation of this very fragile habitat. Habitat destruction is one of the threats to the livelihoods of these endangered animals.
Things to do at Bwindi
Of course the major highlight for any visit is Gorilla trekking for which this park is famous. Nature walks to see the waterfalls and other forest inhabitants, birding tours, cultural/community visits to the Batwa Pygmies and other communities near the park can also be engaged in. Bwindi Impenetrable National park is the only place that offers the Gorilla habituation experience. Unlike the regular trekking, Gorilla habituation allows you an opportunity of visiting wild Gorillas that are being taken into the process of seeing people as neutral beings so that they can also be availed for tracking. A few Kilometers from the park, you can visit the beautiful lakes of Bunyonyi and Mutanda. If you do not opt for a longer Uganda Safari, you can explore Bwindi forests with some of our tours below:
2 Days Bwindi Gorillas from Rwanda
The Weather at Bwindi Impenetrable National Park
Generally, the weather in this mountainous area is on the cooler side. For those that have been to this park know that it gets pretty cold especially at night and early in the morning. Temperatures range from 7 degrees to 20 degrees C and it is encouraged for visitors to have more warm than light clothes. The best time to visit Bwindi Impenetrable Forest Park is preferably in the drier months of June- August and December to February. However, there is still no guarantee of finding the forest dry in those months. Being a tropical forest, rains are a usual occurrence irrespective of the season. Gorilla trekking and all the other tours at the park are available through out the year. It is only that the forest is more navigable during the dry months but turn out to be too slippery and muddy with much rain.
Accessing Bwindi Impenetrable National Park
Please be reminded that the park has four sectors/regions of Buhoma(the park headquarters), Ruhija, Rushaga and Nkuringo. Each of these has a different access route depending on where one is arriving from. They can all be reached by road or air from with in Uganda and Rwanda. From Rwanda however, it is strictly by road because it is closer compared to 8 or more hours on the road from Kampala/Entebbe. The closeness of Rwanda border to Bwindi Impenetrable National Park has made our Rwanda-Uganda Gorilla trekking Tours popular.
There are scheduled flights between Entebbe and Bwindi forest park. Flights are either to Kihihi airstrip – Buhoma and Ruhija sectors or to Kisoro airstrip – Rushaga and Nkuringo sectors. The Gorilla permit mentions the tracking sector so ensure that you stay close or with in the tracking area. It is advisable (a requirement) to reach the park a day before the tracking date. Scheduled flights are also available between Bwindi and Masai Mara Game Reserve in Kenya. You might want to check on our 5 Days Bwindi Gorillas and Masai Mara Flying Safari.
Where to stay
Like earlier mentioned, the place of stay dictates the tracking sector. It is important to ensure that the tracking sector tallies with the place of stay. There are different accommodation facilities at the edges of Bwindi forest park. They are located in its different sectors and are categorized as budget, mid-range or luxury. Below are some of the recommended accommodation facilities:
Buhoma Sector:
Buhoma Community Rest Camp
Buhoma Haven Lodge
Crested Crane hotel
Buhoma Lodge
Gorilla Forest Camp
Trackers Safari Lodge
Bwindi Jungle Lodge.
Ruhija Sector:
Gorilla Mist Camp
Broad bill Forest Camp
Trekkers Tavern Cottages
Bakiga Lodge
Ruhija Gorilla Safari Lodge.
Rushaga Sector:
Rushaga Haven Lodge
Ichumbi Gorilla Lodge
Rushaga Gorilla Camp
Lake Mulehe Gorilla Lodge
Gorilla Safari Lodge Rushaga.
Chameleon hill Lodge
Nkuringo sector:
Nkuringo Bwindi Gorilla Lodge
Clouds Mount Gorilla Lodge.