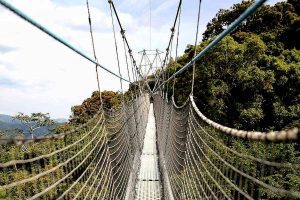 Nyungwe Forest National Park, located in the south western parts of Rwanda close to the Burundi border, constitutes one of the Afrotropical Realm sub regions. It is a pristine Afromontane forest, one of the last bits left in East and Central Africa. Covering an area of about 1,000SqKms, Nyungwe Forest received a national park status in 2004. It is encompassed by Lake Kivu to the north, Burundi to the west and the Democratic Republic of Congo to the East. In this majorly forest habitat, are swamps, marshes, bamboo thickets, open woodland, heath and other macro habitats all of which support the park's bio-diversity.  Request a Quote
Nyungwe National Park is a refuge of over 10 primate species including the Chimpanzees, man's closest relative. Nyungwe National Park is the best destination for Chimpanzee trekking in Rwanda. Also within Nyungwe Forest is the 200metre suspension bridge popularly referred to as the Canopy walk way. This canopy walk way is the only of its kind in East Africa and not common to many parts of Africa either. Besides being an excellent Chimpanzee tracking, bird watching and nature walk spot for Rwanda, Nyungwe Forest National Park is the site for a canopy walk experience in Rwanda.
Furthermore, Nyungwe forest is a very important conservation area not only in Rwanda but also Africa. Its myriad of rivers and water streams enrich the different ecosystems which together constitute a good water catchment area for Rwanda.
History of Nyungwe Forest National Park
At its first establishment in 1903, the now Nyungwe Forest National Park was taken to be a reserve and a colonial crown land for then Germany colonial government. Nyungwe Forest Reserve by then measured 1,140SqKm before it reduced to 1,019SqKms after its share of the civil unrests that started way back in 1953 to 1977. At some time, Nyungwe forest was left on an area of 150SqKms due to wildfires, encroachment, lumbering and intensified poaching of the wildlife.
It was not only the Primates that were there to see in Nyungwe around that time, the forest had buffaloes and elephants which were unfortunately hunted down by the encroachers/poachers during the civil wars. They further depleted the park's flora and fauna by their lumbering, poaching and other habitat destructing activities. The last elephants in Nyungwe were hunted down in 1999 though research and plans to reestablish it had started much earlier in 1985. These Conservation and research efforts were again frustrated by the Rwanda Genocide of 1990-1994 which affected other protected areas in Rwanda including Akagera National Park.
In order to harmonize the local community needs and re-establish Nyungwe Forest National Park, a buffer zone of eucalyptus trees was established around the park. Marked the boundaries of the park as well as acting as a source of firewood to the communities that had survived on the forest for the same
Wildlife/Flora and Fauna in Nyungwe National Park
Nyungwe Forest National Park is a magnificent bio-diversity hotspot in Rwanda best known for Chimpanzees. These chimpanzees share habitat with other 12 primate species, about 85 other mammal species, over 1,050 plant species among which are trees and orchids. Nyungwe National Park boasts of over 300 bird species 29 of which are endemic to the Albertine Rift and this makes it one of the best bird watching destinations in Rwanda. Nyungwe's magnificent bio-diversity is attributed to its location in the Great Western Rift Valley which stretches from Lake Albert to Lake Tanganyika. Within the rift valley is an array of lakes and rivers that flow west through Nyungwe upto the Congo River system. These water areas do not only enrich the different ecosystems in Nyungwe Forest Park but also make it a good water catchment area for Rwanda and hence a very important conservation area.
Things to do in Nyunwe Forest National Park
Nyungwe Forest is a major spot for Chimpanzee tracking in Rwanda. In Nyungwe Forest National Park, are 2 habituated Chimpanzee families/groups available for tracking by the visitors. One group located at Kyamudongo has 30 members and the one at Gisakura with 60 individuals. Unlike other chimpanzee tracking destinations like Budongo Forest and Kibale Forest National Park in Uganda where the tracking is in two tracking sessions of morning and afternoon, it is just one and in the morning at Nyungwe Forest National Park. Combining Mountain Gorilla trekking and Chimpanzee tracking gives among others a chance to physically see and tell the difference between these two amazing primates. Check our 5 day Primates Safari in Rwanda.
Second on the list of the most famous activities in Nyungwe National Park is the Canopy Walk. It is such an exhilarating experience of walking above the forest canopy on a high suspension bridge. This metallic walk way is as long as 160m and 70m above the forest floor. The canopy walk offers the visitor an aerial view of the tree tops/canopy across the forest. Wildlife like birds and some primates can be viewed at a very close range. It has made Nyungwe National Park a fascinating place like no other in East Africa. You can check on our 3 days Nyungwe Canopy walk and Chimpanzee tracking trip.
Nyungwe Forest National Park has one of the most conducive environments for bird life to thrive. In this park, over 300 species of birds with 29 Albertine Rift endemics have been recorded. By its ornithological importance, Nyungwe Forest National Park is recognized as an IBA (Important Bird Area) by Birdlife International. Some of its unique bird species are Albertine Owlet, Red Collared babbler, Rockefeller's sunbird, Rwenzori turaco, Rwenzori nightjar, Dusky crimson wing, Dwarf honeyguide, among others. It's by such a remarkable avian fauna that many refer to it as the Birds, Paradise. Forest birding presents with a lot of challenges and especially in these high altitude areas and so birding trails were established in Nyungwe Forest Park to ease navigation during bird watching tours.
Nyungwe Forest National Park has an array of trails which were established for easy exploration of the beauty in there. Most of them were named after the prominent features through which they lead such as the water falls, unique birds, scenic areas and much more. Much like Gorilla trekking in Volcanoes National Park where one's choice for a Gorilla family to track has to match with the physical ability, some trails here in Nyungwe present high level of difficulty and so are more recommended to seasoned hikers/trekkers. Nonetheless, some preparation is required before any nature walk and more so in these high altitude areas. The trail names are; Igishigishigi, Ngabwe, Bigugu, Kamiranzovu, Karamba, Umugote, Umuyove, Congo-Nile divide, Uwinka, Irebero, Isumo, Imbaraga, Muzimu and Rukuzi trail.
Colobus Monkey tracking is a mystical experience and which is unique to this park. The sights of a forest with hundreds of black and white colored primates is such a rare phenomenon. This exciting expedition is also another way to increase the visitor's primates, sightings and so shouldn't be missed. It is an easy trek compared to Chimpanzee tracking as they can be found in an hour or less with in the trek. Monkey tracking can be done any time of the day unlike Chimpanzee tracking which is strictly a morning activity. During the same activity, other monkey species in Nyungwe forest can be spotted – While finding these primates is not a guarantee, at least a stroll through this forest fragment and an extension to the tea plantations comes with stunning views of Lake Kivu or the Virunga volcanoes on a clear day.
Nyungwe National Park Fees
The Park entrance fees are charged as per the visitor's category. They are highly discounted the longer the visitor stays at the park. Activities like chimpanzee tracking are offered at $150 per foreign tourist and $25 for the local tourist. Please note that activity fees do not include entry fees.
Accessing Nyungwe Forest National Park
Nyungwe Forest is located 200Km from Kigali, Rwanda's capital and airport city. It can be accessed by both road in a good 4×4 vehicle and by air with either Akagera Aviation or Rwanda Air. It takes between 5-6 hours by road and an hour by flight from Kigali.
Nyungwe National Park Tours
2 Days Nyungwe Chimps and Canopy tour