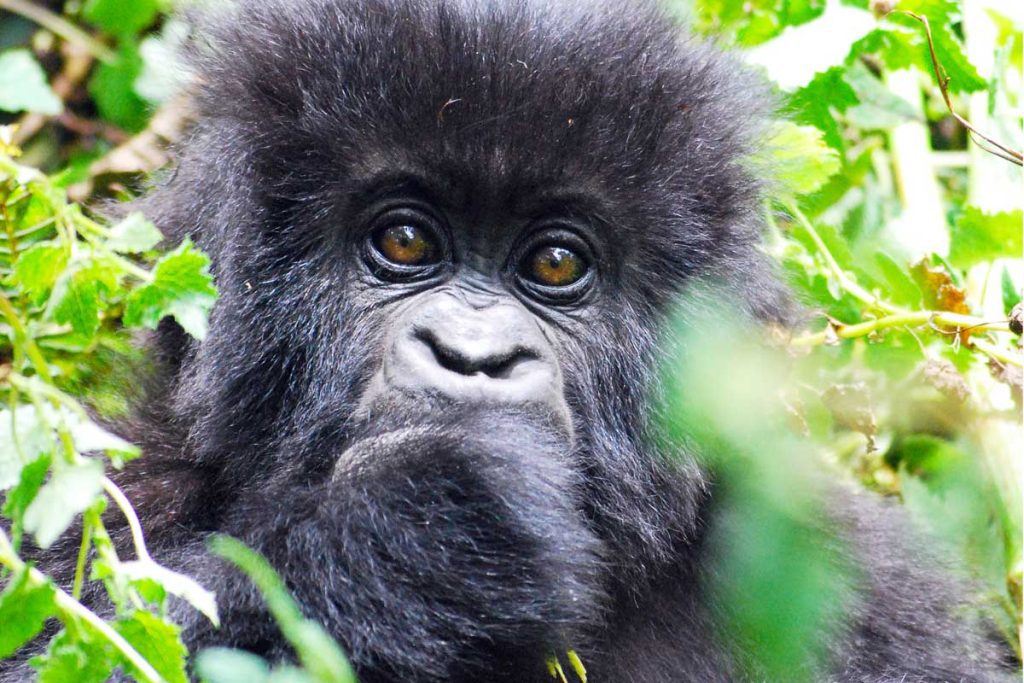 Request a Quote
Gorilla trekking in Rwanda takes place in Volcanoes National Park/Parc Nationale Des Volcans(PNV). Volcanoes  National Park is one of the only 4 national parks in the world that shelters the surviving Mountain Gorillas. Other parks are Bwindi Impenetrable National Park in Uganda, Mgahinga Gorilla National Park Uganda and Virunga National Park in Congo. Mountain Gorillas are Rwanda's number one tourist attraction whose conservation and protection are held in very high regard. This is quite evident with the good state of conservation in which the Gorillas and their habitat are. An encounter with Mountain Gorillas in their natural habitat is a deeply moving and humbling experience! Visit Rwanda for a Gorilla Trekking Safari, an experience that is like no other!
Mountain Gorilla families in Rwanda – Gorilla families in Volcanoes National Park
Rwanda's Volcanoes National Park boasts of 10 Gorilla families that are habituated and available for tracking or viewing by visitors. There are some other 2 families on top of the 10 but which are strictly for research. Gorilla families in Rwanda were/are named following the stories or circumstances for their formation and their life styles or behaviors. Some of these families are as old as Dian Fossey's days. Dian Fossey was an American primatologist who put an intense resistance against the poaching of the Gorillas alongside an extensive research into their behaviors. Unfortunately, she was mysteriously murdered by unknown assailants in 1985. Some of the recent and not the old Gorilla families in Rwanda's Volcanoes National Park together with the individual members, were given names through the famous Kwita Izina Ceremony or the Gorilla naming ceremony. It is an event organised every year in Rwanda to give names to the baby Mountain Gorillas that may have been born in a year or two. The habituated Gorilla families in Rwanda are; Titus Family, Amahoro family, Umubano, Susa A, Susa B, Karisimbi group, Sabyinyo group, Kwitonda, Hirwa, Uganda, Agasha group – group 13 and Bwenge group.
Note: When you make certain to meet a particular Gorilla family, kindly let our reservations team know about it so that we assist you in fulfilling your dream. We shall always update you incase of any news or changes about/in the different families' compositions.
The cost of a Gorilla Permit for Rwanda and how to secure one
A Gorilla permit for Rwanda goes for US$1,500 which is per individual and not a group of tourists. It rose to that in 2017 from US$750. The US$1,500 permit price comes with park guides but excludes other expenses like transport to the park, accommodation, the porters and others. The hiked price was one of the conservation strategies to check/regulate the visits to the Gorillas that have such a fragile habitat and yet they are still listed as endangered by the IUCN. You might want to learn about the Gorilla permit cost and booking information.
Rwanda Gorilla permits are only secured through Rwanda Development Board and confirmation is strictly upon full payment. There are no cash payments accepted at the tracking ground/park headquarters. Secure a Gorilla permit as soon as you confirm your tracking intentions. Permits' demand is so high and yet are limited in number. An advance permit purchase becomes necessary in this case much as it is a requirement. You can entrust your permit purchase and other Gorilla trekking tour arrangements with a trusted local tour operator. Here at Jungle Escape Africa, feel free to engage us through an e-mail or any of our communication platforms for further guidance.
Also note that, with the high cost of the Gorilla permit in Rwanda, most Gorilla trekking tours have been diverted to Uganda in Bwindi Impenetrable National Park and Mount Mgahinga Gorilla Park where the permit is at US$700, far less than the US$1,500 price for Rwanda. This has greatly made Rwanda to Uganda Gorilla Trekking tours popular.
Mountain Gorilla Trekking Experience in Volcanoes National Park, Rwanda
Gorilla trekking is a wildlife experience of trolling into the Gorillas' habitat for a face to face encounter. It is an act of following Gorilla movements in the forest which enables the tracker to know more about their behavior and daily interactions in the wilderness. Just like the Mountain Gorillas, all other primates like the Chimpanzees and Golden monkeys are tracked on foot by virtue of their habitats and behavior traits that can adjust to human presence before them. This is however in sharp contrast with lion trekking; a carnivorous lion can not let its prey go scot free and that's why it (lion tracking) has to be done while in a vehicle. Considering that Rhino tracking too, is done on foot much as Rhinos are aggressive animals, but at least it is always safe when the tracking rules are adhered to during the activity.
Registration and briefing for Gorilla Trekking in Rwanda
It is a requirement to report at the Kinigi park offices early morning at 7.am to register for the Gorilla trekking activity. It's here that you will have to present your passport plus the Gorilla permit. All visitors that book Gorilla trekking tours through Jungle Escape Africa, the registration and presentation of the permits is done by the driver guide on their behalf. Gorilla trekking starts in the morning with a comprehensive briefing about the established guidelines for tourists' visits with in the park. These guidelines are encapsulated into what is termed as the Gorilla trekking etiquette or a list of the dos and don'ts while with the Gorillas. The briefing and registration takes place at the Kinigi park offices/headquarters at 7.am. It involves some simple entertainment by the locals, a TV presentation and some coffee for the visitors.
It's at Kinigi park headquarters that all trekkers for the day are divided into groups of 8 people (maximum) and assigned a Gorilla family to track. Gorilla family allocation takes into consideration people with special cases/needs like the elderly, physically impaired due to past injuries or any other causes, and those who may find themselves in a poor health state that day. After briefing, all trackers get into their cars to drive to the trek starting point away from Kinigi. It is at the base of  Mount Bisoke from where all groups start the trek and separate along the way for real treks in the respective directions of their allocated families.
Note: When you make certain to choose an easy, moderate or difficult hike, please let your driver know about it so that he presents it for a consideration and confirmation upon registration.
Hiring porters during Gorilla Tracking in Rwanda
Hiring a porter(s) is optional (to seasoned trekkers/hikers) unlike a walking stick which is a must, regardless. A walking stick is provided (free) at the starting point where you shall also find the porters for hiring. Much as hiring porters is an option, trackers are highly encouraged to have at least one (porter) who shall not only carry their small backpacks but also/even offer a push or pull in the difficult parts of the trek. Remember this is a hilly terrain which can be quite hard going so support or any assistance is needed by all means.
Also be informed that the trails, particularly at the initial ascent of the trek, have always proven difficult due to the mud and many rocks despite being more or less on a lower altitude. As you advance with the trek, steepness sets in alongside the dense vegetation that has thorny leaves. All these turn the supposedly delightful/exciting trek into a challenging one and so walking sticks and porters become very helpful.
Still with porters, apart from helping through the hard to navigate areas of the trek, hiring them is one way through which Gorilla conservation and local community needs are harmonized. When communities benefit from Gorilla tourism, they will certainly advocate for their (Gorillas) survival in their respective capacities. Porters are from communities surrounding the park.
The time taken to find the Mountain Gorillas in Volcanoes National Park
Trekking time is one element of the Gorilla tracking activity that can never be predetermined. Drawing from past experiences, it has always been between 30 minutes and several hours. The level of difficulty or ease encountered during the trekking activity also varies depending on the location of the Gorilla family. Remember Gorillas keep wandering in the forest following no time table and neither a designated path. Searching for them therefore, can be from a simple walk in the forest to a very strenuous and exhausting one. However, it is well worth the work and misery getting there. The tranquility and magic given off by the Gorillas upon finding them barely lets one notice how the anxiety fades.
Gorilla Tracking Rules in Volcanoes National Park
A 7 meter distance away from the Gorillas was considered as safe before Covid-19 but it is now 10 meters. Keeping a safe distance between people and the Mountain Gorillas is one of the mandatory precautions to avoid possible disease transmission, including Covid-19. Mountain Gorillas share 98.4% DNA as humans and so diseases from humans can easily attack them. The Gorillas however are unaware of this fact; of humans-to-Gorillas disease transfer, so it remains entirely upon us to keep off their habitat incase of any communicable sickness. Much as there is a 10 meter rule between visitors and the Gorillas, a sick person should ideally postpone his/her visit to the Gorillas. Check link for Gorilla trekking rules and regulations.
Some of the Mountain Gorilla trekking rules are:
All persons of below 15 years are not allowed to track Mountain Gorillas but there is no maximum age limit.
Each family has to be visited by a maximum of 8 people once a day.
The maximum time to spend with the Gorillas after finding them is 1 hour.
Carry a pair of masks with you, one to be worn before and the other after finding the Gorillas.
Keep noise and movements at the minimum when with the Gorillas.
Littering the park is strictly prohibited.
No flash photography.
Tracking Mountain Gorillas more than once in Rwanda
Tracking Mountain Gorillas more than once is accepted in Rwanda though has to be on different and not the same day. Acquire a separate permit for each day/date you are to track and remember to secure them in advance. When double trekking or tracking more than once is the plan, you are free to track one particular family for all the times or track different ones. For the best experience however, you are encouraged to track different families. You can check our 3 Days Rwanda Double Gorilla Trekking Safari and the 4 Days Bwindi double Gorilla Trekking Tour for more information.
Best time to visit for Gorilla trekking in Rwanda
The ease or difficulty with which the Gorilla trekking activity is done has always been a matter of great concern to all potential visitors. Much as it is good to know that Gorilla Trekking Tours are conducted and are available all through the year, it is equally important to be aware that the trails are more navigable during the dry than the wet season. They tend to be so muddy and slippery with vegetation overgrowth during the wet or rainy months than the drier ones. The muddy and slippery tracks may create dull moments in the supposedly delightful and exciting adventure of Gorilla trekking. If flexible with the travel plans, it is therefore advisable to visit during the months of December to February and June to mid-September that are anticipated to be dry. However, you are free to visit any time of the year after all there are porters who will in one way or the other help you to realise your dream of reaching the Gorillas with ease. Also be informed that the nature of the terrain(mountainous) and the tropical forests are rain stimulators and therefore rains occur at any time of the year regardless of the season.
The safety and security during Gorilla trekking in Rwanda 
Rwanda is politically and socially stable and safe. However, many concerns are raised by intending travelers regarding their safety in a country that is neighbors with Congo known for insurgencies and other forms of insecurities. What raises their fears the more is the fact that Volcanoes National Park of Rwanda shares the Gorilla habitat with Congo's Virunga National Park. In addressing these concerns, Rwanda Development Board together with the Rwanda Defense Forces (the country's army), made heavy deployments in all tourist places/parks and border areas. During most activities especially Gorilla trekking, mountain hiking in Volcanoes Park, tourists have to be accompanied by the armed soldiers on top of the park rangers or guides, and this is to ensure high level safety. Well, the country is generally safe and the heavy deployment is a just-in-case.
Letting alone the security offered during activities, Rwanda is known to be a peace loving country with very friendly people. It is one of those countries in the world where tourists are treated like their own. This partly explains why most tours to Congo, in times it gets declared safe for travel, start and end in Rwanda. It is not only that Virunga Park is very close to Rwanda but also that home feeling experience which comes with the safety. Tourists are always welcome to Rwanda and are free to use it as their base for visiting her neighbors – Uganda, Congo and Burundi.
What to pack/carry for Gorilla trekking in Rwanda – How to prepare for Gorilla tracking in Rwanda
For the best Gorilla trekking experience, make sure that you are in a reasonably good physical and health state. At least do some work out and joggings before the visit. The forest terrain is steep and hilly which may require some level of fitness to conquer it. However, the trek is quite doable and physical fitness should therefore not scare away potential visitors including the elderly as there are special considerations for them besides the porters.
Wear good sturdy hiking shoes for this trek to enable you maneuver through its muddy and steep trails. Also make use of gators to keep your shoes and pant legs dry.
Leave the lodge with some packed food/lunch and snacks plus enough drinking water because the time taken to find the Gorillas can never be predetermined so you can hardly fix a lunch program on the Gorilla trekking day anywhere outside the forest.
Carry with you a rain jacket or any other rain gear at all times. In such rain forests and the high altitudes areas, rains are a usual occurrence.
Wear long sleeved shirts/tops and trousers to protect your body from the stinging nettles and other thorny vegetation in the forest. Remember there are no designated or paved paths to follow when searching for the Gorillas.
Wear a head hat and any other head gear but not a helmet. It (helmet)could have been another good head gear but it may turn out to be too heavy to maneuver with up and down a thick forest. Besides Gorillas are not used to people with helmets so they may mistake you for a stranger.
Other important items to have with you are; a camera, binoculars, insect repellents, woolen hand gloves, stockings, long enough to have the trousers tacked in to avoid safari ants getting up into your body.
Other tours or things to do after Gorilla trekking in Rwanda
There are many other interesting tours to engage in or combine with Gorilla trekking in Rwanda. When planning a visit to this land of a thousand hills, get in touch with Jungle Escape Africa's reservations team for an expert advice on the best trip suggestions. Briefly, Gorilla trekking can be combined with Golden Monkey trekking, hiking the Virunga Volcanoes, Cultural visits to the communities and Ib'yacwu Cultural Village, Dian Fossey grave site tour, bird watching, Nyungwe Forest Chimpanzee tracking, Canopy walk experience, game viewing in Akagera National Park, boat rides, Genocide Memorial sites visit, among others.
More related information:
Recommended tours for Gorilla trekking in Rwanda