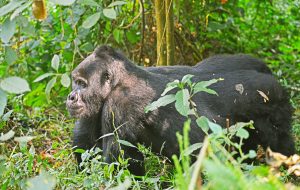 This 10 Days Uganda Primates Tour shall involve Gorilla trekking in Bwindi Impenetrable National Park, Golden Monkey trekking in Mgahinga Gorilla Park, game viewing expeditions in Queen Elizabeth and Lake Mburo National Parks, Mabamba Shoebill wetland tour, Chimpanzee trekking in Kibale National Park, nature walks, cultural visits, scenic viewing and photography. 10 Days Uganda Primates Tour is a life time encounter with those rare wildlife species not found in even the world renown parks of Serengeti and Masai Mara.
The 10 Days Uganda Safari with Gorillas, Chimpanzees and Golden Monkeys avails the only opportunity to have an encounter with the most sought after and rare wildlife species that include the endangered Mountain Gorillas, Golden Monkeys, Chimpanzees, the Big Five animals, bird species like the Shoebill stork and the Albertine Rift Endemics as well as authentic cultural experiences and the breath taking scenery. Our selection of places, good accommodation, very comfortable transportation and an experienced English speaking driver guide shall make your vacation a memorable one.
Detailed program for the 10 days Uganda Safari with Gorillas, Chimpanzees and Golden Monkeys
Day 1: Arrival at Entebbe International airport
On arrival at Entebbe airport, you shall be received by our driver who shall transfer you to the hotel for your stay and overnight rest. Accommodation at 2friends Beach Hotel Entebbe. Meal Plan: HB – Dinner
Day 2: Mabamba wetland Shoebill tour
Rise up very early and start your day with a taste of local Uganda coffee followed by a transfer to Mabamba wetland, a home to the Shoebill stork and a rewarding spot for bird watching. This wetland is linked with a stretch of Lake Victoria's arm and birding takes place on a motorised canoe that sail along the shoreline and papyrus grass thronged by an array of bird species. The highlight being the Shoebill stork, Mabamba swamp is a haven for many other bird species including the Warblers, Weavers, Papyrus Gonolek and several other swamp specialties. After the boat ride and an encounter with the Shoebill Stork, drive back to your hotel for lunch and afternoon/evening relaxation.
Meal Plan: FB – Breakfast, lunch and dinner
Day 3: Transfer to Kibale Chimpanzee Forest
Set off after breakfast for a scenic drive through Mityana, Mubende and Fort portal towns. Continue with the drive from Fort portal city alongside views of the Rwenzori Mountain ranges, tea plantations and the crater lakes as you advance to your lodge. Check into your lodge for lunch and some afternoon rest. Evening make a visit to the Bigodi wetland for a swamp walk that takes about 2-3 hours. The walk involves an interaction with the local communities from whom you get to learn about their day today lives. Deep into Bigodi wetland sanctuary are 8 primate species, over 200 bird species, various reptiles and different butterflies. Return to the lodge after this exciting walk. Accommodation at Kibale Guest Cottages
Meal Plan: FB – Breakfast, lunch and dinner.
Day 4: Chimpanzee trekking day
Drive to Kanyanchu park headquarters after breakfast to have a briefing about the Chimpanzee trekking activity.  Ascend to the forest with your informative guides and rangers who shall make the trek interesting and exciting with their passionate talks about the Chimpanzees and the forest. You shall be cautioned to adhere to the Chimpanzee trekking rules and regulations as you approach the animals. When around them, it's strictly one hour of photographing and observing their grooming, playing and foraging habits. It's quite an incredible experience! Return to your lodge after the trekking expedition for your hot lunch and live the remaining part of the day to yourselves. Accommodation at Kibale Guest Cottages.
Meal Plan: FB – Breakfast, lunch and dinner.
Day 5: Kibale-Queen Elizabeth National Park transfer
The end of your stay at the Primates capital of the world shall be crowned with a tasty breakfast served at the lodge before embarking on the drive to Queen Elizabeth National Park. Exit the lodge heading for a short but a very scenic drive with views of captivating landscapes – the crater lakes, green hills, water streams and the Rwenzori Mountain ranges. Make a short introductory drive through the park to your lodge. Lunch shall be served after checking in and later transfer down to the pier for a boat ride on Kazinga Channel that connects Lakes George and Edward. It's at this time of the day when the sun is high in the sky that most animals make their way to the water channel to quench their thirst, swim and play. It presents a great opportunity to see many at a closer range as you cruise on the water. You shall spot more hippos than you can possibly imagine! Herds of elephants, buffaloes, several birds and alot more can be viewed moving up and down the water channel. Return to your lodge after the 3 hours boat cruise. Accommodation at Marafiki Safari Lodge.
Meal Plan: FB – Breakfast, lunch and dinner.
Day 6: Ishasha tree climbing lions game drive
Wake up to the sounds of nature and have breakfast before embarking on a game viewing drive to Ishasha sector of the park. Through a network of trails here, avenues for encountering the magical tree climbing lions are availed. The sights of these big cats hanging up in the fig trees are so incredible! Expect to spot other savannah inhabitants on your search for the tree lions. Check into your lodge for lunch and return to the jungles later for another chance on the lions. Have a sun downer before returning to your lodge for dinner and overnight rest. Accommodation at Enjojo Lodge.
Meal Plan: FB – Breakfast, lunch and dinner.
Day 7: Ishasha – Bwindi transfer
Watch the sun rise over the Ishasha plains, have breakfast, check out exiting Ishasha for a drive to Bwindi Impenetrable National Park. Lunch in Kisoro town and proceed to Mutanda Lake Resort arriving in the evening. To the panoramic views of the Virunga Volcanoes facing the beautiful Lake Mutanda, rest away the evening until dinner time. Accommodation at Mutanda Lake Resort.
Meal Plan: FB – Breakfast, lunch and dinner.
Day 8: Rushaga Gorilla trekking and Lake Mutanda canoe ride
This day marks the summit of your 10 days Uganda Safari trip, it's for tracking the endangered Mountain Gorillas. Wake up very early for breakfast and prepare well for the trekking activity. With your packed lunch boxes, rain gear and drinking water, drive to Rushaga sector of Bwindi national park for the general briefing conducted by the head ranger. Pick walking sticks, hire a porter(not a must) and ascend to the forest following your allocated guide and rangers who shall lead you to where the Gorillas were last seen the previous evening so that you start trekking them. It can take 1 to several hours trekking through a physically demanding terrain. The beauty of this forest however is the surrounding scenery plus the sounds and sightings of several birds that shall keep you moving until you find the amazing Gorillas. Follow and photograph them for one hour after finding them. Check out of the forest and drive back to your lodge. Evening boat ride on Lake Mutanda.  Accommodation at Mutanda Lake Resort.
Meal Plan: FB – Breakfast, lunch and dinner.
Day 9: Golden Monkey trekking and transfer to Lake Mburo National Park
The views of the beautiful scenery that you shall wake up to here shall likely give your breakfast a special taste. This part of the country can't help but to look spectacular at every turn! Drive to Mgahinga Gorilla National Park in great awe of the beautiful scenery and the cool weather. Check into the park for a general briefing on Golden Monkey trekking. Guides and rangers shall accompany you to the spots where these exciting monkeys are known to forage from. They are very playful and active so some level of activity is always experienced in that allocated hour before them and during the search given the hilly nature of the terrain. Leave Mgahinga for Lake Mburo National Park after trekking the Golden Monkeys. Enjoy every opportunity for enhanced photography of the mind blowing scenery as you make your way to Lake Mburo National Park. Check into your lodge and refresh before your night game drive. Accommodation at Mutanda Lake Resort.
Meal Plan: FB – Breakfast, lunch and dinner.
Day 10: Game walk in the park and Flight back home
Check out of your lodge and ascend to the park for an early morning game walk which is a great opportunity for an upclose encounter with nature. After this jungle escapade, get into your safari vehicle and drive to Entebbe. Stops shall be made for photography and lunch at the Uganda Equator Monument. Drive via Lake Mburo National Park for another stop at the Uganda Equator monument. Have those last photo moments and continue to the airport to check in for your flight back home. End of the 10 Days Uganda Safari.
Safari inclusions are:
All accommodation (sharing in private ensuite rooms) on full board
All ground transportation in 4×4 safari vehicles
Airport transfers
Professional and experienced English speaking tourist driver guide
A Gorilla, Chimpanzee x1 and a Golden Monkey trekking permit per person – should be secured in advance
All entry fees and activities in national parks
Nature walks and community visits
Government taxes
Drinking water in the vehicles for an entire safari
Safari price exclusions are:
Visa/entry permit for Uganda
Personal Insurance covers
Personal use items
Tips, beverages and souvenirs.
Useful notes:
A negative PCR test for Covid-19 is no longer a requirement before boarding flight to Uganda and you shall not be subjected to more testing at Entebbe airport on arrival.
Apply for your Ugandan visas online as there is no more issuance of visas on arrival.
Gorilla trekking is dependent on permits availability but whose demand is so high. You are advised to book the tour well in advance to avoid disappointment. The same goes to Chimpanzee and Golden Monkey trekking.
Gorilla trekking is a strenuous activity and so requires some mental and physical preparedness prior to the visit.
We recommend you pack the following: Rain poncho (lightweight), long-sleeved shirt, waterproof trousers, sturdy hiking boots, leather gardening -type gloves, sunscreen, insect repellent and any necessary medications must be brought by yourselves from your home town. Still Cameras and Video Cameras are allowed, but bring their respective accessories.
While possession of the Gorilla permit guarantees trekking and sighting of the Gorillas, the time taken to find them can never be predetermined. However, the maximum time before them is 1 hour and trekking is restricted to any individual below 15 years.
There are set park rules and regulations that must be adhered to at all times while in the national parks. You will get them through briefing by your driver guides.