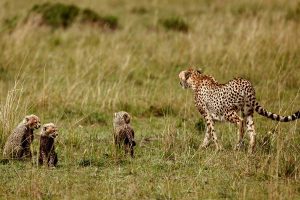 Request a Quote
The 5 Days Uganda Gorillas and Masai Mara Flying Safari is a thrilling opportunity to wildlife enthusiasts to explore 2 different unique habitats – an impenetrable forest of Bwindi and an immensely large savannah Masai Mara,in Uganda and Kenya, respectively. With the available time, fly from Entebbe airport to the Mountain Gorillas' home of Bwindi Impenetrable National Park from where you will take a direct flight to Masai Mara wildlife Reserve in Kenya. The 5 Days Uganda Gorillas and Masai Mara Flying Safari shall include flights between Entebbe-Bwindi, Bwindi-Masai Mara, Masai Mara-Nairobi. However, note that a drive instead of a flight from Masai Mara to Nairobi and from Kampala to Bwindi, can be options on those respective days.
Day 1 – Drive or fly from Kampala/Entebbe to Bwindi Impenetrable National Park
Take a flight to Bwindi Impenetrable National Park. Transfer from the airstrip to the lodge where you are to stay the rest of the day or take a tour to Bwindi surrounding communities. Travelling by road from Kampala/Entebbe can also be an option on this day.
Day 2 – Gorilla trekking day
Wake up early enough to make last preparations for the Gorilla trekking expedition in Bwindi Impenetrable National Park. With the appropriate clothing for Gorilla trekking, have breakfast, pick your packed lunch boxes plus water and emergency supplies. Drive to the park headquarters where you shall find the park rangers and guides waiting to take you through the Gorilla trekking rules and regulations before leading you to your allocated Gorilla family. The nature of the forest and the terrain explain the vigorous activity that Gorilla trekking turns out to be, so any kinds of mental and physical preparedness are crucial. It might take you less or a much longer time to locate the Gorillas but once you find them, they are so magical! Excited as you might be, give them their space as you watch and photograph them. For a full hour, you are free to follow them but quietly and calmly at a safer distance. Take a different direction from theirs as you walk out of the forest to find your driver for a transfer back to your lodge.
Day 3 – Flight to Masai Mara Game Reserve from Bwindi Impenetrable National Park
Check out of your lodge, have breakfast and drive to Kihihi airstrip for a direct flight to Masai Mara NationalReserve in Kenya. Transfer from the airstrip to your lodge after arrival. Time permitting, you can do an evening game drive in the park or make a cultural visit to the Masai homesteads.
Day 4 – Full day Game drives in Masai Mara Game Reserve
Leave the lodge after breakfast to drive to Masai mara National Reserve for full day game drives. Masai Mara National Reserve is one of the world's famous wildlife conservation sites hosting plenty of wildlife. It is also the spot for the phenomenal wildebeest migration recognized as the 7th wonder of the world. During game drives in the park, expect to spot animals in large numbers; the lions, wildebeests, Giraffes, elephants, buffaloes, Crocodiles, Cheetahs, leopards, Hippopotamuses, hyenas, Rhinos, jackals, wild dogs, warthogs, zebras and many birds. Return to your lodge in the evening for dinner and overnight.
Day 5 – Take a flight or drive to Nairobi city/airport
After breakfast at the lodge, check out to embark on your journey to Nairobi city/airport for your flight back home or to your next destination.