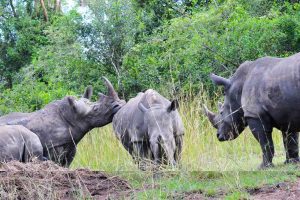 Request a Quote
3 days Murchison Falls Safari with Chimpanzees and Rhino tracking tour; The 3 days Murchison Falls trip is an awesome tour that shall bring you close to the fierce Big5, the primates of Budongo Forest, the amazing strong waterfalls and many more great adventures in Uganda's oldest and largest park, Murchison falls national park. The park sustains a large concentration of wildlife due to its endowment with different habitats ranging from grasslands, wood land, forest, acacia savanna, borassus palms and water. This 3 days Murchison Falls trip might seem short but it is very rewarding when it comes to wildlife sightings. You will experience Chimpanzee tracking in Budongo forest, view herds of animals during the game drives and the boat ride on the Nile, track and get close to the Rhinos in the wild at Ziwa Rhino Sanctuary, a walk/hike to clearly see the top of the majestic waterfalls, see lots of birds and plant species plus alot more.
Day 1 – Transfer to Murchison falls Park, Rhino tracking and Top of the falls tour
On the first day of our 3 Days Murchison Falls trip with Chimpanzees and Rhino tracking, we shall begin the journey at 7.00am. Destined for Murchison falls National Park, our confirmed first stop shall be at Ziwa Sanctuary for a thrilling encounter with one of Africa's Big Five, the Rhinos. We shall have lunch after Rhino tracking and later continue with our drive to the park. A lot of amazing things await as you drive into this extensive jungle. You will be treated to a cool breeze and panoramic views of the beautiful Budongo Forest on your way to the top of the Murchison falls. As you enjoy the cool fresh air and the views of Budongo Forest, you will find Baboons lining up along the road as if to say 'welcome to our home'. This is however not the case, they are always on standby to snatch the eats you may have in the car, please keep the windows sealed. Don't be tempted by their seductive behaviors to throw eats/fruits at them, feeding of animals in the national parks is strictly prohibited.
You will finally reach the top of the Murchison falls where you will be amazed by how the calm waters of the river turn into such a dramatic scene with a very loud but pleasant roar. The Nile River with all its volume of water forces itself through a narrow gorge plunging 45m forming a heavy pool down. After observing these beautiful falls, drive to your lodge for dinner and overnight.
Day 2 – Early morning Game drive, afternoon Boat Cruise, evening game drive
With a fresh steaming cup of tea/coffee on the second day of our 3 Days Murchison Falls Safari with Chimpanzees and Rhino tracking, we will set out for an early morning wildlife sighting. This is a great time for an amazing Game drive experience in Murchison Falls National Park. Expect to see buffaloes, jackals, elephants, many antelopes, giraffes, many birds, among others. We return to the lodge for a full breakfast, rest or refresh in a swimming pool and later after lunch, take a cruise on the Victoria Nile for aquatic game viewing. Giant crocodiles, hippos, birds are a common sighting during the boat cruise. Elephants and other animals too, throng the water banks to refresh after grazing. An evening game drive will wrap up our day of adventure.
Day 3 – Chimpanzee tracking at Budongo Forest and depart for Kampala
After breakfast, we check out of the lodge and drive to Budongo Forest Reserve, with in Murchison Falls National Park. After a short briefing, we shall ascend to the beautiful Budongo forest in search of the amazing Chimpanzees. After an hour with them, leave the forest to your waiting car and drive out of the park. You will have some hot lunch in Masindi town and later embark on the smooth drive back to Kampala. Drop off shall be at your preferred place in Kampala/Entebbe and that will mark the end of the 3 Days Murchison Falls Safari with Chimpanzees and Rhino tracking.