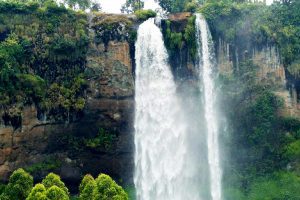 Request a Quote
With the 2 Days jinja city and sipi falls tour, you are to visit Jinja and the Sipi falls in Kapchorwa. Just picture a perfect moment where you will be fully immersed in the wonders of nature, then you will be sure that this will be your perfect 2 days gate away! A journey to the adventure capital of Uganda and magical outpour of the refreshing sipi falls is simply a refill you cannot resist. If you are the hard adventure lover, this two days tour package was made just for you!
Day 1 – Transfer to Jinja – half day rafting
There is just nothing quite like a double dose of adrenaline rush in one day. We prepare for today's share of adventure by a delicious heavy breakfast and after briefing begin the half day paddling of the Nile waves. After lunch, we enter yet another thrilling session of adrenaline rush as we continue our battles with the waves on the Nile. Our day will close off in the most glorious sunset at the Source of River Nile, the world's longest river. We drive to our booked safari lodge and check in for dinner and overnight.
Day 2 – Sipi falls- transfer back to Kampala
After breakfast, we check out of the safari lodge and set out to Sipi falls. We will then begin the hike to the main falls going through coffee plantations and homes of the local people. We continue to the falls where we will be greeted by a refreshing welcome of the splashing ripples to cool us from the intense heat from the hike. We get to have a picnic lunch while gazing below at the luxurious scenery below us.
We descend to get yet into another thrilling hike to the other water fall. We will close this thrilling adventure with a hike to the third water fall which will be a lot easier. We get to experience the beautiful sunset over Sipi falls before we head down to embark on our return journey to Kampala where we will be dropped off at any place that is convenient for us.
End of the 2 Days jinja city and sipi falls tour