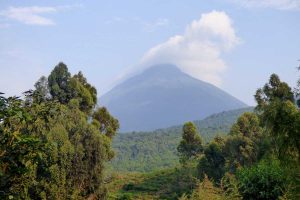 Request a Quote
Hiking Mount Muhavura or Muhabura Volcano the third highest in the Virunga Mountain ranges rising up to an elevation of 4,127m above sea level. Part of Mount Muhavura lies here in Uganda in Mgahinga Gorilla National Park and in Volcanoes National Park on the side of Rwanda. Hikes to its summit are arranged from both countries in the respective parks where the volcano is located. In Kinyarwanda (local) language, Muhabura means "the guide". Allegedly, Muhavura was historically used to aid navigation by virtue of its location and altitude, that it would be viewed by distant travelers. Mount Muhavura is the highest and the steepest of all the three volcanoes hosted by Mgahinga Gorilla National Park with others being Sabinyo and Gahinga. Muhavura is separated from Gahinga by a swamp, Kabiranyuma. In Rwanda, Muhavura ranks second after Karisimbi, the tallest.
Muhavura is an extinct cone shaped volcano with a crater lake at its summit whose beauty is a huge reward to hikers that manage to make it there. Its slopes are covered by short grass and small shrubs supported by the volcanic ash. Views from the summit involve those of other Volcanoes in the range; Sabinyo, Gahinga, Karisimbi and Nyiragongo. The Rwenzori Mountain ranges, Lake Bunyonyi, the twin lakes in Rwanda, among others. Being steep and tall, the hike to its summit involves 2 stops at 3116m and 3855m, respectively. Steep and tall as it is, its hike has to be done in a day so an early start is always recommended. Still this is where it's advisable to start the hike at a moderate speed no matter how easy it may seem. Starting at a reasonable pace will enable you to reserve the energy for the hard tasks ahead. Hiking Muhavura takes between 7 and 8 hours, round trip.
Climbing/Hiking Mount Muhavura/Muhabura in Uganda or Rwanda
It is not to scare any avid hiker but hiking Muhavura is so demanding due to its steepness. It is the steepest of all the Virunga Mountain ranges yet its hike has to be done in a day. Thanks to the park authorities that established ladders in some difficult areas of the trail! However still, it is advisable for any hiker to come prepared for it. Engage in some work out to physically get fit for it. On the day of the hike, ensure that you rise up early enough to be able to start off at 7.am. In this case briefing has to start earlier than for the rest of the park activities. No hiking activity can take place with out a briefing to all those involved because it mentally prepares them. You are acquainted with all the expectations for the hike. You are tipped off on how to handle altitude sickness incase it sets in and anything that may arise during the hike.
After registration and briefing at the respective park offices, pick a bamboo stick to aid in the hike. You need a porter by all means to assist with carrying your packed lunch/snacks, drinking water and any gear that you may not be using at certain points during the hike. However small any item can be, it shouldn't consume the little energy reserved for the hike which can eventually slow you down. Let the porter assist after all you will be contributing to the peaceful existence of the park and the local communities. A porter is hired at US$15 a day in Uganda and $10 in Rwanda.
From the park offices, you are then driven to the starting point which is at about 2380m above sea level. The walk starts off through human settlement and gardens. The trail takes you through short grass and small shrubs supported by the volcanic ash that covers the slopes of Muhavura. You are to have your first stop at 3116m. This is where most climbers stop and those who endure, it takes them some 740m to get to the second stop/hut at 3855m through a bushy and rocky path punctuated by ladders. After some rest at the 2nd hut, you are now headed for the steepest and most challenging part of the Muhavura hike. Get up to start on this tough climb to the summit. Though very cold at the summit but at least you are to realise that enduring and determination pay off at last. The views are incredible! A large crater lake to walk around to as you enjoy some photo moments. Your eyes will stretch out to see the twin lakes in Rwanda, the Rwenzori mountains and Lake Bunyonyi in Uganda. Other Virunga volcanoes will appear beautifully standing before your eyes.
Start on the descent after some time at the summit. It is always advisable to walk through the park before darkness as it may turn out to be very dangerous in the dark. There are many animals that keep roaming the park including the fierce ones like the elephants and buffaloes. It is safer to come across them before dark. This is what compels the rangers to cut short/terminate the hike in some cases when they realize that it may get dark before they leave the park. Other than the wild animals, the ladders may seem dangerous due to blurred visibility. One may miss a step and fall/slip off. It may be more disastrous when rain sets in. The earlier you start the ascent/descent, the better and safer. Also be cautioned to make the descent with extra care this being a steep mountain. There is no guarantee for the descent to be easier to make you move so fast. When you get down to the starting point, your driver will be waiting to receive you and drive back to your lodge for a rest after this tough but exciting adventure.
How to prepare to Hiking Mount Muhavura
Contact Jungle Escape Africa to arrange your hiking Mount Muhavura package which will involve safe and comfortable transportation, securing the hiking permit, accommodation for your overnight stays, all the park fees and the meals. Should you wish to do it privately by yourself, we shall still be grateful to provide you with any information you may need to realise your dream of conquering the 3rd highest peak in the Virunga chain of mountains.
Permits for the hike can be booked on the day and this allows flexibility to any hiker who may have come with two minds. You may have come for Gahinga or Sabinyo, you can switch to Muhavura on the day. However, you are requested to do this before briefing. Also be reminded that Sabinyo can not be hiked from the side of Rwanda.
Your packing list should include proper hiking shoes/boots – waterproof preferably, rain gear/jacket, camera, sunglasses, a small back pack to carry your packed lunch/snacks, water, extra. Wear long sleeves shirts and pants to avoid contact with the stinging nettles, hand gloves for the cold summit, a head hat to cover you from the rain and sun heat. A walking stick will be provided for free at the park offices.
Muhavura hike can be combined with other activities in the park like Gorilla trekking, Golden monkey trekking, climbing other volcanoes like Gahinga, Sabinyo, Karisimbi. Engage in cultural tours like to the Batwa in Mgahinga Park and the Ibyacwu cultural village in Volcanoes National Park.