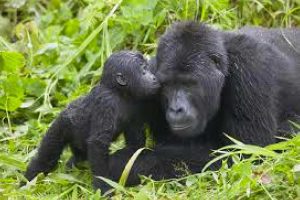 Request a Quote
This 2 Days Mgahinga Gorilla Trekking Tour is destined for Gorilla trekking in Mount Mgahinga Park. For some reasons, Gorilla trekking has reached a boom in Mgahinga Gorilla National Park despite the few permits available per day. The park has only one Gorilla family, Nyakagezi with 3 silverbacks all living happily together. This is a rare phenomenon when you take a closer look at the behaviours of Mountain Gorillas. In total, Nyakagezi family has 9 members viewed by a maximum of 8 visitors a day. Mgahinga Gorillas Park and Bwindi Impenetrable Forest are the only Gorilla Trekking spots in Uganda. Bwindi Impenetrable National Park however has over 15 habituated Gorilla families with the rest living solitary lives or not yet habituated.
Day 1 – Kigali to Mt.Mgahinga Park Transfer
Leave Kigali after the Genocide Memorial Site visit and drive to Uganda's Mgahinga Gorillas Park. On this very scenic route, stops are inevitable. Among them, will be that at the Twin lakes where you will stop for views and photographs. Lunch will be at a local restaurant in the border town of Kisoro. You will later drive to your lodge for an evening relaxation.
Day 2 – Gorilla Trekking and return to Kigali.
Check out of the lodge after an early morning breakfast to drive to the park offices for a formal registration and a briefing before Gorilla trekking. Expect to be in a group of not more than 8 people since Mgahinga Park has only one Gorilla family. You will hit the jungles located on the slopes of the Virunga Mountain ranges and as a matter of this, the terrain can be quite hard going so some level of fitness is for this trip.
After locating this Gorilla family, you have an hour of viewing them at a 7 metre space as you enjoy some photographic moments. After a full hour, quietly leave them to enjoy their privacy. Walk to your waiting car, pick the congratulatory certificates from the park staff and embark on your drive back to Kigali.
End of your 2 Days Mgahinga Gorilla Trekking Tour