Request a Quote
This 18 days Uganda big five, primates and cultural safari is selectively designed to take you to the different parts of the country for amazing experiences. It combines game drive experiences in the savannah parks, different cultural visits, primates viewing specifically Gorillas, Golden monkeys and Chimpanzee trekking, scenic viewing, among others.
Among the places to visit on 18 days Uganda big five, primates and cultural safari are Jinja – the Adventure Capital of East Africa and the home to the source of the great Nile River. The beautiful Sipii Falls in Kapchorwa near Mount Elgon, Kidepo Valley Park, Murchison Falls National Park, Kibale Chimpanzee forest, Semliki park, Queen Elizabeth Park, Bwindi Gorillas Park, Lake Bunyonyi, Mgahinga Gorilla Park and end with the smallest savannah park – Lake Mburo National Park.
Highlights for 18 Days Uganda Big Five, Primates and Cultural Safari
Gorilla trekking
Chimpanzee trekking
Rhino tracking
Golden monkey trekking
Game viewing in the savanna parks
Nature walks
Cultural encounters
Boat cruises
Tree climbing lions
Day 1 – Arrival at Entebbe International Airport
At what ever time you arrive at Entebbe airport, your driver/a representative from Jungle Escape Africa will be waiting to receive you and drive you to the hotel at which you will stay for your first day/night in Uganda. It's at this time when at the hotel that you will be briefed about the next day's program.
Day 2 – Tour of Jinja
After breakfast at the hotel, set off to drive to Jinja. The tour of Jinja shall include Sezibwa falls, Mabira Forest, the source of River Nile and a drive around Jinja. You will break off at Kayanja to visit the Sezibwa Falls. These falls emerge from River Sezibwa, a twin river believed to have been produced by a human being many years ago. Proceed with the drive and visit Mabira forest, for a nature walk in this typical natural forest with many plant species, birds, animals like primates and mammals, among others. Finally reach Jinja for lunch in a city restaurant. Later visit the source of the Nile River by a boat ride on the Lake and on the River. Evening check into your lodge/hotel for dinner and overnight.
Day 3 – Jinja – Mbale – Kapchorwa Sipi Falls
On your third day of the 18 Days Uganda Big Five, Primates and Cultural Safari, drive to Kapchorwa where you are to see the beautiful Sipii falls. Other than the Sipi Falls, you will be taken through our traditional coffee making process. This starts from picking the coffee berries, shelling, roasting them, grinding and finally having a cup of what you will have made. Another optional activity if time allows is abseiling for any one who would be interested.
Day 4 – Kapchorwa to Kidepo Valley Park
Immediately after breakfast, we shall drive straight to Uganda's finest wildlife Reserve – Kidepo Valley National Park. After 5 or 6 hours on the road, check into your lodge and refresh abit. Set yourselves for an evening game drive or take a cultural visit to the pastoral Karamajong communities. The cultural visit is quite interesting as the Karamajongs are renown for sticking to their cultural practices and this sets them apart from other tribes in Uganda.
Day 5 – Full Day Games Drives in the Park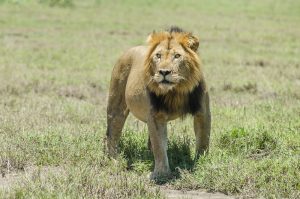 While in this arid region of Kidepo Valley Park, an early start for game drives is recommended because it tends to get so hot early. Infact we would be good to set off at 6.30am, depending on where we may have stayed. The park's rolling savannas will treat you to sites of plenty of wildlife. With the help of our guide, you will spot herds and herds of wild game and the birds. Expect to see Buffaloes, elephants, Giraffes, Zebras, big cats like the lions and leopards, Ostriches and many other birds, among others. Relax at the lodge before and after lunch. Return to the jungle in the evening for yet another opportunity of viewing the riches of this remote wildlife park.
Day 6 – Kidepo Valley National Park to Murchison falls National Park
Break fast at the lodge, ensure that all your belongings are packed well and start on yet another amazing drive to Uganda's biggest national park – Murchison falls National Park via Gulu town. Check into your lodge have some late lunch. Rest after lunch to prepare for an evening game drive in the park.
Day 7 – Game drive and bottom of the falls boat cruise
Just like Kidepo park, an early start of the game drives is recommended here. You can go early for the game drive and return to the lodge for a full breakfast after which you can rest or swim at the lodge to cool off the heat. After lunch, get down to the ferry landing point to catch a boat and cruise up to the bottom of the magnificent falls. It's on the boat that will get so close to even the big fierce animals like the elephants which throng the water banks to cool off the afternoon heat. Many other animals await like the Hippos, Crocodiles, the birds among others. Take a hike to the top of the falls or get back to the starting point and get into the car to drive back to the lodge.
Day 8 – Top of the falls tour and Rhino tracking at Ziwa Sanctuary
Get up after breakfast, drive to the landing site and cross the Nile with the 7.00am ferry. Drive to the top of the falls to see the spectacular and amazing waters of the Victoria Nile as they squeeze through a narrow gorge to sprung down into a very loud roar. Get back into the car and drive to Ziwa Rhino Sanctuary where you will walk on foot in the company of the site guides/rangers to find the Rhinos in the bushes as they graze. We shall have lunch and there after drive to Hoima town.
Day 9 – Hoima to Kibale Forest National Park
After breakfast, we shall embark on our drive to the Primates capital of the world – Kibale Chimpanzee Forest Park. Lunch at the lodge, rest and in the evening take a walk in the Bigodi swamp which is bordering Kibale forest. Expect to see some primates like monkeys, the birds and other animals plus a cultural encounter.
Day 10 – Chimpanzee Trekking Day 
On this day after breakfast, we shall penetrate the forest for Chimpanzee trekking. This will be after briefing at the park headquarters. You can go with your lunch boxes if you are to take up the habituation experience or have lunch at the lodge if you take the usual half day tracking. Evening relaxation at the lodge.
Day 11 – Kibale – Semliki Hot springs – Queen Elizabeth National Park
Semliki National Park has a lot to offer in terms of wildlife and culture. For today's visit, we shall purposely visit the hot springs. We shall then drive to Queen Elizabeth Park via Kasese with great views of the Rwenzori Mountain ranges and a drive through the crater lakes.
Day 12 – Game drive and boat cruise on Kazinga Channel
Break fast at the lodge, hit the game trails for a drive to spot many animals in the park. Extend to Lake Katwe Salt mining area for an experience on the traditional salt mining activities. After lunch in the afternoon/evening, we shall take up a boat cruise on Kazinga Channel.
Day 13 – Ishasha tree climbing lions game drives
This day will be dedicated for game drives at the tree climbing lions' zone of Ishasha. Tree climbing lions are among the many treasures of Queen Elizabeth Park. We shall do morning and evening game drives. Chances are, we can see them in the evening if we fail to find them during the morning game drive.
Day 14 – Game drive and transfer to Bwindi Gorillas Park
Another game drive at Ishaha after breakfast and transfer to Bwindi Impenetrable National Park. In the evening at Bwindi, you can visit communities around the park or the Batwa people who initially shared the forest with the Gorillas. Other than the community visit, you can decide to relax at the lodge as you prepare yourself for the next day's adventure of Gorilla trekking.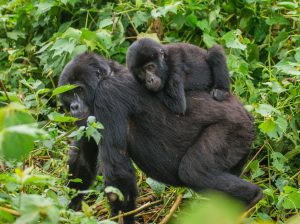 Day 15 – Gorilla Trekking day
The long awaited day finally comes. After breakfast in the morning, pick your lunch boxes and drive to the briefing point to get prepared for this amazing adventure of Gorilla trekking. In the company of armed rangers, escape into the forest for an eye to eye with these gentle giants. The time taken to find the Gorillas can never be predetermined but whatever time you take – whether short or long, it is always thrilling to find them in the forest minding their business of gathering fruits and eating leaves. After an hour with them, exit the dense forest and get into your waiting cars and drive back to the lodge for some relaxation. Optionally, you can have a boat ride on the beautiful Lakes of Mutanda, Mulehe or Chahafi.
Day 16 – Golden Monkey tracking and drive to Lake Bunyonyi
Golden monkeys are only found in Mgahinga Gorilla National Park so this trip will give you a chance of tracking them. Optionally, you can do a hike of one of the Virunga Volcanoes – Mount Sabinyo, Mount Gahinga or Mount Muhavura. After the trek/hike, drive to Lake Bunyonyi for some relaxation by another beautiful Lake.
Day 17 – Canoeing on Lake Bunyonyi and drive to Lake Mburo Park
After break fast at the lodge, go for a canoe or boat ride on the Lake. This will take you to the punishment island where they used to dump girls who had got pregnant before being married. Many interesting tales about the traditions of the Bakiga people will be narrated as you ride on this Lake of small birds. Other than the traditional tales, you will get to know that this is the second deepest lake in Africa and a Bilharzia free lake. All this will be supplemented with beautiful views of the terraced landscapes overlooking the lake. There after, drive to Lake Mburo Natioal Park for an evening game drive or boat cruise on Lake Mburo.
Day 18 – Game walk and drive back to Kampala/Entebbe airport
Early break fast at the lodge, opt for a game walk or game drive in the park before you embark on your journey to Kampala city or Entebbe airport. You will have a stop over the Uganda Equator crossing monument for your lunch and some last photo moments before you continue with the drive to Entebbe airport to check in for your flight back home. This is when we shall have to see you off as we wish you a pleasant flight back home.