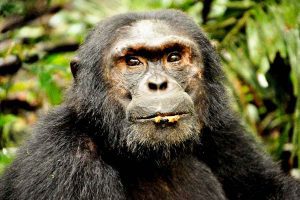 Request a Quote
Kalinzu Central Forest Reserve is another excellent site for Chimpanzee tracking in Uganda after the major and famous Kibale National Park. Kalinzu is located in Bushenyi district in Western Uganda at the edge of the Kichwamba Escarpment near Queen Elizabeth National Park. Initially, it used to be part of/an extension of Maramagambo Forest before the National Forestry Authority(NFA) of Uganda separated them upon taking over their management from the Uganda Wildlife Authority/Queen Elizabeth National Park.  Kalinzu Forest is 378Km from the capital Kampala and occupies 147SqKm of land lying at an altitude of 1,400m above sea level on average.
Kalinzu Forest offers both Chimpanzee tracking and habituation experiences. It has a population of over 300 Chimpanzees out of which only two groups are habituated for tracking and research activities. The one for tracking has 40 individuals which gives more than 85% chances of finding them upon tracking. That of 90 individuals is restricted to research activities carried out by a dedicated team of Japanese Researchers since 20 years ago and still counting. About 5 other Primate species are also present in Kalinzu Forest; L'hoest monkeys, Red tailed monkeys, Baboons, Black and White Colobus monkeys. Many reptiles, 282 butterfly species, 98 moths, other small mammals and a lot more are inhabited by the forest.
Alongside a high population of more than 300 Chimpanzees, there thrives a variety of tree species and the recorded ones so far amount to about 414 species. Birds too call Kalinzu Forest home and its 378 species make it one of those preferred destinations for birding in Uganda. Birds like the Great Blue Turacos, Common Bubo, Fly catchers, Black Bee Eaters and some migratory species top the list of the avi fauna in this forest.
For those that take pleasure in nature walks/hikes in tropical forests, Kalinzu Forest Management established 4 major trails through which you can experience nature's endless gifting. Each of the trails was named after the dominant feature/attraction to which it leads but besides, the forest as a whole has many interesting ones to be encountered during the walks. The trails are;
The River Trail
The Palm Trail
The Waterfall Trail
The Valley Trail.
More about Chimpanzee Tracking in Kalinju Forest
Bookings for Chimpanzee tracking in Kalinju Forest can be made in advance or on the day of tracking.
Kalinzu Chimpanzee tracking permits are directly reserved with Kalinzu Forest management offices at Kayanga but not through Queen Elizabeth National Park or the Uganda Wildlife Authority and can be paid for in cash on the day of tracking.
A Chimpanzee tracking permit is at 40 US dollars while habituation goes for US$100 payable in cash only.
Kalinzu Forest is no exception for the Chimpanzee tracking rules set by the Uganda Wildlife Authority. The minimum age for any tracker is 12 years and a maximum number rule of 6 people per visit is strictly observed.
There are basically 2 chimpanzee tracking sessions; morning starting at 8.00am and the afternoon one at 3.PM. However, there is still flexibility in these sessions where visitors can be taken in at any time they manage to reach the forest offices and it's partly because of the few bookings received on certain days.
There are no established accommodation facilities at Kalinzu Forest apart from camping with own equipment. Established lodges/hotels are that side of Queen Elizabeth National Park which is quite some distance from Kalinzu Forest. Thought those who plan to take self-drive/guided tours should know about this and plan accordingly. Otherwise Jungle Escape Africa will make the best plan for your stay during your Kalinzu Chimpanzee tracking experience and/ any trip to Queen Elizabeth National Park.
For your packing list, kindly come with good walking shoes, rain gear, trekking trousers, long sleeved tops, a head hat, binoculars, insect repellents, a simple rucksack to carry your lunch/snacks and drinking water.
Get in touch with Jungle Escape Africa's team of tour experts to arrange for you a Chimpanzee trekking tour to Kalinzu forest and Queen Elizabeth National Park. And moreover they are always glad to adjust any of your Uganda Safari itinerary to include Chimpanzee tracking in Kalinzu forest upon request.
Other places for Chimpanzee tracking at/near Queen Elizabeth National Park
Maramagambo Forest is another site near Queen Elizabeth National Park protecting incredible biodiversity including Chimpanzees. Although Maramagambo forest has Chimpanzees, it is not a very popular tracking spot because of some limitations like its extensiveness and the absence of habituated families. Many times however, Chimpanzees are spotted by visitors on forest walks and the bat cave adventures in the forest. The Uganda Wildlife Authority through the National Forestry Authority is in plans of embarking on the habituation process for the Chimpanzees in Maramagambo forest when resources become available. Currently, the forest is one of the excellent places for bird watching, nature walks, python and bat caves adventures.
Kyambura Gorge is part of Queen Elizabeth National Park and has a Chimpanzee population of about 20 individuals. This valley of apes is the closest to the park headquarters when compared with Maramagambo and Kalinzu forests. Kyambura Gorge is one place where wildlife like the chimpanzees, some 5 monkey species, elephants, bushbucks, buffaloes, hyenas and many plant species thrive. The place is known for Chimpanzee tracking but due to their elusiveness, some visitors settle for simple nature walks and scenic viewing. Kalinzu Forest then remains the sure option for a successful Chimpanzee tracking experience near Queen Elizabeth National Park.
Kibale National Park is also located not very far from Queen Elizabeth National Park. Kibale is actually the most preferred Chimpanzee trekking site in Uganda because of the high population of Chimpanzees and many habituated groups. The chimpanzee tracking success rate at Kibale is pretty above 95%. Kibale forest holds bragging rights for not only a place with the highest population of Chimpanzees worldwide but also other 12 primate species call it home and hence the 'Primate Capital of the World'.
The other places that harbor Chimpanzees in Uganda are Ngamba Chimpanzee Island on Lake Victoria near Entebbe airport, Budongo Forest Reserve in Murchison Falls National Park and the Uganda Wildlife Education Centre. Other than the above, there are more other places in Uganda where one can chance on Chimpanzees but they are not habituated which avails less chances of finding them with a scheduled visit.
If not part of the longer Uganda Safari, you can visit Kalinzu Forest for Chimpanzee trekking with some of our short safaris below: