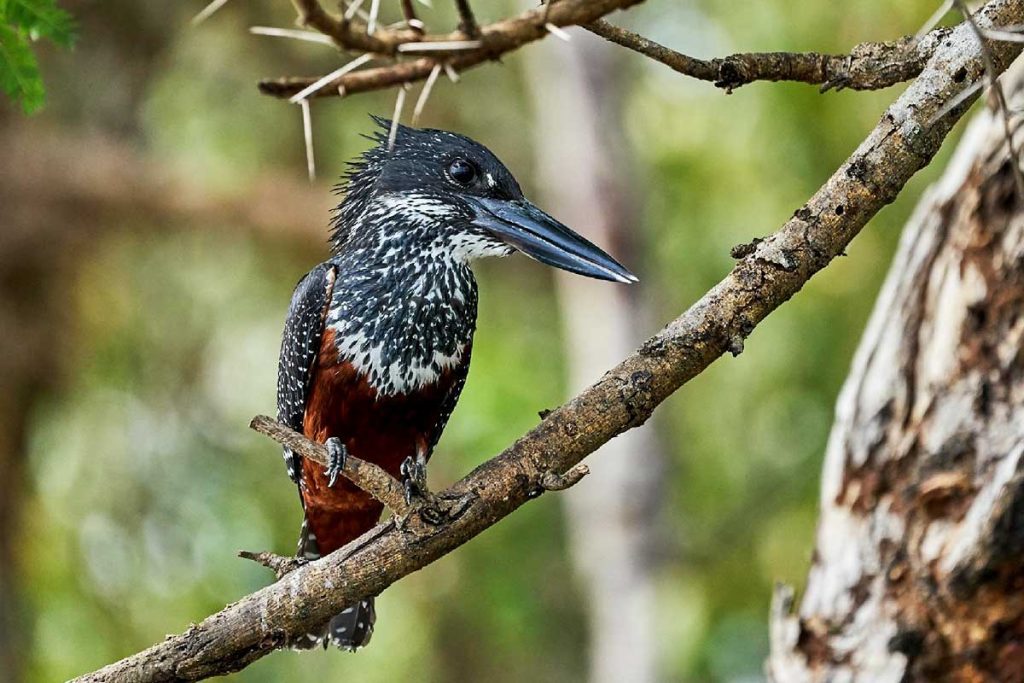 Request a Quote
Maramagambo Forest is one of Queen Elizabeth National Park's variety of habitats supporting its remarkable biodiversity. It is a large forested area in the southern wing of the park stretching from the Kichwamba escarpment upto Lake Edward. With in this verdant tropical rain forest are; birds, giant forest hogs, elephants, buffaloes, leopards, Bates's Pygymy antelopes, many reptiles including the giant pythons, among others. Primates include the Chimpanzees, L'hoest's monkeys, Red-tailed Monkeys and others. Maramagambo Forest is located in Bushenyi one of the districts in Western Uganda.
Maramagambo is said to be the largest forest in East Africa and a story of some young men who almost failed to find their way out of it some many years ago, can be linked to its extensiveness. Some young men tried to get out of the forest with less success which made them get worn out as they spent a couple of days and nights in a state of confusion and yet with nothing to feed on. When they finally managed to find a way out, they were very tired, traumatized and lost their speech for some time. They couldn't explain despite the many queries from the curious locals who were eager to know what had befallen them. In the end, these locals kept referring to the forest as one that leaves people speechless hence the name Maramagambo Forest.
What to see or do in Maramagambo Forest.
There is a long to-do list for Queen Elizabeth National Park in particular; the wonderful game drives for sightings of the abundant wildlife inhabiting the park's savanna plains, a boat cruise on Kazinga Channel for a wildlife water viewing experience, the magical tree climbing lions in Ishasha and lion tracking in the north, the beautiful crater lakes, views of the escarpment, Kyambura Gorge and Kalinzu forest chimpanzee tracking experience, birding, the cultural encounters and a lot more. Despite having engaged in all those exciting activities, you shall still have not completed a tour of Queen Elizabeth National Park without an extension to Maramagambo Forest for these unique adventures.
Bird watching in Maramagambo Forest.
Bird life in its abundance thrives in Maramagambo Forest and makes it one of the most desired birding spots in Uganda. The forest has a record of over 60 bird species which include not only the forest ones but also the water birds given the fact that it has two crater lakes; Nyamusingiri and Kyasanduka in its proximity. Other birds common to the savanna areas are also present because the forest is not very far from the savanna grassland eco system of Queen Elizabeth National Park. Below is a list of some of the birds in Maramagambo Forest:
Rwenzori Blue Turaco.
Red-chested Cuckoo.
African Fin foot.
Little Grebe.
Black Cuckoo.
African Green Pigeon.
White-naped Pigeon.
Forest Fly Catchers.
Bat Hawk.
Black-headed Batis.
Dark-caped Yellow Warbler.
Ross's Turaco.
Sulphur-breasted Bush Shrike.
Fawn-breasted Bush Shrike.
Fawn-breasted Wax-bill.
Red-tailed Bristle Bill.
African Emerald Cuckoo.
Blue-breasted Kingfisher.
Queen Elizabeth National Park as a whole is a bird watcher's haven with a record of over 600 bird species which habit its savanna, the lakes, forests, the Kazinga Channel and the swamps.
Nature/Forest walks in Maramagambo Forest.
There are four main trails in Maramagambo forest for those who would wish to explore this verdant forest on their Uganda Safari holiday. The trails are named after the respective unique forest features to which they lead. They are River, Waterfall, Valley, forest and Palm trails. Through these trails, you will be directly rubbing shoulders with nature. The tall giant forest trees that form a canopy up, some flowery plants, the birds, monkeys that bounce up in the tree branches and many others are a marvel that fascinate nature lovers.  As you enjoy that feeling of being fully immersed into nature, be reminded that soldier ants that are common in this forest are never at peace with strangers to their 'home' and when you get any stinging bite on your body, just know they are doing it for self-defense. As you walk, try to avoid their columns where possible or, wear long trousers and tuck the stockings in. Just know; mother nature sets the rules and you better follow them if you want to enjoy it. Involved in the nature walk too, is the tour of the two crater lakes at the edge of Maramagambo forest; Lake Kyasanduka and Nyamisingiri.
Bats and Python Caves adventure in Maramagambo Forest.
Maramagambo is more famous for those phenomenal caves where the bats co-exist with the pythons. The caves are shelters to thousands of bats on which rock pythons feed. Bats are prey for the pythons but they keep multiplying and have existed since the last Banyaruguru (the dominant tribe in the area) left the caves where they used to hide from the enemies. Before 2008, a tour of Queen Elizabeth National Park would be incomplete with out a visit to Maramagambo forest caves and the Chimpanzees. However, the 'story' changed after news spread that from the bats, the contagious Maburg Virus could easily spread to people. Many tourists shun the place following an incidence where some Netherland tourists linked their infection with the Maburg Virus to their exposure with the bats they had visited in Maramagambo. Later when the place was declared safe by the United States Centre for Disease Control and Prevention together with the Uganda Wildlife Authority, a viewing platform was established to allow views of the bats and the pythons in the caves with out getting so close like before.
Primates/Chimpanzee Viewing in Maramagambo Forest.
Primates like Chimpanzees can be viewed from many places in Uganda but something unique about Maramagambo forest is that it hosts the nocturnal ones too; the Bush babies and the Pottos on top of the Black and White Colobus monkeys, L'Hoest monkeys, Vervet monkeys, Blue-tailed monkeys, Chimpanzees and the baboons. Much as Maramagambo registers a remarkable Chimpanzee population, their tracking comes with a lot of difficulty. The forest is so extensive with non-habituated Chimpanzee families and yet above all, they (chimpanzees) are known to be naturally more active when compared with the Gorillas. As a matter of this, the activity (chimpanzee tracking) has been put on hold until the forest realizes some habituated families. It's for the same reason that most of our Chimpanzee tracking trips to Queen Elizabeth National Park are redirected to Kalinzu forest with more habituated and less elusive Chimpanzees.
Cultural encounters.
The caves that currently shelter the pythons and the bats are synonymous with the cultural heritage of the Banyaruguru, the dominant tribe in the area. The Banyaruguru used them as sacred places for their gods before they were evicted from the forest to have it annexed to Queen Elizabeth National Park. Again during the bad regimes in the 70s, the Banyaruguru couldn't find any better hiding place than these caves. Remember tourism activities in the forest and the park were no more so returning to the caves was for their safety while at the same time reminiscing their cultural heritage. Currently, the Banyaruguru communities live at the outskirts of the forest and when visited, you are in for an authentic cultural encounter.
Any avid forest explorer is hereby informed of other forests in Uganda where the above and much more can be experienced on a Uganda Safari. They are Kibale Forest (National Park), Kalinzu, Bwindi Impenetrable Forest (National Park), Bugoma, Mabira, Budongo, Kyambura Gorge Forest with in Queen Elizabeth National Park, among others. There are a number of our trips that can be adjusted to include a visit to Maramagambo Forest if it is in the interest of our visitors. Please feel free to let us know about any of your tour plans and interests.