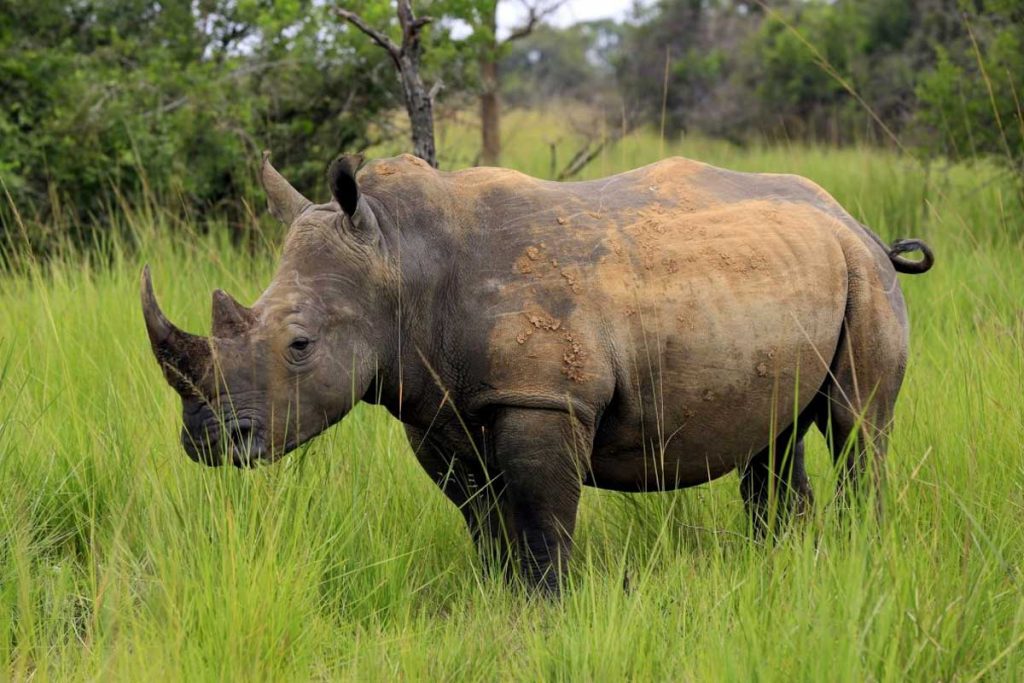 Request a Quote
The only home to the endangered white Rhinos in Uganda, Ziwa Rhino Sanctuary is located on the way to/from the famous Murchison Falls National Park along the Kampala Gulu highway. It is purely a non-profit project sitting on 7000hectares of private land in the pastoral district of Nakasongora. A Big Five Safari in Uganda is incomplete with out a visit to Ziwa Rhino Sanctuary because it is the only place that offers Rhino tracking. The sanctuary was established in 2005 following the conservation efforts for reintroducing Rhinos in Uganda. This was the work of the Rhino Fund Uganda and the Uganda Wildlife Authority. Although taken for a popular stop over for trips to the north eastern destinations of Murchison Falls and Kidepo Valley National Parks, Ziwa Rhino Sanctuary is a destination by itself. You might want to check  on the 1 day Ziwa Rhino tracking tour.
History of Ziwa Rhino Sanctuary
Ziwa Rhino Sanctuary was established after when all Rhinos were poached in the 1980s following the civil unrests of the 1970s. Rhinos faced a total extinction after when the last Rhino in Uganda was poached in Murchison Falls National Park in 1983 and so the establishment of Ziwa Rhino Sanctuary in 2005 saw their reintroduction into the country. However, conservation efforts to have them reintroduced had been embarked on earlier than  2005. In 1997 when there appeared some semblance of peace in the country, the Rhino Fund Uganda was established through which donations were collected and used to secure two rhinos from Kenya in 2001. These were taken in Entebbe Zoo currently Uganda Wildlife Education Centre. Ziwa was a cattle ranch then and in 2005, four rhinos were  brought here. A year later, Disney Animal Kingdom in America brought two more rhinos. In 2009, a Kenyan and American Rhino gave birth to a calf which was named Obama. The animals have since been multiplying and the sanctuary currently boasts of number high above 30 Rhinos.
Wildlife/animals at Ziwa Rhino Sanctuary
Ziwa Rhino Sanctuary remains as the only place to find Rhinos in the wild in Uganda. It was established as a Rhino breeding ground. However, the rhinos share acreage with other animals like the Bush bucks, Water bucks, African Golden cats, Uganda Kobs, monkeys, crocodiles, hippos, reptiles and many others. The sanctuary has a record of about 350 bird species making it a bird watcher's must visit. It has the endangered Shoe bill stork, Abdim's stork, the Blue spotted dove, Red winged starling, Crested Francolin, the Grey Crowned Crane, Pallin harrier, Red-headed Malimbe, Nubia Woodpecker, Booted Eagle, and a lot more.
Rhino tracking and other activities at Ziwa Rhino Sanctuary
With Rhino tracking as its major activity, the sanctuary is also a popular spot for birding, nature walks, canoe rides(mainly for birding), night walks in search of the nocturnal animals such as the Leopards, Pangolins and owls, among others. Other than Rhinos, many of the above animals and birds can be spotted at the sanctuary. Please note that some activities are more rewarding when started very early in the morning or done late in the evening. The sanctuary opens to visitors from 7.30am and closes  at 7.00pm. Stay overnight to be able to take the Shoe bill plus other birding tours, the evening and night walks at the sanctuary. Rhino tracking is available all day but again the recommended times are 8.00AM to 10.00AM and 4.00PM to 6.00PM.
Ziwa Rhino Sanctuary Prices/rates and entrance fees
The entrance fee or the Rhino tracking permit for Ziwa Sanctuary is US $50 to a foreign non-resident tourist, US $40 to a Ugandan Foreign Resident tourist and Shs30,000 to a Ugandan and all East African citizens. Children are required half of the adult fee. International visitors interested in activities like birding, nature walks and night walks, are charged US $30. All this is catered for when you book a Uganda Safari Tour involving Rhino tracking with us – Jungle Escape Africa.
Accessing Ziwa Rhino Sanctuary
Ziwa Rhino Sanctuary  is 176 kilometers from Kampala capital city and takes approximately three hours of driving on the road. It can slightly be less than that. From Kampala/Entebbe airport, use the Kampala-Gulu highway driving past local towns of  Bombo, Wobulenzi and Nakasongora. Branch off the main road at a place called Nakitoma and drive for 7 Kilometers up to the sanctuary main gate.
Accommodation at Ziwa Rhino Sanctuary
Ziwa Rhino Sanctuary runs Amuka Safari Lodge and Ziwa Rhino Guest house which are mid-range and budget facilities, respectively. These lodges are safe and comfortable for overnight stays. Amuka Safari Lodge is tucked away in the remote corner of the sanctuary with 10 unfenced rooms each named after the Rhinos. It has four chalets with beds and rooms big enough for groups and even families with children. The cheaper option in the sanctuary is Ziwa Rhino Lodge. It has a guest house, a restaurant and is a good place for campers and back packers. apart from these 2, there are hotels and lodge options, but outside the sanctuary.
Related information:
Some of our recommended tours: