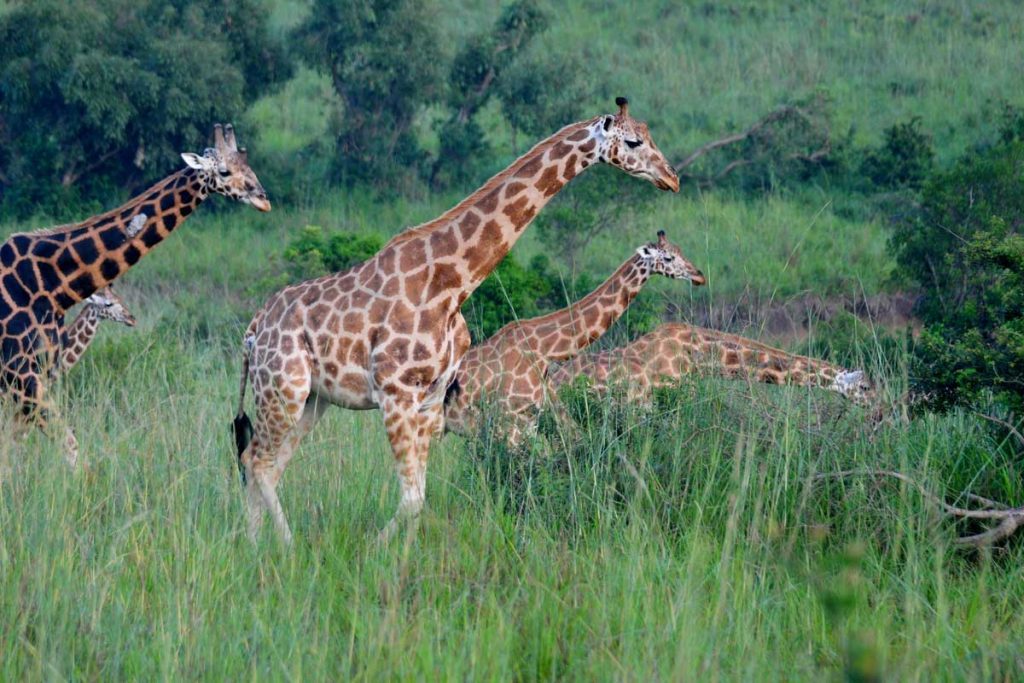 Request a Quote
Akagera National Park is located along the Tanzanian border in the Northeast of Rwanda in the districts of Kayonza and Nyagatare. With an area of 1,120SqKm set at a relatively low altitude, Akagera National Park is the only savannah environment in Rwanda. This is quite an amazing contrast in a country dominated by magnificent forests and a hilly terrain! By its unique flora and fauna composition, The park is the shorthand for the BigFive and wildlife Safaris Tours in Rwanda. The park is fairly small but extremely diverse given its variety of habitats, wildlife and birds alongside a spectacular scenery. Akagera River, after which the park was named, constitutes one of the different ecosystems that support the park's wildlife besides playing a key role in enriching the other ecosystems. Rising above these ecosystems – savannah grasslands, woodland, papyrus swamps, and lakes, are the rolling hills which together greatly supplement the beauty of this park and have virtually positioned it on the list of the most picturesque areas in Africa.
History of Akagera National Park in Rwanda
Akagera National Park was first gazetted in 1934 by the Belgian Colonial Government. It was established to protect and preserve the 2500SqKm of incredible bio-diversity habitats. Like most national parks in Africa, Akagera National Park has since its establishment undergone phases of unfathomable destruction and loss of wildlife at the hands of poachers and the civil unrests. Needless to say, the 1990-1994 Rwanda Genocide and civil war nearly destroyed Akagera National park with lions, Rhinos and wild dogs getting extinct while other park wildlife severely reduced in numbers. During such insecurity and in the aftermath, there was completely no tourism, the park staff and researchers freed the country while some especially the locals, lost their lives during the war. Inevitably, little could be done at such a time to protect wildlife which situation the poachers and encroachers took advantage of.
Furthermore, the aftermath of the genocide witnessed scores of refugees returning to Rwanda from the neighbouring countries of mainly Tanzania and Uganda where they had escaped for safety. It is then that Akagera National Park's 2,500SqKm of land got reduced to 1,120SqKm when the Rwandan Government succumbed to the returning refugees' pressure for settlement land. In retrospect, the government had no choice but to let the refugees use some of the land for their sustenance/survival much as it would have re-declared it a protected area to resume tourism activities. The scramble for the little available resources by the returnees soon set in which turned the park's wildlife and space as their food sources and grazing land for their livestock, respectively. Wildlife(animals) were hunted down for food while the predators were eliminated by the people who saw them as a threat to their livestock. Lumbering was another source of their income, the park land was used for farming and pastoralism which activities caused wildlife depletion let alone reducing the park's suitability for its(wildlife) survival.
In reviving Rwanda's economy after the war, tourism was among the most prioritised sectors in the country where investment in its infrastructure was done along with heavy protection and guarding of the remaining wildlife in protected areas. In Akagera game park specifically, the government reintroduced wildlife that was previously depleted with the help of conservation bodies and individual countries in Africa and Europe. Lions were reintroduced in 2015 and have since settled in and started breeding well. They have grown in number from 7 to almost 50 individuals though spotting them still doesn't come easily given their number and the large expanse of park land. Rhinos were reintroduced in 2017 and have since multiplied.
The conservation efforts reached on in Akagera National Park today are through a partnership between African Parks, a Conservation Non-profit Organisation and the Government of Rwanda. This partnership birthed the Akagera Management Company(AMC) that currently oversees the rehabilitation and tourism activities at the park.
Wildlife in Akagera National Park.
The park is home to big animals like the elephants, hippos, buffaloes, crocodiles, rhinos, lions, antelopes, hyenas, Zebras, leopards, many antelope species such as the elands, Zebras, Bohor Reedbucks, Semi-aquatic statungas, elands, Oribis, Defassa waterbucks, Topis, Oribis and others. Going down the list of animals in Akagera National Park are primates like the Velvet monkeys, Wide-eyed bush babies, Olive baboons and the rare Blue monkeys. Birds are in plenty in Akagera National Park and they include the rare Shoe bill stork, Raptors, Papyrus Genolek, Suaza strike and many more.
Although sights of animals crossing right and left are common, calling Akagera National Park a place of abundant wildlife would be a hyperbole where the park itself finds it hard to compete with the celebrated wildlife parks in not only the immediate neighbours of Tanzania and Uganda but also those in Kenya, Botswana and South Africa. Although it can't be matched with these celebrated and world renown wildlife national parks of Serengeti in Tanzania, Masai Mara in Kenya, Murchison falls in Uganda, Kruger in South Africa, Akagera Park's variety of habitats nonetheless harbour wildlife which are found in those other national parks but in small numbers given its size let alone the troubled past.
What else is there to see or do in Akagera National Park
Game drives in Akagera National Park
For closer encounters to wildlife in Akagera National Park, game drives are the thing. Game drives are conducted in the mornings and evenings, the time when animals are most active. On a safari drive with in the park, you will be accompanied by a park ranger/guide for directions on the hideouts for different animals and sharing more information about the different animals, habits. Although wildlife sightings are never guaranteed (unfortunately), atleast one should expect to spot lions, elephants, Zebras, Giraffes, Rhinos, many antelopes, hippos, crocodiles, many birds and other small wildlife species.
Night game drives are also arranged in Akagera National Park for chances on the nocturnal species which are hard to find during the day. They are the Leopards, Night jars, Hyenas, Bush babies, the Mongoose plus nocturnal birds. They are mostly active at night and so the chances of finding them during day time game drives are very slim. Night game drives are conducted between 6.pm to 9.00pm. However, they (night Game drives) come at an extra fee of $40 per person not like the usual ones that are included in the park entry fees. Actually, Game drives are one activity that distinguish Akagera National Park from other National Parks in Rwanda – the kinds of Volcanoes National Park and Nyungwe Forest National Park.
Birding tours / Bird watching in Akagera National Park
The 500+ bird species in AKagera National Park are so inviting to any birding enthusiast. The diverse eco system in the park is symbolic of the plentiful bird species inhabiting AKagera National Park. These include the savannah, forest and water birds plus those endemic to Akagera National Park. Many times, migratory species from Zambia have been spotted in the park when visited during their respective seasons.
Boat cruises / Boat rides in Akagera National Park
Akagera National Park is richly endowed with water areas which include the lakes that are over 10 although boat rides in the park are conducted on Lake Ihema. Some of the other lakes are Lake Rwanyakizinga, Shakani, Mihindi and Gishanju. A boat cruise and a game drive are the major activities for a 1 day Akagera wildlife Safari. A boat ride on Lake Ihema in Akagera National Park positions you well for closer encounters of both the aquatic and non-aquatic wildlife. Sights of elephants notably, many other animals, the birds flying over the trees at the lake shores are so exciting as one enjoys the calmness of the boat ride on the lake. Schools of hippos playing in water give another experience which involves not only their groaning sounds, the swimming skills, the widened jaws but also the boat running over their backs as they stubbornly refuse to give way. Lake Ihema just like Kazinga Channel in Uganda and the Victoria Nile River in Murchison Falls National Park are some of the places with the highest concentration of hippos in East Africa.
Guided Nature walks in Akagera National Park
Just like the boat cruises, nature walks in Akagera National Park are known to be so calming. The uninterrupted stunning views of the greenery, the smaller hills encompassing the park, the swampy vegetation, the savannah plains and the lakes, make Akagera National Park one of the best places for nature walks. You are able to view near, far and wide unlike in places like Bwindi Impenetrable National Park where the dense forest and vegetation undergrowth swallow you up limiting views of the nearby beautiful landscapes. During the nature walks in Akagera National Park, you are to follow designated trails under the guidance of armed park guides who are also for protection in case of an encounter with the fierce animals. Also the guides are a wealth of information about the park.
Nature walks also entail an exciting walk along the park fence. There is strict monitoring of the park fence by the staff to avert incidences of poaching and intrusion by the communities living near the park. In so doing, the park management thought it useful to involve any interested visitor in this activity. It is quite interesting and it comes with learning more about the park and the cultures of the communities near the park alongside the great views of the park itself. It is usually a 2 hours walk which comes at no cost apart from registration by the interested visitor.
Sport fishing in Akagera National Park
With US$20, secure yourself a sport fishing slot on Lake Shakani found in Akagera National Park. No experience is needed for sport fishing in Akagera National Park as there are guides to take you through the basics of the fishing sport. Although some conservation keen visitors opt for the catch and release plan, some prefer and find it fulfilling to leave the lake with their catch. Therefore, when luck struck you and have some catch, you are to have a test of what you will have caught in a delicious meal prepared for you by the lodge. This is not different from the coffee tour at Sipi falls in Uganda where after making the coffee, you get a test of it plus a pack you are given to take to those you left home. Such are some of the hands-on experiences that should on no account be missed on a safari to Rwanda/Africa.
Cultural encounters/tours near Akagera National Park in Rwanda
It is not all just the fascinating wildlife in this park, Akagera area is also a site of cultural beauty. Reach out to these communities near Akagera National Park and you will be amazed at their pastoral and other skills like farming, local beer brewing and other everyday life exhibited through their music, dances, food preparation and others. It is usually a 3 hours activity but which can be shorter incase a visitor has less time at the park or for the trip.
Accessing this Park in Rwanda
Akagera National Park is relatively easy to access for tourists due to its location close to Kigali, Rwanda's capital and airport city. It's a 2 hours of driving time on a good paved road from Kigali to AKagera National Park. Just like Nairobi National Park in Kenya, Akagera's proximity to Rwanda's major city Kigali has attracted many visitors to the park for both long and short stays. It's an ideal tour to the country side for even visitors on short visits to Rwanda or those who for some reasons are unable to schedule in an overnight stay at the park.
Best time to visit Akagera National Park in Rwanda.
Although suggestions on the best time to visit any national park, Akagera in particular, vary with the visitor's interests, the dry months/season is the most ideal and recommended regardless. Game tracks are drier which reduces cases of getting stuck in muddy and slippery trails moreover in a wildlife park. Despite this, birding tours are best done in the wet months. The dry months are December to February and June to September. Nevertheless, the park with all its activities remain open and available throughout the year.
Accommodation in Akagera National Park.
Accommodation with in the park allows visitors to embrace one of the remote and beautiful areas of Africa. The possibility of sleeping with in the park complements any wildlife experience. However, choices for accommodation with in Akagera National Park are limited to luxury lodges of Ruzizi Tented Lodge, Magashi and Akagera Game Lodge. The only mid-range lodge is Karenge Bush Camp but quite small, seasonal and far from the main park activities, starting points. Budget accommodation can be secured outside the park at Dereva Hotel but which can turn out a challenge when it comes to the scheduled park activities. Remember accessing and exiting the park is through different gates. Get into the park through the southern gate but exiting is strictly through the northern gate. Kindly get in touch with Jungle Escape Africa's tour experts for guidance on how best you can be positioned in the park in terms of accommodation.
check some of our tours to Akagera National Park below: