Rwanda Gorilla Permits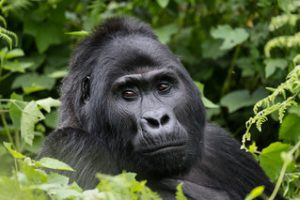 Rwanda Gorilla Permits are for tracking in Volcanoes National Park, the only Gorilla habitat in the country. A permit is for an individual but not a group of tourists. It allows the holder to track one habituated family and not all the 10 Gorilla families in Volcanoes National Park. Tracking more than one family therefore requires more than one day and permit. US $1500 is the price for one Gorilla permit in Rwanda issued to only individuals of 15 years and above. Rwanda Gorilla permits are date specific. They must be used by the visitor on the day/date for which they were issued.
Rwanda Gorilla Permits availability
Gorilla permits availability in Rwanda can only be established by contacting Rwanda Development Board (RDB). RDB is solely responsible for issuing permits to tour operators who secure them on behalf of the tourists. Permits' demand is so high and yet are limited in number. An advance permit purchase therefore becomes necessary in this case, much as it is a requirement. Secure a Gorilla permit as soon as you confirm your Gorilla trekking Trip dates. For convenience, book your permit and trip through a trusted local tour operator like Jungle Escape Africa.
Rwanda Gorilla Permits Price/Cost
Rwanda Gorilla permit fee (of US $1500) is uniform to all international tourists irrespective of the season (time of the year visited) and nationality. Discounts are offered to foreign residents, Rwanda nationals and East African citizens. See table below for the price (in US dollars) of Rwanda Gorilla Permits.
| | | |
| --- | --- | --- |
| Visitor Category | Adult | Child/Student |
| Foreigner/International Tourist | 1500 | N/A |
| Foreign Resident in Rwanda | 500 | 500 |
| Rwandan Citizens | 200 | 200 |
| East African Citizen | 200 | 200 |
| African Citizen/Foreign Resident in Africa | 500 | 500 |
Notes:
To qualify for Rwandan/East African Foreign Resident status, visitors need to have four consecutive months' residency status/work permit in their passports or diplomatic card.
East African Residents must present EAC ID cards or passports.
A Diplomat who has a residency visa can be allowed to use the applicable resident fee for his spouse and legally accepted children even if they (spouse and children) do not have resident visas.
Reporting time at the park headquarters is 0700hrs.
Gorilla Permit Price inclusions and exclusions
The above respective prices for a Gorilla Permit include access (entrance) to the park to track Gorillas plus the one hour of observing them. Price also includes the services of a park guide and Gorilla trekking security by armed rangers.
Rwanda Gorilla Permit fee excludes the visitor's transport to the park, accommodation, transport to the trek starting point away from the park headquarters, hiring porters, trekking gear and meals. Permit fees are also independent of costs for other park activities like birding, volcano hiking, Dian Fossey Grave tour, among others.
Rwanda Gorilla Permits Discounts
There are no Discounted Gorilla Permits in Rwanda for international/foreign tourists unfortunately. The permit price to them remains $1500 irrespective of their nationality, age and time of the year visited. Permit fee discounts are given to Rwandan citizens, East African citizens, Foreign Residents in Rwanda and EAC countries.
Rwanda Gorilla Permit Refunds
Full refund of Rwanda Gorilla Permit fee shall occur if visitors fail to track the Gorillas the whole day as a result of the Gorilla Groups' movement. This is however rare.
In the same situation above, visitors are always given a second chance.
No refunds are made incase of late arrivals or flight delays, absence or cancellation of the trip for one reason or another.
Rwanda Gorilla Permit Booking
Booking Gorilla Permits in Rwanda should ideally be done through a trusted local tour operator for convenience and expert advice. Please note that booking can also be done directly with Rwanda Development Board. The visitor is only  required to send a copy of the passport biodata page and the $1,500 permit fee if processing with a tour operator. Through RDB, the visitor has to fill forms, upload the passport and pay the applicable fee. Here great care has to be exercised to avoid any erroneous applications that might even lead to denial of entry to the park.
Lastly, it's our thought that you might need to know this;  the $1500 cost of a Gorilla Permit in Rwanda is higher than the price of a 3-day Gorilla trip in Uganda with the permit, transport, accommodation and meals included. The trip option can be for 3 days from Entebbe or 3 days from Kigali.
Rwanda Gorilla Tour Packages
10 Days Rwanda Gorillas and Safari