Hiring and using porters for Gorilla Trekking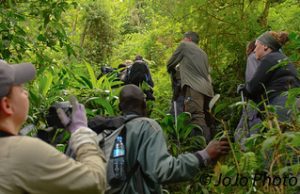 Hiring and using porters for Gorilla trekking helps a visitor to accomplish that lifetime goal of seeing Mountain Gorillas in their natural habitat. Please note that porters are not the ones to show or lead visitors where the Gorillas are. It is the park rangers, trackers and guides. Porters are needed because of the usual difficulty experienced by the visitors during Gorilla Trekking.
Porters can offer a push or pull through difficult areas and also carry the visitors' luggage (back packs, lunch boxes, cameras, trekking gear). This relieves visitors of the burden of having to move with stuff during such a strenuous trek. Even visitors who can't walk to the Gorillas on their own, porters use what they call the African helicopter (stretcher) to help them realize their dream of walking behind the Gorillas.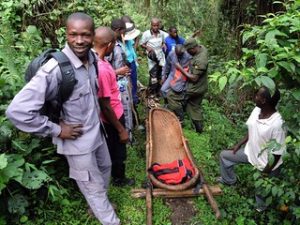 The uneven nature of the Gorilla habitat terrain presents a challenging trek/hike to reach the animals. Gorilla Trekking involves some up and downward movements on steep slopes and valleys in lush verdant forests with no established trails. There even exists areas where visitors can hardly navigate on their own but need a porter to offer a hand. The open water streams, steep slopes and the extremely muddy grounds present great challenges to the trekkers.
Cost of hiring and using porters for Gorilla Trekking
The porter hiring fee is $10 or $15. Little as it may seem, it is a great contribution to the conservation of the Gorillas and their habitat by the Gorilla trekkers. Porters are sourced from the surrounding local communities and are given basic training before they can be signed to offer porterage services to the Gorilla visitors. Proceeds from porterage services therefore, directly contribute to the welfare of the communities around the park. Hiring and using a porter for Gorilla trekking is therefore recommended regardless of the visitors' level of hiking and trekking experience. The stretcher hire fee ranges from $300 to $500.
Further to that, some porters were former poachers while others (local people) would view the forest as their source of livelihood if they do not benefit from the tourism activities. This would lead to the depletion of the forest resources and hence make the forest less suitable for a Gorillas' habitat. When former poachers and the local communities reap from the benefits of Gorilla tourism, they become the first advocates for the Gorillas' survival in their respective capacities.
Communities around our protected areas are the real custodians of biodiversity, a healthy relationship with them and the conservation agencies ensures sustainability of these resources. Some porters with time and enough training have graduated into park guides, park rangers, safari drivers and guides. With such endeavors, you are sure to find experienced and knowledgeable local guides for your Gorilla Trekking Safari in Uganda/Rwanda. Therefore, hiring a porter after parting with the US $700 or $1500 for a Gorilla permit is much-appreciated act of kindness extended to the Gorilla countries' conservation efforts.
Gorilla Trekking Packages
3 Days Uganda Gorilla Trek from Rwanda