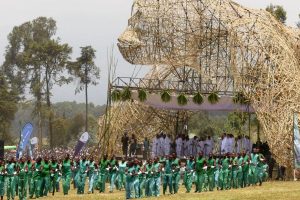 Request a Quote
Kwita Izina is a Mountain Gorilla naming ceremony held once every year in the month of September or October in Rwanda. Kwita Izina is a week-long series of events held at a near Volcanoes National Park in Musanze. Rwanda as a country and conservationists world over are tasked to having Gorillas out of a state of endangered, so the birth of a baby gorilla is like a payoff for their efforts and therefore worth celebrating.
Kwita Izina is a local Kinyarwanda word loosely translated as 'to give a name'. The Gorilla naming ceremony of Kwita Izina is inspired by Rwanda's old tradition of holding celebrations for giving names to new members or babies born to a family in the presence of the family members and friends. The Mountain Gorilla naming ceremony of Kwita Izina is exclusive to Rwanda and
Kwita Izina is one of Rwanda's Conservation success stories. Rwanda's thriving Gorilla tourism and conservation is attributed to effective cooperation between the local communities near the park, the government and its conservation partners. This is partly why Kwita Izina attracts many people including world celebrities, conservationists, international community members and tourists, local Rwandese and many others. All this is to spread awareness about the need to have Gorillas protected. Let us know if you would like to be part of this year's gorilla naming event. Rwanda is ahead of the Mountain Gorilla conservation and protection game. By introducing names to the different families and particular individuals, it keeps track of each member. In this, they get to know their ecological and behavioral patterns plus how the Gorilla populations and their habitat are changing over time.