Cost of Climbing Mount Bisoke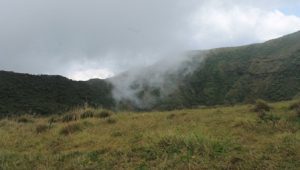 Climbing Mount Bisoke in Rwanda takes place in Volcanoes National Park just like Gorilla trekking and coincidently, the trail to Bisoke summit leads through a rain forest inhabited by Mountain Gorillas. It nonetheless requires a separate permit and booking for each activity. The cost of Climbing Mount Bisoke (Permit Price) is $75 while the Gorilla trekking permit is at $1,500 to an international tourist. The Bisoke hike permit price is independent of other costs like transport to the park, accommodation, food, porters who assist you during the hike and personal items like trekking gear.
Mount Bisoke is a dormant volcano in the Virunga range of mountains at the border of Rwanda and the Democratic Republic of Congo. It rises to an elevation of 3,711 m ASL. What is spectacular and unique about Bisoke is the large crater lake at the summit while the forests at its lower slopes are Mountain Gorillas' habitat. Climbing Mount Bisoke therefore is just the perfect way to experience the awe-inspiring untouched wilderness and fantastic views that lie ahead of the Gorilla forests (habitat), let alone chances of stumbling upon them (Gorillas). Of the other Bisoke climbing rewards; you  practically locate the furthest the Mountain Gorillas can go high up. Such is the beauty of combining Gorilla trekking and Bisoke Hike on your Tour to Rwanda!
Bisoke Hike Permit Price (in US dollars)
| | | |
| --- | --- | --- |
| Visitor Category | Adult | Child/Rwandan Student |
| Foreigner | 75 | |
| Foreign Resident in Rwanda | 60 | 45 |
| East African Foreign Resident | 65 | 45 |
| East African Citizen | 55 | 45 |
| Rwandan Citizen | RWF4,000 | RWF2,000 |
Notes:
The permit price doesn't include your transportation from the briefing point to the trek starting point. It is a journey of 40mins on a rough road and thus requires you to hire a 4WD vehicle.
Proof of a visitor's residency status is by a valid passport (foreigners) or National Identification cards by Rwandan and EAC citizens.
To qualify for the Rwanda Foreign Resident status, foreign residents in Rwanda and other East African countries must have a minimum of four consecutive months' residency status/work permit in their passports or Diplomatic card.
The minimum age for the Bisoke hike is 15 years.
A maximum of 16 people is permitted per group of hikers.
Hiking Bisoke is considered less demanding but it none the less requires adequate preparations.
The permit fee does not include the porter hiring fees of $10 per porter.
Apart from the permit, other costs for the Bisoke hike include:
Car hire fees range from $70 to $100 per day a Toyota Landcruiser or Rav4.
Guide allowance per day is $50
Fuel for the return journey from Kigali to the park is estimated at $100.
Accommodation for overnight stays depends on the choice of accommodation but can be as low as $60 and as high as $1,000 per night.
Meals can go for $10 (per meal).
Hiring trekking gear like rain coats, gumboots and gloves is $10 per item at the park.
If you decide to take a porter, set aside some $10.
Tipping your guides is also customary and the amount is not set.
The cost (Permit Price) of hiking other Volcanoes in the Park
More hiking options in Volcanoes National Park can be offered for Mount Karisimbi, Muhabura/Muhavura, Sabinyo/Sabyinyo and Gahinga. The rest of the volcanoes can be hiked in a day except Karisimbi that requires 2 days. See table below for the permit fees/prices to international tourists.
| | |
| --- | --- |
| Mount Karisimbi | $400 |
| Gahinga Volcano | $75 |
| Mount Muhavura | $100 |
| Mount Sabinyo Volcano | $75 |
Best way to experience Mount Bisoke Hike
3 Days Bisoke hike and Gorilla Trekking