Hiking and Climbing Virunga Volcano Mountains in Uganda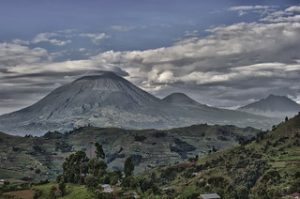 Hiking and Climbing Virunga Volcano Mountains in Uganda takes place in Mgahinga Gorilla National Park that hosts three of the eight volcanoes of the Virunga Massif. They are Gahinga Volcano at 3,473M ASL, Mount Sabinyo at 3,645M ASL and Mount Muhavura at 4,127M ASL. Also called the Mufumbiro Mountains (Mountains that cook), the Virungas are an imposing string of eight free standing extinct and active volcanoes that runs along the border areas of Uganda, Rwanda and Congo. Mgahinga Gorilla National Park, forming part of the much larger Virunga Conservation area, protects the Ugandan portion of the Virunga Mountains. Hiking and climbing each of these Virunga volcanoes in Uganda is a day activity despite lying at various altitudes.
Mgahinga Gorilla National Park is a small but very impressive wildlife park in Uganda encompassed by magnificent beauty. The volcanic peaks provide a striking backdrop to this gorgeous scenery and yet the slopes contain various ecosystems and are biologically diverse. As its name suggests, it was created to protect the rare Mountain Gorillas that inhabit its dense forests. It is also an important and only habitat for the endangered Golden monkeys in Uganda. Just like the volcano Mountains, the Golden Monkeys too are only found in Uganda, Rwanda and Congo. These live side by side with forest elephants, buffaloes, bush bucks, Golden cats, side stripped jackals, duikers, numerous birds and others. Mgahinga is truly an enchanting nature's work of art!
 Hiking and Climbing Virunga Volcano Mountains in Uganda
Climbing Mount Gahinga Volcano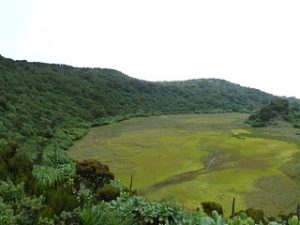 The Mount Gahinga hike trail is the shortest and easiest to navigate of all the three. Gahinga hike is highly recommended to inexperienced hikers to try. And yet the beauty of hiking Gahinga is the possibility of stumbling upon the Golden monkeys in the bamboo forests. The trek is exciting but it can also be like a training ground to prepare you for challenging and tougher hikes to the rest of the volcanoes. Hiking Mount Gahinga Volcano takes 6 hours (round trip) through pure bamboo forest up to its summit where you will find a beautiful swamp that used to be a crater lake way back.
Gahinga Volcano lies between Muhavura and Sabinyo at an elevation of 3,473M ASL. To the locals, 'Gahinga' is a pile of stones in which cultivation is done and you will see quite a number of those stone piles in people's gardens as you approach the park. Also, the park derives its name from Gahinga though Mount Gahinga itself is far bigger than those stone piles. Check the 1 day Gahinga hiking tour.
Mount Sabinyo Volcano hike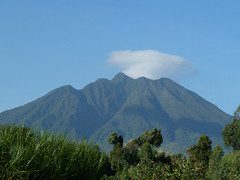 Mount Sabinyo hike is one of the greatest climbing experiences in Uganda and is such an achievement to conquer it. Standing at 3645m Above sea level, Sabinyo Volcano hike takes 8 hours (round trip) to all its 3 peaks. One of the exciting moments about this trek is reaching an adjoining point for the boundaries of the 3 countries (Uganda, Rwanda and Congo) that share the Virunga volcanoes of which Sabinyo is part. The name Sabinyo comes from a local Kinyarwanda word "sabyinyo" meaning the old man's teeth. Sabinyo's peaks have been eroded with time leaving its jagged top appear like worn old man's teeth in a gum line hence the name.  See the 3 days Sabinyo hiking trip.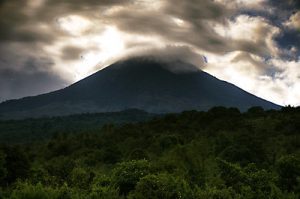 Hiking Mount Muhavura Volcano is done in a day and it takes about 8 and 9 hours to do its 16km trek. Muhabura hike starts off from the marvellous alpine vegetation on its slopes through a rocky surface with less grass cover and small shrubs. At the top of the cone-shaped Muhavura Volcano is a small crater lake. Muhavura summit too commands breathe taking views of the other Virunga volcanoes, Bwindi Impenetrable National Park, Lakes George and Edward in Queen Elizabeth Park, the rift valley, the twin lakes in Rwanda and Rwenzori Mountains.
Muhabura is the tallest of the 3 volcanoes encompassing Mgahinga Gorilla National Park and the 3rd highest of the 8 Virunga Mountain ranges. Mount Muhavura reaches an elevation of 4127 metres above sea level. Muhavura lies partly in Rwanda's Volcanoes Park and here, in Mgahinga Gorilla Park. The largest part of this mountain however lies in Uganda. Also called Muhabura, it is translated to mean "the guide"in the local Kifumbira and Kinyarwanda languages. In the old days, it was used by travellers to ease navigation since it would be viewed from different distant locations.
Permit Price for Hiking and Climbing Virunga Volcano Mountains in Uganda
The hiking permit price for each of the volcanoes in Mgahinga Gorilla National Park is US$85 and it includes park guides and rangers. It however excludes the park entry fees of $40 and porter hiring fee of $10. Other expenses are transportation to the park, accommodation, meals and acquisition of hiking gear. Also, the hiking fees are independent of other activities offered in the park which include Gorilla trekking, Golden Monkey tracking, birding, nature walks, Batwa Cultural trail experience, among others. Unlike the Gorilla permits that require advance purchase, the volcano hiking permits can be acquired one or two days to the day. They can even be purchased on the day.
Best time for Hiking the Virunga Volcano Mountains in Uganda
The best time is definitely during the dry season (June to September and December to February), although the treks can be done during any time of the year. The rains render the trials mud-filled and slippery. The ladders too become dangerous and visibility might also be affected.
What to pack for Hiking and Climbing Virunga Volcano Mountains in Uganda
For clothing, pack long a sleeved shirt and a trouser, a light rain coat, warm stockings and hand gloves. The foot wear must be good hiking boots with a sturdy grip and good traction. Carry packed lunch or snack for the day and drinking water to contain the thirst. Come with a good camera for taking photos and binoculars for distant views of other volcanoes and the great scenery. Don't miss to carry a first aid kit and some toiletries.
Accessing Mgahinga Gorilla National Park for hiking the Virunga Volcanoes
Reaching Mgahinga Gorilla National Park can be by road from Entebbe/Kampala or Kigali in Rwanda. It is much shorter by road from Kigali for 4 hours than Kampala and Entebbe which takes about 9 hours. Daily scheduled flights from Entebbe to Kisoro airstrip are available to those that find the road trip too long.
Activities after Hiking and Climbing Virunga Volcanoes in Mgahinga Park
Apart from Hiking and Climbing Virunga Volcano Mountains, Mgahinga Gorilla National Park is also famous for the much sought for safari activities of Gorilla trekking, Golden monkey tracking and birding. Other unique activities are cultural encounters with the indigenous Batwa Pygmies, nature walks and tracking down some of the 76 animal species hosted by this park besides the Mountain Gorillas and Golden monkeys.
Accommodation during Hiking the Virunga Volcano Mountains
There is no accommodation at the mountains because all the treks don't necessitate overnight stays. Accommodation before and after hiking can easily be secured in Kisoro (closest town to Mgahinga Park) and near the park. All categories are available ranging from budget, mid-range and luxury facilities. Budget ones include Kisoro Travellers Rest Hotel, Amajambere Campsite, Mucha River Lodge. Mid-range has Mutanda Lake Resort, Mulehe Safari Lodge, Ikoro Hotel and others. The luxury ones are Volcanoes Safari Lodge and Chameleon hill Lodge.