How to prepare for Mount Bisoke Hike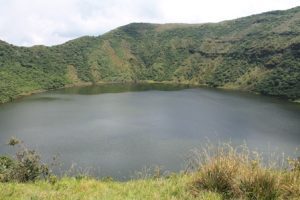 Mount Bisoke (or Visoke) forms part of the Virunga Mountains Chain and is one of the prettiest spots to go hiking in Rwanda. With its largest part and summit in Rwanda, Bisoke Volcano straddles the border of Rwanda and the Democratic Republic of Congo. Mount Bisoke towers to 3,711m ASL and at its summit is a tranquil and beautifully fitted crater lake. While Mount Bisoke and its crater lake would both look fantastic on their own, the sweeping views over other volcanoes in the range, Volcanoes National Park, Rwenzori Mountains and Congo Forests will leave an enthusiastic hiker yearning for more.
Mount Bisoke Hiking adventures are offered in Volcanoes National Park and where hikers are required to be at least 15 years and above. Preparations for the treks start as early as 7.00am every day with a briefing at the park headquarters of Kinigi. The Bisoke trail head however is located some distance away which requires to have own transport means to avoid a scenario of having no tourist vehicles available for you to join.
Bisoke hike takes through different vegetation zones with chances of stumbling upon the Mountain Gorillas and Golden Monkeys plus other animals, especially during the initial ascent of the trek. At the Bisoke summit is a beautiful crater lake considered to be the biggest in the Virunga ranges. However, challenges being synonymous with climbing expeditions elsewhere, the 6 hours Bisoke hike too is not without some. So how do you prepare for the Bisoke Volcano trek? Know what to pack, the best time to visit, acquire a permit, check your physical fitness and have an acclimatization plan.
Check your physical fitness
Much as the Bisoke hike is considered less demanding, it nonetheless requires the hiker some level of physical fitness to be able to deal with a high-altitude trail taking through a rough terrain. Therefore, be advised not to dare the Bisoke hike with out prior workouts, jogging and any other physical exercises which can prepare your body and mind for the trek. You can also visit your doctor to check for HBP and some other medical conditions that can be triggered by elevation gain.
Packing list for Bisoke hike
The packing list should have essential items like:
Good hiking shoes with a firm grip to walk through the muddy and (sometimes) slippery trail.
Long hiking pants and shirts/tops to protect your body from the stinging nettles. These can itch at even a slightest contact with the skin and their effects can be beyond the swellings.
A rain coat to prepare for rain at all times.
Woollen gloves, head gear plus a fleece jacket for the cold summit shouldn't miss on the list.
A small back pack to carry your packed lunch and water.
A camera to capture all the moments and the amazing scenery.
Bottled water and snacks for lunch.
Securing a permit for Bisoke Hike
Securing a permit or slot for the Bisoke hiking tour can be done on the day or in advance. Bisoke hiking permit can be obtained by the visitor or can be conveniently done through a trusted tour company (like Jungle Escape Africa). Bisoke hiking permit price is $75 to an international tourist, $65 to a foreign resident in Rwanda and RWF4,000 to a Rwandan citizen. Cash payments are not accepted at the park so be prepared to pay by visa or mobile money. Please note that permits for hiking Bisoke are limited to a specific number of visitors per day so it's always advisable to plan in advance to avoid any disappointments.
Hire a porter and get a walking stick
Hiring a porter is at $10 per day while a walking stick is obtained freely at the trek starting point. Porters assist with your backpacks as well as offering a hand during the trek. Hiring a porter is for not only overcoming challenges during the hike but it's a great contribution to the welfare of the communities around the park. Please note that these porters are picked from the communities and taken through some essential training before being offered the porterage jobs at the park.
The best time to visit for Bisoke hike
Mount Bisoke hike can be done throughout the year but to get the most of the adventure, plan your visit in Rwanda's dry season. In the wet months with heavy rains, the trail is difficult to navigate due to a lot of mud and vegetation overgrowth. During the dry season (June-September and December-February), the weather is favorable with clear skies, navigable trails and great photo opportunities. However, note that there is still no guarantee for the said months to be dry during your visit because of the nature of the terrain (hilly). Rains always come unexpectedly.
Have an acclimatization plan.
Best ways to experience Mount Bisoke Volcano
1 day Mount Bisoke Tour
3 Days Rwanda Gorillas and Bisoke Hike