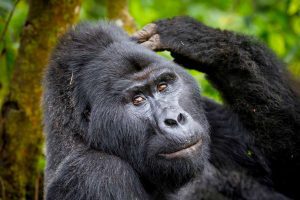 Request a Quote
4 Days Uganda Double Gorilla trekking involves tracking or visiting Mountain Gorillas more than once but/and on two different days. The visitor is required to hold a separate permit for each day. Visitors for the Double Gorilla Trekking safari are highly encouraged to visit 2 different families for a better experience much as they can decide to stick to one. Bwindi forests were first gazetted as a Forest Reserve in 1942, elevated to a national park status in 1992 and a UNESCO World heritage site in December 1994. What we call Bwindi Impenetrable National Park today is an area of 327SqKms of rugged landscape dominated basically by thick forested highlands. These 25,000-year-old forests support incredible biodiversity including not only the Mountain Gorillas but also birds, other primates, different mammals and a variety of plant species. With the Mountain Gorillas particularly and regardless of the number of times, each day of tracking them comes with a different experience and can never be gotten used to.
Detailed program for the 4 Days Bwindi Impenetrable National Park Double Gorilla trekking safari
Day 1 – Road trip to Bwindi Impenetrable National Park from Kampala or Entebbe airport
After breakfast at your hotel, hit the road to take in Western Uganda's diverse scenery. Taking you past some of the world's natural wonders like the Uganda Equator crossing point, this road trip experience is guaranteed to make you fall in love with Uganda's peaceful and visually arresting green countryside. Although the confirmed stops shall be at the Uganda Equator monument and Mbarara city for lunch, there is no limitation to the number of stops throughout the journey for as long as they fit with in our planned time and route. The remaining part of the journey after lunch is a marvellous drive through the famous Kigezi highlands with mind-blowing scenery. Reach Bwindi late afternoon or evening and check into your preferred lodge.
Day 2 – Gorilla trekking – 1st day
On each day of Gorilla trekking, it's a routine to prepare the guests through briefing and grouping them into 8, the maximum number allowed to track a particular family per day. At this point you should have left the lodge with your packed lunch that you shall have from the forest at a safer place not near the animals – Gorillas. You are to be led by park rangers and guides to track the Mountain Gorillas in the forest. Locating your allocated family is done with the guidance of the trackers who always go to the forest very early morning to trace where the Gorillas might have camped the previous night. Regardless of the length of time taken to find the Gorillas, keeping around them is restricted to one hour of total silence, calmness and minimal movements. Photography is allowed but with no flashes. After moments with the Gorillas, leave them to enjoy the rest of their day in utmost privacy. Visit communities around Bwindi as you return to your lodge to rest and reflect on a great moment you just had with the amazing Mountain Gorillas.
Day 3 – Gorilla Trekking – 2nd day
As you wake up early to have breakfast, just know the program for this day is not much different from the previous day. During registration and allocation of Gorilla families, you are free to request for the same family or a different one. Also, it is possible to track a family in a sector different from the one of the previous day. This should however be communicated and requested for prior to securing of the Gorilla permits. After this day's trek, leave Bwindi for Lake Bunyonyi. Check into your lodge overlooking the beautiful lake.
Day 4 – Boat ride on Lake Bunyonyi and return journey
To a fresh lake breeze, wake up and have breakfast before embarking on an exploration of this beautiful lake with its islands. After a visit to the punishment island and the Batwa community, take a scenic and leisurely drive back to Kampala with a lunch break at Mbarara city's Igongo Cultural centre and Country Hotel. Proceed to Kampala and get dropped off at your residence/hotel or Entebbe airport for your onward flight.
End of the 4 Days Uganda Double Gorilla trekking tour.