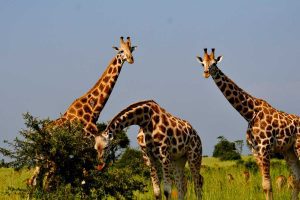 15 Days Uganda Jungle Escape shall involve Gorilla trekking, game viewing expeditions in Queen Elizabeth National Park and Murchison Falls Park, Lake Mburo Park, Chimpanzee trekking, Rhino tracking, nature walks, cultural visits, scenic viewing and photography as well as relaxation in Jinja tourism city. This trip to Uganda, the Pearl of Africa, avails the only opportunity to have an encounter with the most sought after and rare wildlife species that include the endangered Mountain Gorillas, the Big Five animals, Golden monkeys, bird species as well as authentic cultural experiences and breath-taking scenery. Our selection of good accommodation, very comfortable transportation and a professional safari driver guide shall enhance your overall trip experience.
Program for the 15 Days Uganda Jungle Escape, Uganda gorilla trek & wildlife safari
Day 1: Arrival at Entebbe airport
Arrival at Entebbe international airport and link up with your driver guide who shall transfer you to a booked hotel in Entebbe. Dinner and overnight at Entebbe airport Guest house.
Day 2: Transfer to Murchison Falls National Park
After breakfast drive northwards to the renowned Murchison Falls National Park, with a stopover at the Ziwa Rhino Sanctuary to track rare rhinos that are protected in this sanctuary. Later after lunch, proceed to Murchison falls national park, Uganda's largest well protected wildlife area covering 3,840 Sq km. Move to the top of the Falls to view the natural beauty of these falls. At this place, is one of the wonders of the Nile River. You shall see River Nile squeeze itself through a 7meter narrow gorge from a width of more than 1 km and drops below with a thunderous roar forming a water spray that is flanked by a stunning rainbow. Check into Fort Murchison Lodge for dinner and overnight stay.
Day 3: Game drive and the Nile Boat cruise
On this day of your 15 Days Uganda Jungle Escape tour, you will have a tasty breakfast and set out for a game drive. The tour guide will lead you to the finest places to easily see the animals. You will certainly enjoy Uganda's true wilderness as you will be taking the best pictures that will be unforgettable on this safari. The thrill will be seeing lions, lioness plus their cubs together with other wild animals such as elephants plus giraffes moving, buffaloes and antelopes grazing in the savannah.
Head back to your lodge for a delicious lunch and some rest as you prepare for the afternoon Nile boat cruise. On the boat you will have a great time on the Victoria Nile, the boat takes you to the bottom of the falls. You will observe various animals like elephants, crocodiles, large numbers of hippos, buffaloes, water bucks and also birds such as the storks, fish eagle among others. While at the bottom of the falls you will have a great time watching the magnificent waterfalls. Return to the lodge for dinner and over night.
Day 4: Transfer from Murchison Falls to Kibale Forest
Enjoy an early breakfast at the lodge and drive to Kibale National Park. You will take pleasure in the gorgeous scenery of this countryside which makes the journey more exciting. Have your lunch en route in Fort Portal town and continue as you enjoy the great views of the Rwenzori ranges. Check in at Kibale Guest Cottages.
Day 5: Kibale Forest Chimpanzee trekking and Bigodi swamp walk
Get up so early for breakfast and head to the park for briefing about Chimpanzee trekking in the forest. Kibale forest is among the charming places well-known for different primates and several crater lakes within Uganda. In the morning you will see the chimps in their natural environment. These chimps are also exciting and this very close encounter will reward you with a memorable experience on your trip. After lunch you will visit Bigodi wetland for a nature walk. Return to your lodge in the evening.
Day 6: Semliki hot springs and crater lakes tour
Early morning after breakfast, make a drive to Semliki Wildlife Reserve for a visit to the Semliki hot springs for a visit to Semliki hot springs amidst an amazing scenery. Explore crater lakes in the evening before returning to your lodge for dinner and the night's rest.
Day 7: Transfer to Queen Elizabeth Park, Launch cruise on Kazinga Channel
Enjoy your breakfast and set out for a drive to Queen Elizabeth Park. Queen Elizabeth has a diversity of Uganda's ecosystems such as the Savannah, wetlands, lakes, forests and over 600 bird species which live in the park. The different wildlife species include lions, elephants, antelopes, buffaloes, waterbucks, giraffes, leopards together with many bird species. Check into Enganzi Game Lodge for lunch. In the afternoon go for a launch cruise on Kazinga channel; this is one of the most memorable experiences from the park. Take pleasure in observing different water birds together with their echoing sweet sounds and animals such as hippos, African crocodiles, waterbucks, buffaloes among others. After experiencing the true wilderness, drive back to the lodge for a night rest and dinner.
Day 8: Ishasha tree lions game drive
Early morning drive to Ishasha sector of Queen Elizabeth Park for game drives to spot the tree climbing lions. Lunch, dinner and overnight at Enjojo Lodge.
Day 9: Transfer to Bwindi Impenetrable National Park
After breakfast return to Ishasha jungles for another chance on the tree climbing lions before a transfer to Bwindi. Bwindi National Park is home to over 346 bird species, 120 mammal species, 400 plant species, 27 frog species among others and covering an area of 331 Sq Km. Have lunch at Ishasha and embark on the drive to Kisoro. Have dinner and overnight stay at Mutanda Lake Resort.
Day 10: Gorilla Tracking and Lake Mutanda boat ride
After a cup of tea, head to the park head offices with your guide, have a briefing about the dos and don'ts while in the forest with gorillas. Gorilla trekking can take 2 hours or up to 6 hours and this is based on the movement of the Gorillas. Only 1 hour is permitted to trekkers while with the gorillas. Make sure you carry packed lunch, enough water, sturdy shoes, non-flash cameras, rain jackets, walking sticks for those who are not so fit. Later return to the Mutanda Lake Resort and relax. In the evening, take a relaxing boat ride on the beautiful Mutanda Lake.
Day 11: Transfer to Lake Mburo National Park
Breakfast and transfer to Lake Mburo National Park, which is approximately 3 to 4 hours drive. You will go through the outstanding scenery of terraced hills, forests, banana plantations among others. Have lunch after checking in to your lodge (Rwakobo Rock Hotel) and take an afternoon boat cruise on Lake Mburo where your eyes will be fed with lots of wonders like the birds, crocodiles, hippos, zebras among others.  Lake Mburo National Park is home to over 332 bird species, sitting on an area of 371 sq km. A number of animals call it their home such as Zebras, impalas, warthogs, topis, waterbucks, buffaloes, and reedbucks among others.
Day 12: Game walk and transfer to Kampala
You will have breakfast and leave for an early game walk through the park where you are able to spot numerous zebras, Impalas, warthogs and antelopes grazing in the morning.  Leave for Kampala with a stop over at the Uganda Equator monument. Arrive at Fairway Hotel in the evening.
Day 13: Kampala city tour and transfer to Jinja
Early morning wake up and have a glimpse into your hotel surroundings to see the city dwellers going about their morning activities. Have breakfast and set out to visit some places in Kampala; a local market, the King's palace in Mengo and Namugongo martyrs' shrine. Transfer to Jinja tourism city after lunch in a local restaurant. Check into Havens Lodge Jinja for dinner and overnight.
Day 14: Jinja city tour
There are numerous attractions and adventure activities in Jinja from which we can choose for the day. After breakfast at the Guest house, we can decide to visit places like the Source of River Nile, Itanda Falls, among others or take up adventure activities like white water rafting, tubing on the Nile River, cycling, horseback riding, among others. Return to Havens Lodge in the evening for dinner and the night's rest.
Day 15: Souvenir shopping and airport transfer
Check out of your hotel and start with a visit to Sezibwa falls enroute to the airport. Souvenir shopping and lunch in Mukono or Entebbe as you advance to the airport to check in for your flight back home.
End of your 15 Days Uganda Jungle Escape, Uganda gorilla trek & wildlife safari.
The Tour Package price shall include:
All accommodation (sharing) in a twin room on full board
All ground transportation in 4×4 safari vehicle
Airport transfers
French and English-speaking tourist driver guide
One Gorilla and a Chimpanzee trekking permit per person – should be secured in advance
All entry fees to the national parks and activities
Government taxes
Drinking water in the vehicles for an entire safari
Safari price exclusions are:
Visa/entry permit for Uganda
Personal Insurance covers
Personal use items
Tips, beverages and souvenirs.