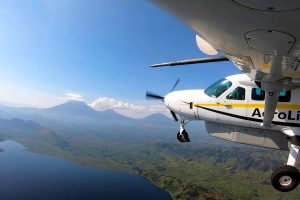 Request a Quote
The 3 Days Uganda Fly-in Gorilla Safari involves a return flight from Entebbe International airport to Bwindi Impenetrable National Park to track the Mountain Gorillas and a tour to the surrounding communities. Bwindi Impenetrable Forest is known to be safe and a conducive habitat for an estimated half of the world's surviving Mountain Gorillas population. Whereas the major focus is on Bwindi Impenetrable National Park, this trip allows flexibility for the trekking to be redirected to Mgahinga Gorilla National Park, another of the only two Gorilla trekking spots in Uganda. The decision/choice of the trekking area however has to be made prior to securing of the Gorilla permits.
Day 1 – Flight from Entebbe airport to Bwindi Impenetrable National Park
From your hotel, transfer to Entebbe airport for your flight to Kihihi or Kisoro airstrip. You will be picked from the airstrip to the lodge by your driver from Jungle Escape Africa. Check into your lodge and have lunch. Visit Bwindi communities – Batwa Pygmies after lunch or in the evening. Return to the lodge after those moments with the Batwa, once known as the people of the forest. Another attraction of the Batwa culture is the respect for and direct connection with nature as shall be witnessed during their different cultural exhibits like music, fire making skills, hunting, among others. The forest still lives in them despite many years out of it!
Day 2 – Gorilla Trekking in Bwindi Impenetrable National Park
Wake up to the freshness and nature rhythms of the misty Bwindi Forest, have a delicious breakfast and drive to the park headquarters with your packed lunch boxes. Attend the briefing session to prepare you on the expectations of the Gorilla trekking expedition. Served with a walking stick to assist you during the trek, follow your guide and the rangers who are to offer a lead in locating your assigned Gorilla family. Conformity to the Gorilla trekking rules and regulations during the trek is not only for your safety but also the preservation and conservation of the Gorillas and their habitat. Once you find them, keep calm and watch them at a safe distance. Use the stipulated one hour to enjoy their plays, feeding habits and social life as you exploit this great photo opportunity before you. Return to your lodge to relax after this strenuous but very rewarding walk.
Day 3 – Flight from Bwindi to Entebbe airport
The misty and chilly mornings Bwindi area is known for, are what you shall wake up to, again this day. Breakfast is served, enjoy it as you admire the misty hills soaring up in the clouds. At a vantage point, don't miss watching the sunrise squeezing through the clouds. Check out of the lodge to transfer to the airstrip for your flight back to Entebbe airport. End of the program for the 3 Days Uganda Fly-in Gorilla Safari.