Accommodation in Akagera National Park
Accommodation in Akagera National Park can be secured in safari lodges of Akagera Game Lodge, Ruzizi Tented Lodge, Magashi Luxury Camp and Karenge Bush Camp. They are eco-friendly, well-designed to blend with the environment in which they are located. All these lodges inside Akagera National Park are however mid-range and luxury.  Therefore, tourists on Akagera Park visit with a tight budget but wishing to stay inside the park, will have to consider camping at the designated sites.
Covering an area of 112,000 hectares in the North eastern part of Rwanda, Akagera National Park is a place of unrivalled diversity and scenic beauty. Akagera is unique with a relatively flat, open and warmer environment contrary to the chilly, dark and verdant forests on the hilly terrain that dominate most parts of Rwanda. Akagera is not just a perfect area to unwind after the strenuous Gorilla trek but also for those looking for further adventures in the African Jungles. The Park is a great place for a game viewing safari, Birding, boat cruising safari, animal tracking, cultural encounters, among others. Akagera hosts a variety of game including the Big Five. Birdlife is prolific due to a diversity of habitats with numbers slightly above 500 species.
Accommodation in Akagera National Park
Akagera Game Lodge (Mantis Akagera Eco Lodge)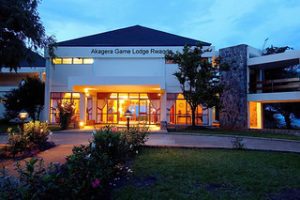 Akagera Game Lodge is a luxury lodge inside the park. The lodge is a great sunrise view point. It sits high on a ridge commanding impressive views over Lake Ihema and the surrounding savannah areas of the park. Akagera Game Lodge location is a perfect base for exploring the park and do all the activities. It is 5KM from the southern entrance of the park and 20 minutes' drive to Lake Ihema where the boat safari takes place.
The Lodge can even accommodate large groups with its 60 self-contained rooms which include 27 standard ones, 29 Balcony rooms, 1 balcony suite, 2 family suites and one presidential suite. The rooms can be booked as twin beds or a King bed. The lodge has a conference venue, bar and a spectacular pool deck. A restaurant offering buffet and a la carte menu options is open for breakfast and dinner daily. Free Wi-fi connections are offered to the lodge guests.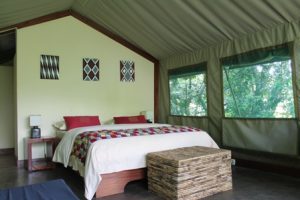 Ruzizi Tented Lodge too is beautifully located facing Lake Ihema. Its location is approximately 6KMs from the park entrance. With its 9 tents set on the edge of Lake Ihema, Ruzizi can accommodate a maximum of 20 guests per day. This therefore requires a guest intending to stay at Ruzizi to book well in advance. Each of the 10 tents has an en-suite bathroom with hot and cold running water, a dressing area and a cosy queen bed. The lodge is powered by solar energy.
Ruzizi tented Lodge is one place for a visitor to appreciate nature in its undisturbed form. Ruzizi has since its construction remained environmentally conscious where we see trees and vegetation left undisturbed. The tents are set among swaying palms and fruiting fig trees literally ensuring guests' connection with nature. It has a spectacular deck hanging over Lake Ihema. Some natural elements were incorporated into the structure and still stand.
Ruzizi Tented Lodge's other facilities and services include a thatched reception and dining area, a restaurant serving delicious meals, a portal for charging electronic gadgets and cameras, a fully equipped bar with fridges stocked with alcoholic and non-alcoholic drinks. A restaurant serving delicious dishes and a central fire pit.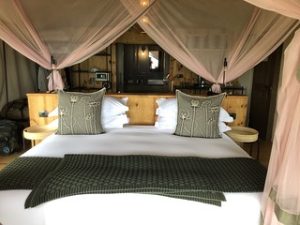 Magashi is a high-end accommodation facility at the north of Akagera National Park opened in the early 2019. Magashi has 8 spacious tented suites perched in an intimate wilderness area surrounded by one of the most serene landscapes. They are at the shores of Lake Rwanyakazinga inside the park. Depending on the season, Magashi Camp rates range from USD $760 to USD $1250 per person per night sharing.
Karenge Bush Camp is an ecological accommodation facility aligning well with the park's new conservation concept. It is first of all a seasonal camp that opens for only 6 months during the two peak seasons of the year. This in one way checks access to the park environment hence minimizing destruction. Secondly, when it is taken down, there should be no lasting presence of its existence. It literally echos the aim of a bush camp of leaving a light footprint on the earth. It's in the same regard that its name was derived. In the Kinyarwanda language, Karenge means 'small foot'.
Karenge Bush Camp features 6 canvas tents that can comfortably accommodate 6 people per night. Each tent consists of 2 camp beds, camp chairs, reed mat floors and solar light purposely for reading. Each tent has a private outdoor bathroom featuring bucket showers, a toilet and can basins with warm water. Karenge Bush Camp and Ruzizi Tented Lodge are owned and operated by the park management where 100% of profits from guests' stay goes towards the managing and conserving of Akagera National Park.
Camping Accommodation in Akagera National Park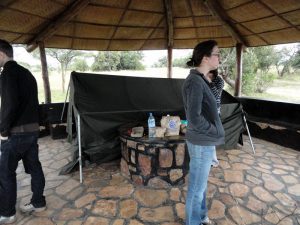 Camping fee is USD $25 per person per night and camping must be at only the designated camping sites as per the park rules. Camping as another form of accommodation in Akagera National Park is available at Muyumbu, Mutumba, Shakani and Mihindi. Muyumbu is situated on a ridge overlooking the lakes with Tanzania in the distance. Shakani offers a lakeshore camping experience along with grunting hippos and magnificent bird life. Mutumba Campsite is further north and located in a game rich area of rolling hills. These campsites offer basic facilities for overnight stays in the park. Tents are available for hire and firewood is provided on site but visitors should bring their own camping equipment and supplies.
Please note that staying outside Akagera Park is also a possibility but which should be opted for after a second thought. Park entry fees expire each time a visitor exits the park, regardless of having not exceeded the 24 hours. Also take note that fees for the first day are higher but keep reducing for the rest of the days stayed inside the park.
Akagera National Park Tour Packages
1 Day Trip to Akagera from Kigali
2 Days Akagera National Park Tour