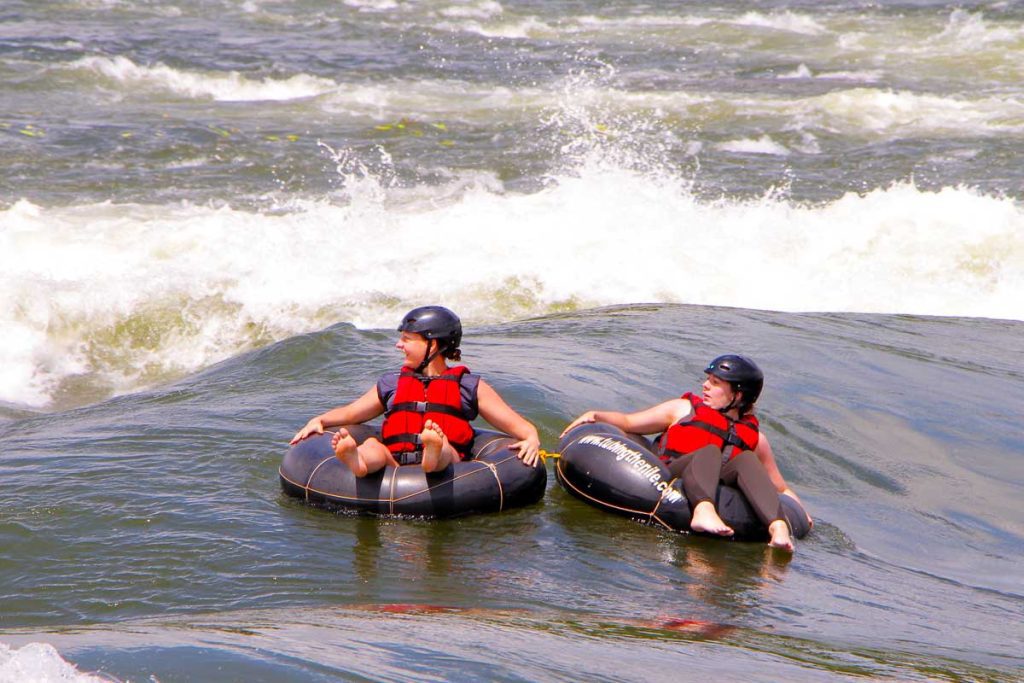 Request a Quote
Tubing on the Nile River and Busowoko Falls Tour 1 day takes you to Jinja – the adventure capital of East Africa for tubing and a tour of the spectacular Busowoko falls.
Trip highlights:
Tubing on River Nile
Busowoko Falls tour
Sight seeing
New Jinja Nile Bridge
Mabira Forest
Cultural encounters
Detailed program for the 1 Day Tubing on the Nile River and Busowoko Falls Tour
Pick up can either be at your preferred location in Kampala or Entebbe. Set off time shall be 6 or 7.am for a 2 hours drive to Jinja via Lugazi town and Mabira forest. Upon reaching Jinja and driving atop the new Nile bridge, you will be awed by the views of the Nile River as it forces through the turbines of the Owen falls dam. You are to take a dirt road up to the entrance to the former Bujagali falls viewing spot and where the tubing company offices are.
Briefing and provision of the tubing gear takes place here before you embark on the drive to the tubing starting point which is less than a kilometre away from the main office. Each with own tube, slope down to the river bank. With your life jacket properly fastened and a helmet worn on the head, sit on your tube to start floating as you enjoy the calmness of the Nile waters. All these happen alongside photo moments. Depending on your preference on the type of tubing, the guide will lead you as you sail through the respective spots.
After 3 hours of sailing or challenging the Nile rapids, you will embark on the drive on the same road to Busowoko falls ahead. After a short drive on a bumpy road, you are in for a hidden spectacular site – the Busowoko falls. Have lunch as you marvel at these beautiful water falls of Busowoko and I'm sure these stunning views will give your meal a special taste! These falls are so beautiful! Carefully walk near or even swim at the weak areas of the falls to really feel them. After your time at these scenic waterfalls, start the drive back to Kampala via the same route or through Kayunga-Gayaza road. Drop off will be at your preferred place in Kampala/Entebbe.
Note: Whereas tubing is the core for this trip, flexibility is allowed where the visitor can choose to do another adventure or replace any place in Jinja with the Busowoko falls. The activities can be quad biking, bungee jumping, simple rope course challenge, horseback riding or cycling. Other places can be Itanda falls, the source of the Nile River or even the Sezibwa falls on the way to or from Jinja. The decision should however be made prior to booking for proper arrangements.
Check some of our other tours to Jinja below: