Safest Country for Gorilla Trekking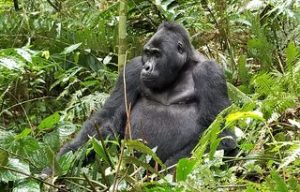 Locating wilderness sightings like for the Mountain Gorillas in their natural habitat is extremely wonderful to witness. For the obvious reason, Gorilla trekking ceaselessly draws tourists to the Gorilla trekking countries of Uganda, Rwanda and Congo. In Uganda, the Gorilla habitat is found in the renowned Bwindi Impenetrable National Park and Mgahinga Gorilla National Park, while Rwanda boasts the breathtaking Volcanoes National Park. In the Democratic Republic of the Congo, it is the magnificent Virunga National Park.
Those parks hold bragging rights for the proud custodians for Mountain Gorillas in Africa, but which is the safest country to visit for Gorilla trekking? A careful assessment of each destination as shown in this article is to help travelers make an informed and safe choice. It is however crucial to remain vigilant of potential hazards and take necessary precautions to ensure your safety throughout the Safari.
Safest Country for Gorilla Trekking
UGANDA – safest country for Gorilla Trekking
Uganda boasts a relatively stable political environment, contributing to a sense of security for travelers for Gorilla Tourism. For over 20 years now, there has not been any incidence of insecurity in her two Gorilla Parks. Skilled guides and committed armed park rangers are present at the national Parks to lead trekkers, guaranteeing safety and a valuable educational journey.
Also, Uganda stands out as it is home to Bwindi Impenetrable National Park, renowned for its large population of mountain gorillas, which is the largest in the world. Additionally, Uganda boasts the impressive Mgahinga Gorilla National Park which hosts Golden Monkeys too. These destinations offer numerous advantages for gorilla trekking in the safest ways possible. However, it's crucial to acknowledge that specific trekking routes might demand lengthier and more demanding hikes, potentially posing physical (but not safety) challenges for certain travelers.
RWANDA – Safest Country for Gorilla Trekking
Rwanda is one of the safest countries in Africa, both politically and socially. The parks, including the Gorilla trekking ones are heavily guarded, safeguarding the Gorillas and tourists. The fact that Volcanoes Park in Rwanda share the Gorilla habitat with Virunga Park in Congo, there is always heavy deployment around the park to give no chance for any attacks by rebels from the neighboring Congo who might take advantage of the porous border. So, is it safe to track Gorillas in Rwanda? Yes.
On another note, Volcanoes National Park, is renowned for its strict limitation on the number of visitors per gorilla group. This limitation minimizes disturbance to the gorillas and creates a serene environment. The country also boasts well-maintained trails and a comprehensive health screening process for trekkers. Adding to these benefits, Volcanoes National Park is famous for its breathtaking landscapes and its convenient closeness to Rwanda's capital, Kigali.
CONGO – No guarantee to safety despite the improved security for tourists
With the presence of an elite team of rangers and ongoing efforts to mitigate risks, visitors can witness these magnificent creatures in their untouched natural habitat. However, the disadvantage lies in the potential uncertainties related to the country's political and security situation. Travelers should be prepared for more rustic conditions and occasional changes in itineraries due to security concerns.
Please note that Congo offers the cheapest gorilla trekking permit among the destinations and Virunga National Park particularly, presents a more adventurous and less-trodden path for gorilla trekking. The Park is the oldest national in Africa and is home to a variety of rare wildlife including Mountain gorillas, Chimpanzees, and Okapi. Another unique advantage is the opportunity to trek the rare Eastern Lowland gorillas. Despite its challenging political history, the park has made significant strides in improving security for tourists.
Best time to visit for Gorilla Trekking
Gorilla trekking trips are offered through out the year but to have an easier trek where the trails are navigable, plan to visit during the dry season. The dry months are June to September and December to February. However, finding the trails dry in these months is not a guarantee because of the nature of the Gorilla habitat; the forests never dry totally, forests are rain stimulators so it can rain any time regardless of the season.
How to prepare for Gorilla trekking
When you make a definite plan to visit the Gorillas, know what to pack and wear. Prepare your body and mind for a challenging trek. Come with trekking boots, rain coat/poncho, above the ankle socks, garden gloves, waterproof pants, long-sleeved tops, insect repellent, a hat, among others. A malaria prophylaxis is recommended but not a must. Physically prepare the body with some jogging.
All in all, the recommendation for the safest country to visit for Gorilla trekking goes to Rwanda and Uganda. The Mountain Gorilla parks and the tourists' security is top priority by the respective governments in these countries. There are no cases of insecurity and external attacks like the case in Congo. The down side of Rwanda is the high cost of the Gorilla permit ($1500). In Uganda, the permit costs $700. If you must visit Rwanda, you can do a budget Gorilla safari in Uganda departing and returning to any part of Rwanda. Check Gorilla Trekking Uganda from Rwanda.
Gorilla Trekking Safaris
5 Days Uganda Gorillas and Masai Mara